Perfect Seahawks 2023 NFL Draft plan: Select Will Anderson Jr. or Jalen Carter, fortify lines, add a safety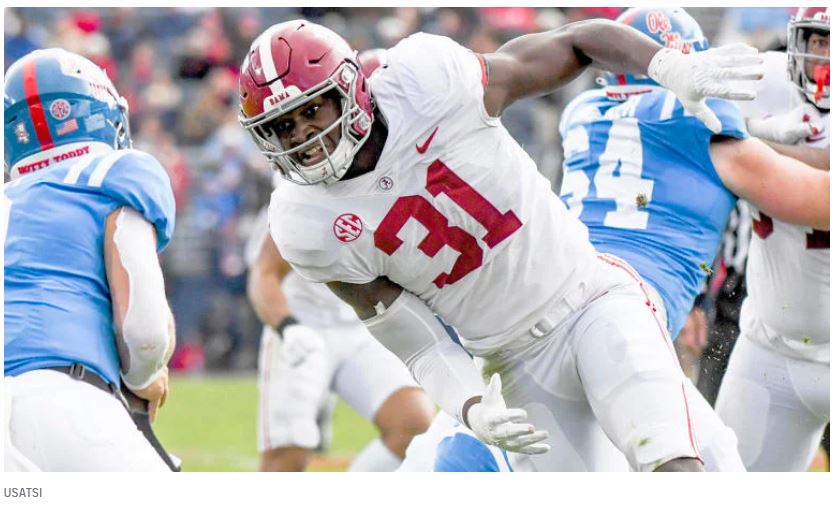 The 2022 Seattle Seahawks were like finding a crumpled $20 in your jeans pocket after taking them out of the washing machine -- a pleasant surprise.
After trading Russell Wilson, once their longtime face-of-the-franchise quarterback, to the Denver Broncos in exchange for three players (QB Drew Lock, TE Noah Fant and DL Shelby Harris) along with five draft picks (two firsts, two seconds and one fifth), it appeared as if the team was punting on the 2022 season. However, with Wilson's former backup, Geno Smith, outplaying Seattle's only Super Bowl champion quarterback in Year 1 of the divorce, Seattle snuck into the seventh and final NFC playoff spot at 9-8, becoming one of only two teams this season to reach the playoffs and have multiple first-round picks, joining the NFC champion Philadelphia Eagles.
With Wilson and now-former Broncos head coach Nathaniel Hackett not jelling, Smith had an incredibly low bar to clear in order to outplay his predecessor last season. However, he did more than just outplay him: Smith played at a top-10 quarterback level to earn the first Pro Bowl selection of his nine-year career at 32 years old. Simply an unfathomable outcome at this time one year ago. The longtime backup led the NFL in completion percentage (69.8%), set the Seahawks' single-season passing yards record (4,282) and ranked in the top five in the entire league in both passing touchdowns and passer rating. While initially viewed as a stopgap, Smith earned himself a big-money deal: three years for a total of $75 million.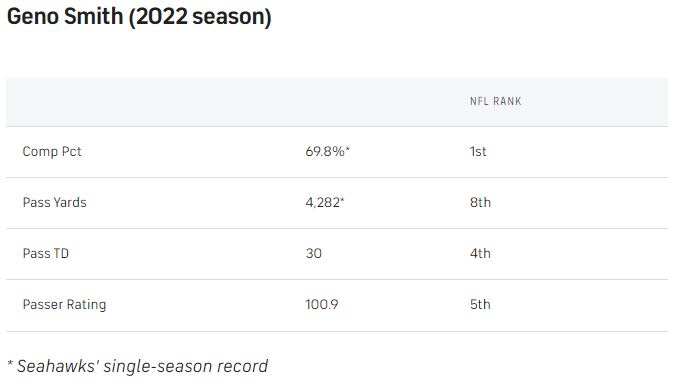 The other reason for the Seahawks' unexpected playoff berth was the unprecedented, immediate impact of their 2022 rookie draft class. Seattle rookies combined to start 70 games this season, tied for the most by any playoff team since the 1970 AFL-NFL merger, tying the 2018 Indianapolis Colts. Only the Houston Texans, the team with the second overall pick in the 2023 NFL Draft, had more rookie starts than the Seahawks, and the 5,641 snaps played by the Seattle rookies were the second-most in the NFL behind only the Chicago Bears, the team with the first overall pick in the 2023 draft. The Seahawks had the rookie leader in starts, snaps played, rushing yards, forced fumbles and interceptions in 2022, meaning general manager John Schneider and head coach Pete Carroll can take a victory lap as they evaluate how well they cleaned up in the most recent draft.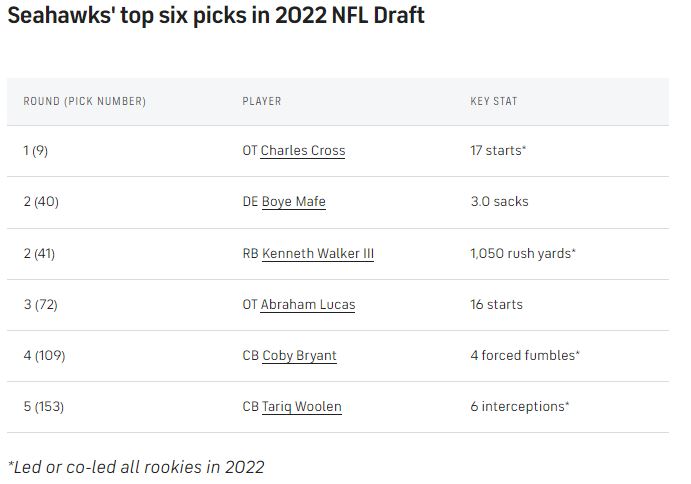 The Seahawks own all of their own picks and have extra first and second-round picks, thanks to the aforementioned Russell Wilson trade. Seattle also added a fifth round pick from the Pittsburgh Steelers in exchange for cornerback Ahkello Witherspoon. Here's a look at how they should utilize those 10 selections in the 2023 NFL Draft in order to have a well-stocked, fresh-faced core that could lead the Seahawks into a new run of contention under the youthful Pete Carroll, the oldest coach in the NFL.
Seahawks' team needs: Edge, CB, LB, DL, WR, G, TE, OT (via Josh Edwards)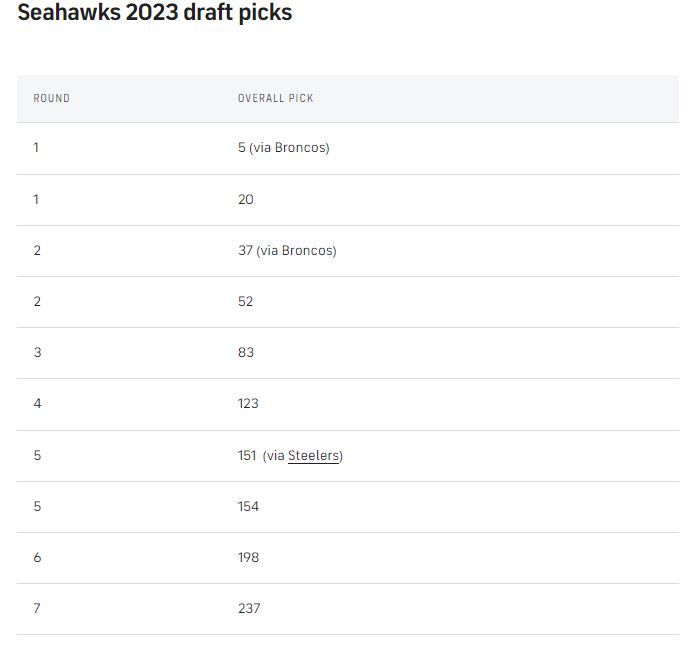 Here's who the Seahawks will take with those two first-round picks, according to CBSSports.com's latest mock drafts:

Draft their top remaining D-line prospect between Carter, Anderson
The Seahawks should secure a top-flight defensive lineman or edge rusher. Ohio State quarterback C.J. Stroud isn't falling past the third overall pick, and the Seahawks don't need to reach for Florida's Anthony Richardson or Kentucky's Will Levis given they have Smith under a new, multi-year contract. There is also a strong likelihood that quarterbacks could go in the first four picks if a quarterback-hungry team trades up to the third overall pick in a deal with the Arizona Cardinals.
Selecting one of the top two prospects in the entire draft in Georgia defensive tackle Jalen Carter or Alabama edge rusher Will Anderson Jr. would be a huge boost for the Seahawks. Carter led the back-to-back national champions in quarterback pressures (66), quarterback hurries (48) and tackles for loss (15.5) across their two historically great seasons. Anderson has the most quarterback pressures (207), quarterback hits (71), tackles for loss and sacks (34.5) in the nation across his three-season collegiate career. His 34.5 sacks are also the second-most in Crimson Tide program history behind only Pro Football Hall of Famer Derrick Thomas (52.0).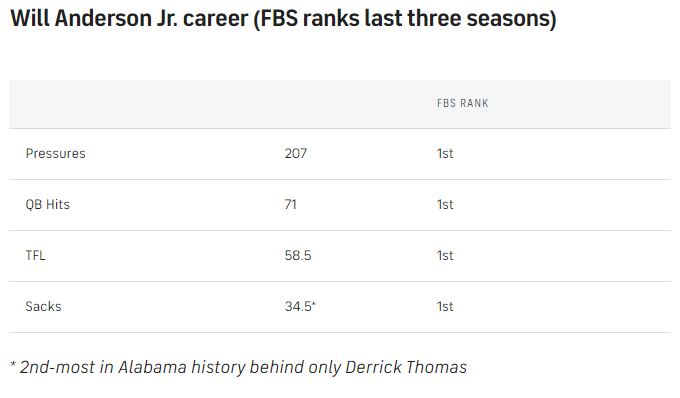 That type of dominant player could help elevate their pass rush that generated a 33.3% pressure percentage on opposing quarterbacks' dropbacks, barely above average at 15th in the league. This pick would also solidify the Seahawks' atrocious run defense, allowing 150.2 rushing yards per game, the third-most in the entire league. Signing defensive end Dre'Mont Jones to a three-year, $51.5 million contract helps, but Seattle needs to follow the lead of the San Francisco 49ers and the Philadelphia Eagles, 2022's top two NFC squads, and make their defensive front a top-shelf strength.
At pick 20, it would be smart for the team to double down with another edge player or defensive lineman like Nolan Smith, one of the most explosive defenders for back-to-back national champion Georgia, or Clemson defensive tackle Bryan Bresee, who avoids blockers in rush defense with relative ease thanks to strong athleticism. Defense was the Seahawks' weakness in 2022, allowing the eighth-most points per game in the entire league (23.6). Getting two strong players along its defensive line could make everyone's life in the middle and back end significantly easier. If there is a run on defensive players prior to pick 20, a case could be made for the Seahawks taking the plunge on Florida quarterback Anthony Richardson, who is the most athletically-gifted player at the QB position in this draft. He is also the one who likely needs to sit out a year and refine his craft as a passer the most. Sitting him behind Smith while the Pro Bowler plays out his potential franchise tag could also make sense. However, Richardson isn't projected to fall out of the top 10, so this scenario is highly unlikely.
Look for a starting-caliber safety in the middle rounds
While the Seahawks appear to be set at cornerback long term with the 2022 draft hits of Bryant, whose four forced fumbles were tied for the third most in the NFL, and Woolen, whose six interceptions were tied for the most in the entire league, Seattle may need a young safety to grow along with its corners. One of the Seahawks' safety spots is in good hands with Quandre Diggs, who has made three consecutive Pro Bowls. The other spot will be manned by Jamal Adams, but the three-time Pro Bowler who the team traded three picks to acquire, including two firsts, is looking to come back from a torn quadricep tendon that ended his 2022 in Week 1. The highly-compensated defensive back, whose average annual salary of $17.5 million is the third highest among safeties, could come back a step or two slower as he turns 28 in mid-October. Plus, Adams was never known for his play in coverage, but rather as an explosive athlete who could sprint sideline to sideline like a whirling dervish. While Seattle did add New York Giants safety Julian Love on a two-year, $12 million contract, half of his deal is guaranteed with no guaranteed salary in 2024. That's not a firm commitment that he is a long-term part of their plans down the road.
Drafting a safety in the draft would be addressing a potential need before it becomes a problem whether the Seahawks feel like they need to move off Adams or Love in 2024 or 2025. Adding Texas A&M safety Antonio Johnson, Alabama safety Jordan Battle or Florida State safety Jammie Robinson in Rounds 2-4 could be a significant help. That could allow the Seahawks to deploy Adams more as a hybrid linebacker/defensive back near the line of scrimmage while the incoming rookie could handle more of the coverage responsibilities opposite Diggs. Carroll's coaching specialty has always been defensive backs, so this would be a worthwhile pick for Seattle.
Add depth along the interior offensive line
The Seahawks were a below average pass-blocking unit, allowing pressure on 34.1% of dropbacks, ranking 19th in the league. Their offensive linemen also get beat by the defender they lined up against on 20.4% of snaps, the 10th-highest rate in the league. Seattle is secure on the outside with Cross and Lucas manning the tackle positions, but upgrades could be made at the center and guard spots. Thanks to its three Day 2 picks -- two seconds and a third -- Seattle has the ability to upgrade at safety, guard, and center all in the first three rounds. The Seahawks signed versatile, interior offensive lineman Evan Brown, but he's a stop-gap journeyman on his fifth NFL team, joining Seattle on a one-year, $2.3 million contract in free agency. The Seahawks need offensive linemen they can plan on for the long haul.
At guard, the top offensive lineman for national runner-up TCU, Steve Avila would be a steal in the second round. His fast-twitch burst is some of the best in the country among the linemen in this year's draft while standing at 6-4, 330 pounds. He kept his quarterback, Heisman Trophy runner-up Max Duggan, clean and relaxed all season along, allowing only 10 pressures on 515 pass-blocking snaps. He also played some center in college as well.
Here he is continually dominating at the Senior Bowl this week:
Avila also locked down Michigan defensive tackle Mazi Smith, one of the better defensive tackle prospects in the upcoming draft, in the Horned Frogs' CFP semifinal win against the Wolverines.
Avila isn't just a pass-blocker, he's also ferocious as a run-blocker, seen here shoving a Texas Tech defensive tackle out of the way this past season. The Seahawks offense would benefit in both the run and the pass elements of their offense by adding him on Day 2. Read More