Perfect Eagles 2023 NFL Draft plan: Select top corner at No. 10, use 30th pick on best remaining safety or RB
The 2022 Philadelphia Eagles were a rare breed, pulling off the historic accomplishment of appearing in two Super Bowls in a six-season span despite having a new starting quarterback and head coach. They are only the fourth team all time to pull off the feat, and while they fell just a handful of plays short of joining the 1976-1980 Raiders as the second team ever to win two Super Bowls in a six-season time period with a different starting quarterback and head coach, the Eagles clearly demonstrated why they were very deserving of playing in the Big Game.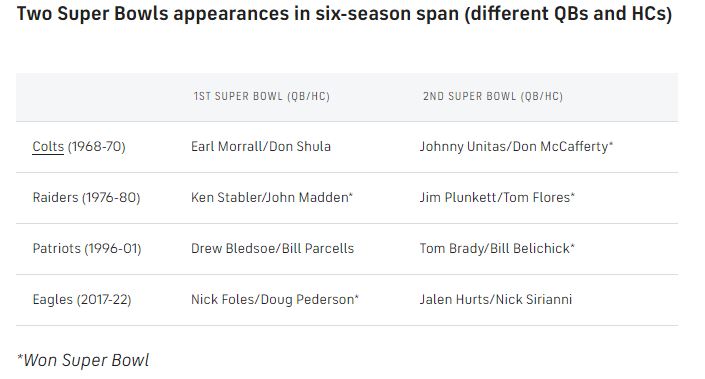 Even though the Eagles lost 38-35 to the Kansas City Chiefs in Super Bowl LVII, the way they have built their roster has them primed to contend for years to come since only eight of the Eagles' 22 offensive and defensive starters weren't acquired through the draft or undrafted free agency. Having secured the vast majority of their starters through the draft means most of their top players are either on cheap rookie deals or they have come to terms on relatively fair contract extensions with Philadelphia without testing the free agency market.
Three of those eight that were acquired via trade or true free agecy -- linebacker Haason Reddick (16.0 sacks, tied for second-most in NFL with Myles Garrett in 2022), wide receiver A.J. Brown (his 1,496 receiving yards are fourth-most in the NFL in 2022 and broke the Eagles' single-season record), cornerback James Bradberry (his 44.5 passer rating allowed was the lowest in the NFL in 2022) and cornerback Darius Slay (made Pro Bowls in each of last two seasons) -- are under contract through at least the 2024 season. Philadelphia is one of two teams in the upcoming 2023 draft that simultaneously made the playoffs this season and have multiple first-round picks, including one in the top 10. The other is the Seattle Seahawks, who secured the Denver Broncos' fifth overall by trading longtime face-of-the-franchise quarterback Russell Wilson to the Rocky Mountains in exchange for three players (QB Drew Lock, TE Noah Fant and DL Shelby Harris) along with five draft picks (two firsts, two seconds and one fifth).
The past two seasons in Philadelphia were spent recentering the offense around 2022 NFL MVP runner-up Jalen Hurts' dynamic, dual-threat abilities, and they'll remain mostly intact on that side of the ball with the exception of left guard Isaac Seumalo, and Pro Bowl running back Miles Sanders. The defensive side is a different story as Super Bowl starters like defensive tackle Javon Hargrave, linebacker T.J. Edwards, and both safeties -- C.J. Gardner-Johnson and Marcus Epps -- are now on different teams. It would be shocking if general manager Howie Roseman doesn't spend the bulk of Philadelphia's picks filling out the defense especially after making Jalen Hurts the NFL's highest-paid player with a five-year, $255 million extension.
The Eagles own their own first-, second-, and third-round picks in addition to having the New Orleans Saints' 10th overall pick thanks to a trade back in last year's first round. They are missing their fourth-round pick thanks to their acquisition of defensive end Robert Quinn from the Chicago Bears at the 2022 season's trade deadline. The same goes for their fifth-round pick that was part of a preseason trade that netted them Gardner-Johnson from the New Orleans Saints. Their sixth-round pick belongs to the Jacksonville Jaguars thanks to a trade back in 2021 for cornerback Josiah Scott. Philadelphia is in possession of their own seventh-round pick in addition to the Texans' seventh-round selection that they acquired via the Minnesota Vikings when they dumped their former first-round pick wide receiver Jalen Reagor. Here's a look at how they should utilize those selections in the 2023 NFL Draft in order to continue to have one of the NFL's best rosters.
Eagles' team needs: CB, RB, S, LB, WR, DT, Edge (via Josh Edwards)
Here's who the Eagles will take with those two first-round picks, according to CBSSports.com's latest mock drafts:

Draft a top cornerback prospect
The reasoning behind the Eagles selecting a cornerback with their top pick is two-fold, partly addressing the aging curve at the position as well as the direction the NFL is trending as a league stylistically. The 29-year-old Bradberry, a player whose 44.5 passer rating in coverage was the best in the NFL in the 2022 regular season among 49 players with 75 or more passes thrown their way, and Pro Bowler Darius Slay, 32 years old, are significant pieces of Philadelphia's defense. In case either show signs of aging or perhaps suffer an injury, Roseman can do what he's done on their offensive and defensive lines, draft young replacements before the starter is past their expiration date.
It's also worth noting Super Bowl LVII became the third-highest scoring Super Bowl all time and the first ever where both teams scored at least 35 points. The way the rules have shifted in favor of passing offenses cannot be understated, so having young, high-end talent at one of the premier positions tasked with slowing down the Patrick Mahomes' of the world is a must.
Illinois cornerback Devon Witherspoon, CBS Sports NFL Draft writer Ryan Wilson's projection, makes a ton sense at 10th overall given that one of his top strengths is the way he plays in zone coverage. The Eagles would be a schematic fit given they ran zone on 71.7% of their defensive plays. Witherspoon possesses fantastic field vision, anticipating throws and jumping passing lanes by reading a quarterback's movements. Listed at 5'11 1/2" and weighing 181 pounds at the NFL Combine, he is extremely agile in coverage downfield with plenty of speed to keep up on vertical routes. Witherspoon plays with an attitude and plenty of energy as a willing, physical tackler, not something that can be said of all cornerbacks. His hit against Indiana this season showcased strong form and his ability to become a heat-seeking missile in the open field.
Penn State cornerback Joey Porter Jr., CBS Sports NFL Draft writer Chris Trapasso's projection at 30th overall, also would be a fit here for the in-state product. Porter Jr., the son of retired four-time Pro Bowl linebacker Joey Porter, has high-end physical traits for a cornerback, standing at 6-foot-2 while weighing 194 pounds. That type of size and strength will allow him to physically match up with some of the NFL's best wide receivers starting in Week 1 of the 2023 NFL season since he takes advantage of his frame well in press man coverage. That length also allows for him to quickly reach around potential pass-catchers to knock the football away, something he did 11 times in 2022, tied for the third-most in the Big Ten Conference.
Draft Robinson if available at 30; if not address RB in Round 3
Here's a look at the base salary of the last 14 Super Bowl winners' leading rusher in the Big Game, courtesy of Pro Football Focus' Marcus Mosher.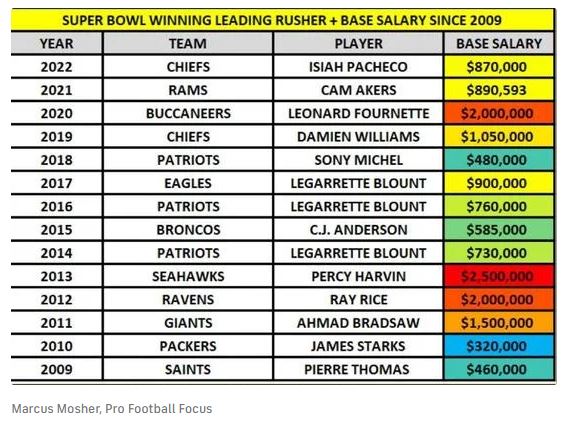 Since 2009, no Super Bowl victor's top rusher in the NFL's title game had a base salary above $2.5 million, meaning they were able to get the production they needed from running backs on rookie contracts or relatively team-friendly deals. With Sanders totaling career-highs in rushing yards (1,269, the fifth-most in the NFL) and rushing touchdowns (11, the eighth-most in the NFL), the soon-to-be 26-year-old is set to receive a contract that will likely pay him well above $2.5 million annually.
Given that likelihood, should 2022 Doak Walker Award winner Bijan Robinson -- college football's top running back -- slide to the bottom of the first round where Philadelphia has the 30th overall pick, he could be a dynamic and affordable player running the Eagles' run-pass-option heavy offense alongside Hurts. Robinson comes in at 6-feet while weighing a sturdy 220 pounds. He's built to be an every-down running back right away with great vision and explosion. His 113 tackles avoided were the most in the country and the most by any college football player in the last five seasons. If Robinson is off the board at 30, Auburn's Tank Bigsby, Robinson's Texas running mate Roschon Johnson, or TCU's Kendre Miller could be fits in the third round. Even with the signing of former Seattle Seahawks first-round pick Rashaad Penny to a one-year, $1.4 million contract, the Eagles need a steady core at running back to keep their ground game going while preserving Hurts' legs since those are the legs of the NFL's highest-paid player.
Draft a top safety if Robinson's gone at 30, or in Round 2 latest
Another hole the Eagles will have to fill this offseason is safety as both Epps and Gardner-Johnson -- the NFL's co-leader in interceptions with six in 2022 -- have moved on to other teams. There's a solid chance that one of the NFL Draft's top two safeties, Alabama's Brian Branch and Texas A&M's Antonio Johnson, could be one the board at 30th overall when the Eagles will be up once again in the first round, this time with their own pick.
It's probable that Johnson will be the one available at that spot given that the latest Branch is projected to be picked by CBS Sports mock drafts is 30th to the these Eagles, according to Pete Prisco. At 6-foot-3, 195 pounds, he's an incredible versatile player able to play either nickel cornerback or safety, but safety is the best place for his long-term, NFL value. Johnson was ballhawk last season, forcing three fumbles, tied for the third-most in the SEC and tied for the eighth-most in the entire NCAA. He finished his collegiate career with a bang, totaling 10 tackles and a forced fumble in the Aggies' 38-23 upset of then-ranked No. 5 LSU. Hall of Famer and Eagles legend Brian Dawkins delivered soul-crushing hits from the safety spot in Philadelphia for 13 seasons, and the City of Brotherly Love would certainly appreciate more high-level safety play. Read More