Perfect Packers 2023 NFL Draft: Find playmakers opposite Christian Watson, add at edge rusher and safety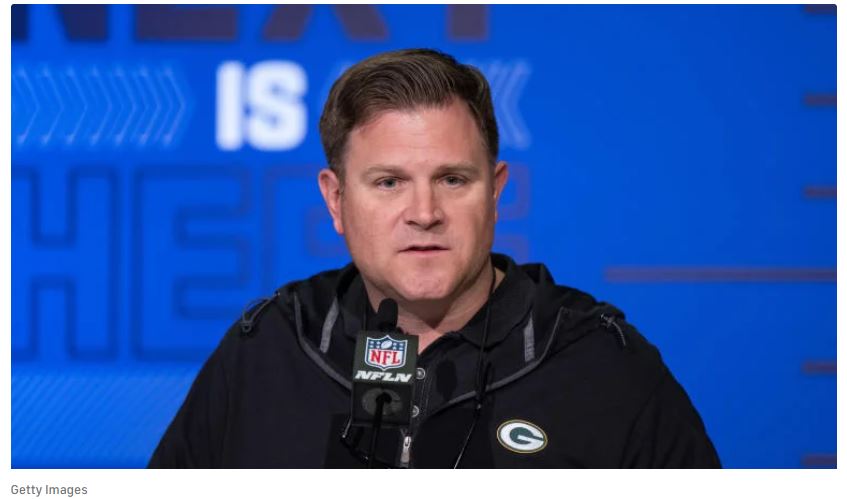 The Green Bay Packers discovered how the majority of the NFL lives in 2022, missing the postseason for the first time under head coach Matt LaFleur. The team had a rash of injuries to a number of key players -- back-to-back NFL MVP Aaron Rodgers, All-Pro left tackle David Bakhtiari, linebacker Rashan Gary, All-Pro linebacker De'Vondre Campbell, and cornerback Eric Stokes -- that contributed to breaking its three-season streak of 13-win campaigns, the longest such streak in league history.
The Packers started 2022 strongly, winning three of their first four games, but then lost seven of their following eight games from Weeks 5-12, setting the tone for the down year it was. Green Bay had a brief glimmer of hope following a four-game winning streak against the Bears, Rams, Dolphins and Vikings, but the Detroit Lions dashed those dreams by handing their divisional rival a 20-16 loss at home in the regular season finale. It was a disappointing performance in which the Packers offense couldn't get out of its own way.
With an 8-9 record, the Packers were an average team in the first year without first-team All-Pro wide receiver Davante Adams, scoring 21.8 points per game (14th in the league). That was expected as Rodgers attempted to gel with rookie wideouts Christian Watson and Romeo Doubs, the team's second- and fourth-round picks in the 2022 NFL Draft. The bigger disappointment was the defense, expected to be a top-five unit with all the first-round picks and money invested in that side of the ball. The unit allowed 21.8 points per game, ranking 17th in the NFL. The Packers own all of their own picks, excluding their sixth rounder, and have four additional picks they acquired thanks to trades or compensatory selections. Here's a look at how they should utilize those 10 picks in the 2023 NFL Draft in order to get back on track.
Packers team needs: WR, TE, S, DT, EDGE, OG, LB (via Josh Edwards)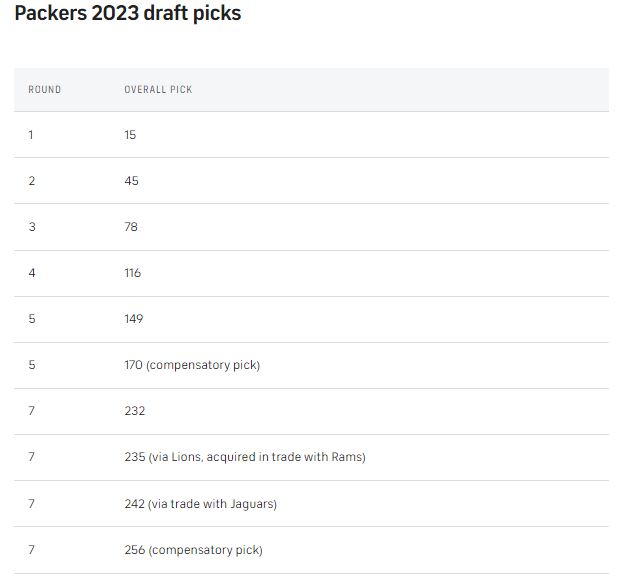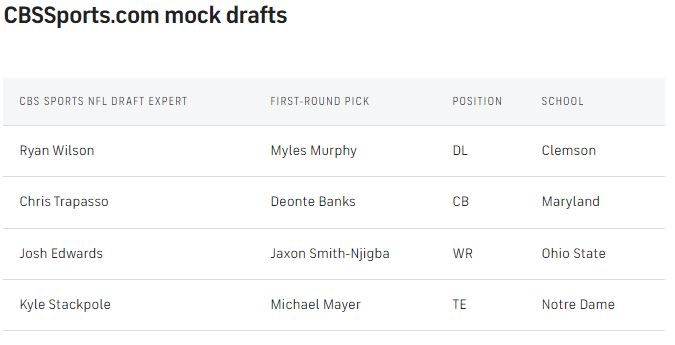 Draft a pass-catcher with their first-round pick
It's the thick of the NFL offseason in Green Bay which means it's time to whip out the draft statistic that makes Packers fans everywhere ask for another round at their local bar when the NFL Draft rolls around: Green Bay has not selected an offensive skill-position player (running back, wide receiver or tight end) in the first round since 2002 when it chose Florida State wide receiver Javon Walker with the 20th overall pick. The last time the Packers took an offensive skill-position player in the first round, Tobey Maguire's "Spider-Man" (the first one) was the world's top-grossing movie.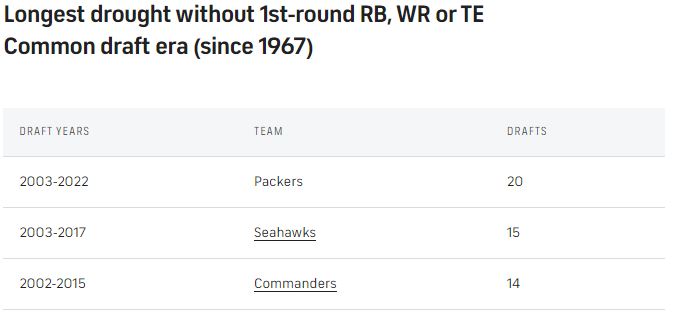 Twenty years of drafting and no offensive skill-position players is a testament to the front office's belief that Hall of Famer Brett Favre and future Hall of Famer Aaron Rodgers could do more with less talent at their disposal, and both proved that theory to be correct for many seasons. However, one could argue that the Packers have also squandered some of both Favre's and Rodgers' twilight seasons by not surrounding them with more talent as their mobility and other skills slowly deteriorated.
With Rodgers not returning to Green Bay and the Packers transitioning to Jordan Love at quarterback, the team's first-round pick in the 2020 NFL Draft, they could use another weapon or two in the passing game to complement Christian Watson, whose nine scrimmage touchdowns were tied for the most among all rookies with Seattle Seahawks running back Kenneth Walker III. Those nine scores from scrimmage were tied for fourth-most in the entire NFL among all wide receivers with a few of the league's best: the Vikings' Justin Jefferson, the Bengals' Ja'Marr Chase, the Cowboys' CeeDee Lamb, the Browns' Amari Cooper, and the Seahawks' Tyler Lockett. The Packers' Week 18 slip-up against the Lions showcased the need for another weapon or two, as the Lions double-teamed Watson or bracketed him with a safety nearly the entire game, daring another pass catcher to beat them. Romeo Doubs, the Packers' fourth-round pick receiver in the 2022 NFL Draft, is a player head coach Matt LaFleur has high hopes for, likening the 23-year-old's "movement skills" to those of former Packers All-Pro Davante Adams.
However, adding a third option, a true top-flight receiving option, could rapidly accelerate Love's growth under center. Cincinnati quarterback Joe Burrow and the Bengals offense hit new heights in 2021 following the addition of Chase alongside receivers Tee Higgins and Tyler Boyd. Higgins, the first pick of the draft's second round in 2020, has totaled over a 1,000 receiving yards in each of the two seasons since the Bengals drafted Chase fifth overall in the 2021 NFL Draft. A first-round weapon at 15th overall could open things up for both Watson and Doubs in a somewhat similar fashion with both entering their second NFL seasons.
Financially, selecting a receiver or tight end 15th overall on April 27 makes the most sense for Green Bay when factoring in what trading Rodgers to the New York Jets will do to their salary cap. If the Packers trade Rodgers to the Jets prior to June 1, aka before the NFL Draft, Green Bay will take on $40,313,570 in dead cap space. Acquiring a first-round pass catcher allows for the Packers to have a young, cost-controlled asset for five seasons. That's significant for a team strapped for cash and had their No. 2 receiver, Allen Lazard (signed a four-year, $44 million deal with the Jets), their top tight, Robert Tonyan (signed a one-year, $2.65 million contract with the Bears), and their backup tight end, Marcedes Lewis, all move on this offseason.
Ohio State's Jaxon Smith-Njigba, who set the college football bowl game receiving yards single-game record with 347 against Utah in the 2021 Rose Bowl; TCU wide receiver Quentin Johnston, one of the driving forces of the Horned Frogs' surprise College Football Playoff run as well as one of the top receivers in the draft; Notre Dame tight end Michael Mayer, who led all tight ends in receptions (180) and receiving yards (2,099) across the last three college football seasons; or Utah tight end Dalton Kincaid, arguably this draft's most fluid route-runner, would all be strong picks at No. 15.
The bottom line is the Packers need talent to find out if Jordan Love truly is the answer at quarterback, and they need to find out quickly. The decision deadline on whether or not to pick up his fully guaranteed, fifth-year option of $20.27 million is May 1. Realistically, the team needs to know if he's their long-term guy at the sport's most important position no later than the end of the 2023 season because that knowledge or lack thereof will shape the moves the Packers make that will have long-term ripple-effects down the road.
The only way to find out if Love is the guy is to surround him with talent because then it's easy to isolate his performance as the experimental variable if his supporting cast is well-stocked. Green Bay is loaded at running back with Pro Bowler Aaron Jones and AJ Dillon. An additional impact pass catcher, wide receiver or tight end, could be a franchise-altering addition if that player positively helps alter the course of Love's career. Whichever one they don't pick in the first round needs to be addressed in Round 2 or 3.
Add depth at edge rusher
he Packers had the 10th-best pressure rate this season at 34.6% -- a strong year from a macro view in terms of bothering opposing quarterbacks. However, that figure is propped up by the first nine weeks of the season when their 39.8% rate was the second-best in the NFL. During that span, linebacker Rashan Gary dominated with 38 pressures, tied for fifth-most in the NFL, and six sacks. Once Weeks 10-17 rolled around-- after the 25-year-old Gary went down with a torn ACL – they plummeted with the sixth-lowest rate in the league (29.7%).
Green Bay's other outside linebacker, 30-year-old Preston Smith, had a solid year as one of 23 players in the NFL with at least 20 quarterback hits and eight sacks, but the Packers defense needs more than just those two, given the pass rush died when one of them couldn't play. The only move the Packers have made in free agency at the position is re-signing Justin Hollins, a rotational player who recorded two-and-a-half sacks, three tackles for loss, and four quarterback hits in six games played last season.
Some names to target in Rounds 2-5 could be Notre Dame's Isaiah Foskey, whose 11.0 sacks were tied for the fifth-most in college football this past season; Army's Andre Carter II, whose 15.5 sacks in 2021 were the second-most in the country behind only Alabama's Will Anderson Jr. and also more than current Detroit Lion Aidan Hutchinson; or Ohio State's Zach Harrison, one of the key pieces of a defense that nearly knocked off eventual national champion Georgia in the College Football Playoff semifinals. More reliable players in this area will do wonders for the Packers defense.
Look for a starting-caliber safety in the middle rounds
While the Packers are stacked at cornerback with Pro Bowl selection Jaire Alexander, ballhawk Rasul Douglas -- his nine interceptions across the last two seasons are tied for the third-most in the NFL -- and third-year, former first-round pick Eric Stokes. That's not the case with the position group behind them. Adrian Amos, who was one of the best safeties in football in 2020, continued a downward trend in his play from decent to needing to be let go in 2022. Amos surrendered six touchdown passes in coverage for the second straight season after only allowing two in 2020. He allowed a 102.8 passer rating in coverage as the primary defender, the 17th-highest in the NFL among defensive backs to play in at least 10 games. He's still unsigned on the free agency market this offseason.
Former first round pick Darnell Savage also regressed to the point that he was benched and then inserted back into the lineup to play in a reduced role at the nickel. He lost his safety spot to Rudy Ford, a player the Jaguars kicked to the curb on roster cutdown day prior to the start of the 2022 season. Ford re-signed with Green Bay on a one-year, $1.5 million contract, hardly a guaranteed starter's money. Texas A&M safety Antonio Johnson or Alabama safety Jordan Battle could be a huge help for the Packers in the Round 3-4 range. Read More