Ryan Miller leaves TCU for Creighton taking lasting lessons in return to his roots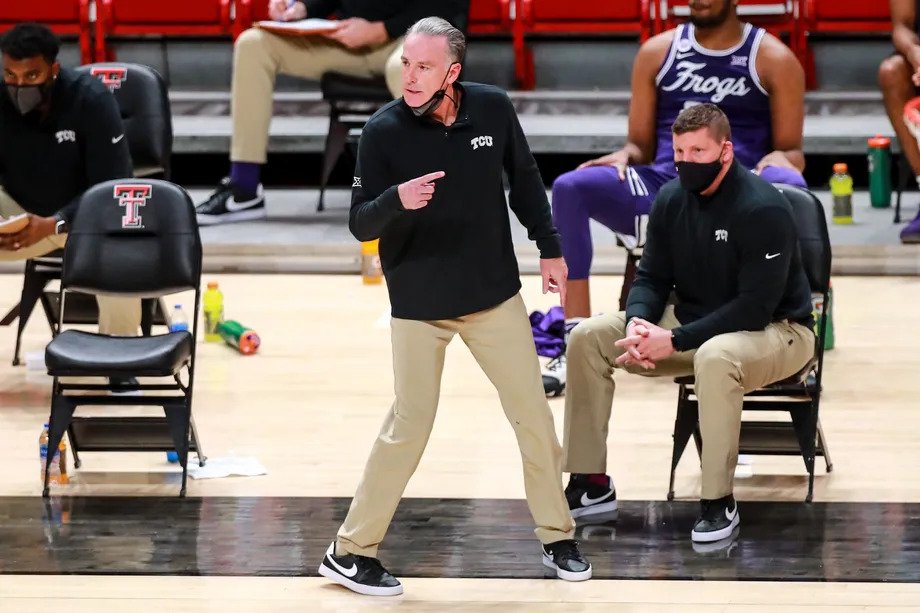 The final member of Jamie Dixon's original TCU coaching staff, Ryan Miller, left the Horned Frogs and Fort Worth after five seasons that included an NIT Championship in 2017, TCU's first NCAA Tournament appearance in 2018, and an NIT Final Four appearance in 2019. He has accepted a job at Creighton where he'll join Head Coach Greg McDermott's staff.
"It was very sad to be honest with you for me and hopefully for them having to tell them I was leaving," Ryan Miller said. "We have been through a lot of good times and tough times together, which makes it hard to say goodbye. Especially with people you care about like Coach Dixon and his family, the rest of the staff and their families as well as the kids we've coached. They all mean the world to me because outside of my immediate family, they are my family. Even though we'll keep these relationships forever because they are life-long relationships."
With the addition of TCU's 2021 class of transfers that includes former four-star recruit from Texas Tech Micah Peavy, Miller said he's leaving TCU better than where he found it.
"When we arrived at TCU we were a program two years removed from being 0-18 in the Big 12 that was struggling to make the adjustment to the Big 12 for a variety of reasons, and I'm a very proud to be part of the group that the first NCAA Tournament since 1998 while I was there, the two NIT runs to Madison Square Garden, obviously a little hiccup year with the pandemic year was hard, but the program is in an unbelievable position for the future. The direction has never been better really, it's in a good spot with a really bright future."
While TCU had previously been a victim of the transfer portal in the past, Miller said that had nothing to do with past uncertainty surrounding Jamie Dixon's job status
"I don't even think that played much of an impact because in this business there are always interesting times with job openings," he said. " I think we made roster decisions to go young as the league got older, which may have made it tough to make the next climb up the ladder. Now, there's a pretty good base for the future of the program and the ceiling going forward starting with next year is really high for TCU."
Next year's TCU roster includes four new players who arrived via the portal, offering the Horned Frogs a reset of sorts as Dixon looks to reset his coaching after losing his associate head coach.
"The sky's the limit because in a way, the transfer portal has really helped the program out," Miller said. "It allowed the Horned Frogs to get guys who played in other regions to bounce back to the Metroplex if they didn't like what was going on at the school they chose like a Micah Peavy [a former four-star recruit who is transferring to TCU after his freshman year at Texas Tech]. Sometimes you realize the best spot is in your backyard and I think they can be a top three or four team in the Big 12. Under Coach Dixon's leadership, I don't see why not. Awesome place, awesome school, and it's a place with a lot of alumni support. The ceiling is very high."
Walking away from a program with a high ceiling wasn't the plan, but Miller couldn't turn down the opportunity to reunite with family. Miller will be able to return closer to his parents in Sioux Falls, South Dakota, and he'll be able to coach his nephew Mason Miller. Mason, a four-star recruit in the 2021 class who just led Houston High School in Tennessee to its first state title, is the son of 2-time NBA champion Mike Miller, Ryan Miller's brother.
"I've known Coach [Greg] McDermott and his coaching staff for a while," he said. "It was just one things that materialized with my parents being a two-and-a-half hour drive from Omaha, Mason came here to be close to his grandpa and grandma, and it all came together after some offseason staff changes. Mason has a chance to be pretty good, excited to have the chance to coach him, be a bigger part of his life, help him develop his game, so I'm excited about it."\
His nephew played an active role in Miller's jump from the Horned Frogs to the Bluejays.
"Yeah, I guess you could say he played a little bit of a role, so yeah," Miller laughed when asked about the role his nephew, an incoming freshman, had in recruiting him to Creighton. Often the opposite occurs, when a parent or relative joins a coaching staff, and then the school recruits the player, as it happened with Missouri's recruitment of current Denver Nuggets forward Michael Porter Jr. and Oklahoma State's recruitment of the projected first overall pick in the 2021 NBA Draft, Cade Cunningham.
However, Miller's title of associate head coach will not follow him from Fort Worth to Omaha, as his focus on the coaching shifts from a positional one to a Gary Patterson-like role.
"I will be in charge of the defensive aspect of the game over here [at Creighton], and I will be a defensive coordinator, making those types of calls during the game," Miller said. "It's very similar, but at Creighton I'll be more hands-on with our defensive schemes. McDermott does offensive and defensive coordinators, which is unique in basketball. Dixon did more of a guard and forward breakdown, and I was in charge of the guards."
Miller was an assistant coach his first two seasons before serving as the associate head coach the last three seasons. Most notable among the players Miller helped bring in included Desmond Bane, the program's all-time leader in wins and third all-time scorer, and Jaylen Fisher, who led Big 12 freshmen three-pointers and assists in Year 1 of the Dixon Era, 2016-17.
Under Miller's tutelage over the last five seasons, five guards earned All-Big 12 honors, and Alex Robinson became the Horned Frogs' all-time assists leader: Jaylen Fisher (2017 All-Big 12 Honorable Mention), Robinson (2017 All-Big 12 Newcomer Team & 2019 All-Big 12 Third Team), Bane (2019 All-Big 12 Second Team & 2020 All-Big 12 First Team), RJ Nembhard (2021 All-Big 12 Third Team), and Mike Miles (2021 All-Big 12 Honorable Mention & All-Freshman Team).
The one what-if at TCU that sticks out most to Miller is the unrealized potential of Fisher, the guard who followed Miller from UNLV when Dixon brought Miller to Fort Worth on his inaugural staff.
"I would have loved to have seen what Jaylen Fisher could have done without the injuries because he was so special when he was healthy," Miller said. "I was so fortunate to coach big-time guys like Kenrich [Williams], Vlad [Brodziansky], Alex [Robinson], and Desmond [Bane]. It's been the best five years of my coaching career being with those guys, Coach Dixon, and taking the program from where it was to reaching higher highs like the team to the NCAA Tournament. That was an awesome deal."
Without a doubt, his biggest recruiting win for the Horned Frogs was spotting Bane at a summer circuit tournament in Dallas, which led to TCU giving the now-Memphis Grizzlies rookie his only Division 1 scholarship offer.
"I love Desmond's story, his work ethic, what he sacrificed and put into the game," Miller said. "He had a decision to go pro in between his junior and senior year and decided to come back to TCU. I loved his dedication to the program and his teammates. He was an all-time team guy. I don't have a favorite player I've coached since they're all my favorites, but I really appreciate his story and how he became the player he did."
Now, Miller will have to learn to appreciate a different style of basketball going from the Big 12 to the Big East because in basketball, Miller said going from coaching in the Big 12 to the Big East is like going from the SEC to the Big 12 in football.
"I would say as a league Creighton and the Big East is a more up-tempo, free-flowing game with a higher volume of three-point shooting, and the Big 12 is a more defensive, grind-it-out league," Miller said.
One thing that remains the same is having to battle against Shaka Smart, the former Texas Longhorns head coach who departed for Milwaukee to become the head coach at Marquette.
"Not looking forward to it, we had a lot of battles in the Big 12, but it will be fun coaching against him again at Marquette in the Big East," Miller said. "It will be interesting to see what style of play he brings to Milwaukee because at Texas in the Big 12 he played a physical, grind-it-out style of play. It will be interesting to see what he takes with him to the Big East."
Miller will be taking a number of lessons he learned coaching under Jamie Dixon to the conference where Dixon made his name in coaching, the Big East.
"The best thing about my five years at TCU is the relationships I've made along the way and living in the Fort Worth area, and on the court the biggest things I've learned are Coach Dixon's discipline and attention to detail on and off the court for the players," Miller said. "The way he approaches the game every single day, he has no days off giving the kids everything he has. Also great learning from a phenomenal administration like Jeremiah Donati and Chris Del Conte. The whole university is amazing, Chancellor Boschini was amazingly supportive, it was just an awesome place to live and work. It was very hard for us to leave."
However, Miller didn't rule out a potential return to the Big 12 one day.
"Going to Creighton, it's an area where I grew up regionally and being in another conference like the Big East, a great basketball league, will help me develop as a coach," Miller said. "Being around a different style of play will hopefully keep my personal and professional growth going so that I can one day be a head coach of a program like a TCU or a Big 12 program." Read More