Jamie Dixon's Horned Frogs: 3 Things To Consider & a Reason for Optimism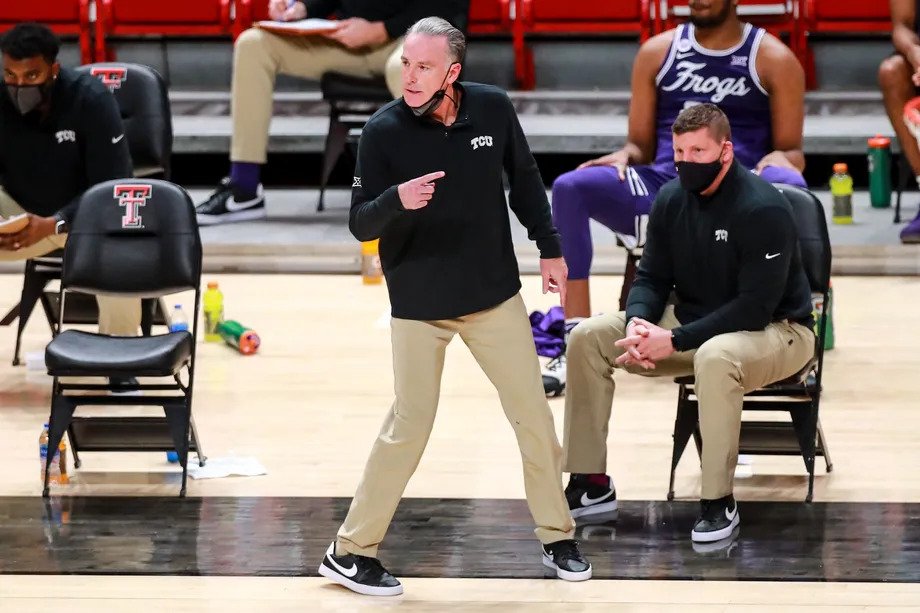 With the 2021 NIT bracket officially revealed and TCU not on it, this week marks the first full week of the offseason for Jamie Dixon's Horned Frogs. With that in mind, here are three questions to contemplate as TCU's men's basketball eyes the 2021-2022 season:
1. Is Jamie Dixon on the hot seat?
At most schools, going 28-30 over a two-season span would likely crank up the thermostat on the head coach. While Dixon completed his 5th season as the Frogs' head coach, consider that the record for Dixon's first three seasons at TCU was 68-41 W-L (0.624 win pct) with an NIT Championship, NCAA Tournament 1st Round appearance (first since 1998), and NIT Semifinal appearance. That initial three-season stretch from 2016-2019 is just the second time in program history that TCU has won 65 or more games in three seasons. The only other time TCU Basketball has experienced that much prosperity was from 1996-1999 when the Billy Tubbs-led Horned Frogs went 70-30 with an NCAA Tournament 1st Round appearance in the 1997-1998 season.
If that doesn't convince you Dixon is in Fort Worth to stay, recall how TCU's administration blocked UCLA's attempt to hire away Dixon to Los Angeles like Dikembe Mutombo in a Geico commercial. His contract had a buyout of nearly eight million dollars, a number UCLA reportedly tried to negotiate down.
Following the conclusion of the UCLA talks, Chancellor Victor Boschini at the time said, "My interpretation of our conversation is that he [Dixon] plans to stay with us through the entirety of his career and that we don't have to worry about something like this again," when I asked him about Dixon's buyout situation. That doesn't sound like a coach the Horned Frogs are looking to release anytime soon, despite the results of the last two years.
2. What changes need to be made to generate better offense?
The Horned Frogs run what's described as a "motion offense." That means fewer scripted plays and a bigger emphasis on players without the basketball passing and cutting when they see an opportunity. This type of offense usually leads to guards being the featured players, and three-pointers having a higher level of importance than points in the paint. It makes sense because three points are better than two points.
However, this offense runs best when the shooting provides more effective spacing to make the pick-and-rolls that the Horned Frogs run at the top of the key to start nearly every possession. The problem is the shooting was missing in action as TCU shot just under 34 percent from the three-point line in 2020-2021, eighth out of ten Big 12 teams. Eighth place is also where the Horned Frogs finished in the Big 12 standings as the seven teams ahead of them made the NCAA Tournament.
The 66.8 points per game TCU averaged last season were the second-fewest in the Dixon era after averaging 65.4 in 2019-2020, which was their fewest in the last five seasons. How can the Horned Frogs improve this? More Kevin Samuel post-ups would likely help since TCU went 8-3 in 2020-2021 when Samuel scored double-digit points.
Another area to improve upon is turnovers: the Horned Frogs committed 383, the third-most in the Big 12. A bright light of improvement was junior guard RJ Nembhard who had career-highs in shooting percentage (40 percent), three-point shooting percentage (34 percent), points (15.7 PPG), assists (4.0), rebounds (3.8 RPG), and turnovers (3.6 turnovers per game, most on the Horned Frogs).
Nembhard has increased his numbers as more opportunities have been presented following the graduations of Alex Robinson and Desmond Bane in the previous two seasons. Nembhard will likely continue to grow his game, but he may be better served working off the ball, which would allow him to hunt for scoring opportunities while reducing the play-making burden.
3. Who adds additional punch on both ends of the floor?
Getting more than nine games played out of guard Francisco Farabello may help the offense hum a little more smoothly in addition to Year 2 for All-Big 12 Freshmen Team member Mike Miles making another leap. Defensively, the Horned Frogs allowed 71.2 points per game, the 2nd-most in the Dixon era and the highest in three seasons. Perhaps the addition of the 4th-highest ranked junior college prospect per 247Sports, Souleymane Doumbia, a seven-footer who weighs 220 pounds is enough of a difference. Either way whether it's through Doumbia or internal growth, that's an area TCU will need to make major strides in by the time next November rolls around.
Reason for optimism?
One thing is certain about the 2020-2021 TCU Men's Basketball Team: They know how to beat the best talent, sweeping likely No. 1 overall NBA Draft pick Cade Cunningham and one of the best 16 teams in the nation, Oklahoma State. The Horned Frogs are scheduled to return every major contributor from this past season's squad. Thus, if everyone steps-up their game, and Doubmia provides a big-time center in the rotation, allowing backup center Jaedon Ledee to move to power forward, the postseason could be in TCU's future. Read More