Nembhard looks to lead Horned Frogs through 2021 gauntlet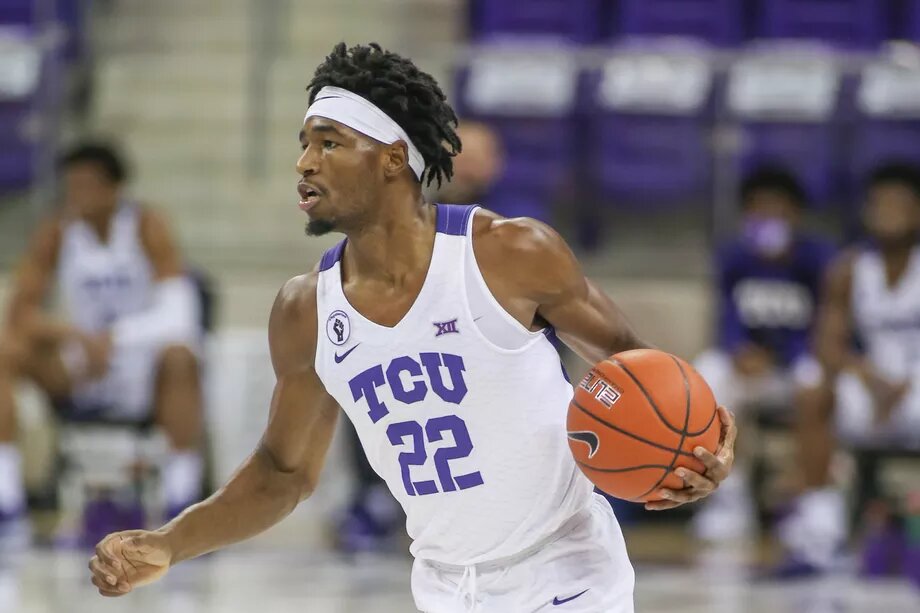 The Horned Frogs are in a familiar place entering the stretch run of their season with a 9-2 overall record and 2-1 conference record that has them sitting in a tie for third place in the Big 12 with 16 games to go in the regular season. Eleven of those games are against teams ranked in the AP Top 20, including their opponent tonight, sixth-ranked Kansas.
As head coach Jamie Dixon likes to say, "I have always coached in the toughest conference from the Big East to the ACC [at Pittsburgh], and now the Big 12."
In each of the last two seasons, TCU started 12-1 and 12-3 before finishing those regular seasons 19-12 and 16-15.
Why might this season conclude differently despite having one of the top Big 12 backcourts again? They don't have to rely as heavily on it due to contributions from a number of underclassmen.
Junior RJ Nembhard leads the Big 12 in scoring averaging 18.7 points per game, and he has scored 20 or more points in four-straight games while ranking sixth in the Big 12 in shooting percentage (48.8) and assists (4.4). Alongside him is freshman Mike Miles who has scored 20 or more points in three games this season and ranks ninth in the Big 12 in scoring, averaging 14.8 points per game.
Although, it's not just Miles leading the youth movement. TCU's 11 underclassmen is the fourth most in the country and ties with Kansas State for the most in the Big 12 Conference. Contributions from sophomores Francisco Farabello, PJ Fuller, Kevin Easley, and freshman Taryn Todd have led to freshmen and sophomores accounting for 54 percent of TCU's points.
However, the Horned Frogs go as Nembhard does. He scored a game-high 21 points in TCU's 67-60 wire-to-wire win at Kansas State on Saturday. TCU shot 81.8 percent (18-22) from the free throw line, its best in the past three seasons, and sealed the win by making 13of13 free throws down the stretch, including two from Nembhard, after he caused the game-sealing turnover.
"I've seen myself as a natural leader since middle school and high school, but college is a little bit different; you have to wait your turn, and I have learned from a lot of guys like Alex Robinson, Kenrich Williams, Vladimir [Brodziansky], Desmond [Bane], guys like that," RJ Nembhard said. "It was pretty easy to transition into that role. When I first got to campus, Desmond was my roommate throughout the summer, so seeing him work and how he got better taking some big leaps has inspired me to do the same thing."
Nembhard's climb to becoming the Big 12's leading scorer and the Horned Frogs' vocal leader wasn't particularly smooth as he ended up redshirting his first year on campus despite his status as a four-star recruit. He averaged over 26 points per game while winning 32 of 35 games his senior year at Keller High School, just down the road from TCU.
"My first year here, I had averaged 25, 26 points per game my senior year of high school, everything kind of flipped," Nembhard said. "I redshirted, changed my major, so I had a lot of things going on that first year, it was pretty difficult.. Guys like Coach Santee, Desmond Bane, and others off the court encouraged me to keep growing, so my progression throughout the years isn't just me, but it's also a credit to the other guys around me as well. I'm grateful I had the opportunity to redshirt."
Player development coordinator Corey Santee said it's easy to see why Nembhard's play has continued to improve each season.
"RJ has become great at taking constructive criticism, he's become more mature through being redshirted as a freshman and having to enjoy the process, it humbled him," Santee said. "Everyone comes to college thinking they are going to be 'the man'. Once you are humbled and see what you have to work on, you finally see your flaws. You can either fold and take that as it is and continue to get better. RJ got better."
Nembhard averaged 4.4 points per game on 35.1 percent shooting his redshirt freshman season (2018-2019), which jumped up to 12.1 points per game and 36.6 percent shooting his sophomore year. Now, he averages that Big 12 best 18.7 points per game on 48.8 percent shooting.
He also took it upon himself to help get his teammates back in shape over the course of the summer after not playing basketball for months due to the pandemic. Nembhard's father, Ruben Sr., played a season in the NBA, 1996-1997 with both the Utah Jazz and Portland Trailblazers, and now works as a trainer and skills development coach with his own facility called Playmakers' Training Facility in Keller. RJ made sure a number of his teammates stopped by as they were in and out of Fort Worth this summer in the lead-in to their return to campus.
Sophomore guard Francisco Farabello said those summer workouts with the Nembhard changed his game.
"I probably spent two weeks with them, his dad is a great individual skills coach, and we worked on drills regarding finishing at the rim, footwork and some other different stuff than I had not worked on in my life, that really impressed me," Farabello said. "Once we worked on the drills, I knew I had to work on my footwork more. Working on finishing better at the rim and if a shot isn't there, find the open guy. Most of my three-point shots last year were catch-and-shoot, so I have been working on shooting them off the dribble and being more decisive with it in the paint."
Farabello leads the Horned Frogs in three-point shooting this season with his percentage improving to 44.4 percent as a sophomore.
"Last year, he was trying to think about making the perfect play, trying not to make mistakes, so I told him to just play," Nembhard said. "This year, he's done that shooting with confidence, making plays with confidence. Farabello is picking it up on defense, which is huge in the Big 12. He's grown in all areas, and I'm excited to see his growth."
Nembhard himself has reached the final stage of his growth acting as TCU's closer. He drained the go-ahead midrange jumper with 7.6 seconds left to play in Stillwater to seal the Horned Frogs' first Big 12 win of the season against Oklahoma State. Dixon said he didn't draw up a play and it was "freelance, let them go." The ball gravitated toward Nembhard's hands.
"I love the big moments, it's something I love to do," Nembhard said. "My favorite player was Kobe, and the Mamba Mentality is to seize the moments when it comes. I just wanted a good shot and the ball happened to fall into my hands."
He leads TCU gets into their two toughest tests of the season this week: sixth-ranked Kansas tonight and second-ranked Baylor on Saturday. Read More