Defensive resurgence keys TCU turnaround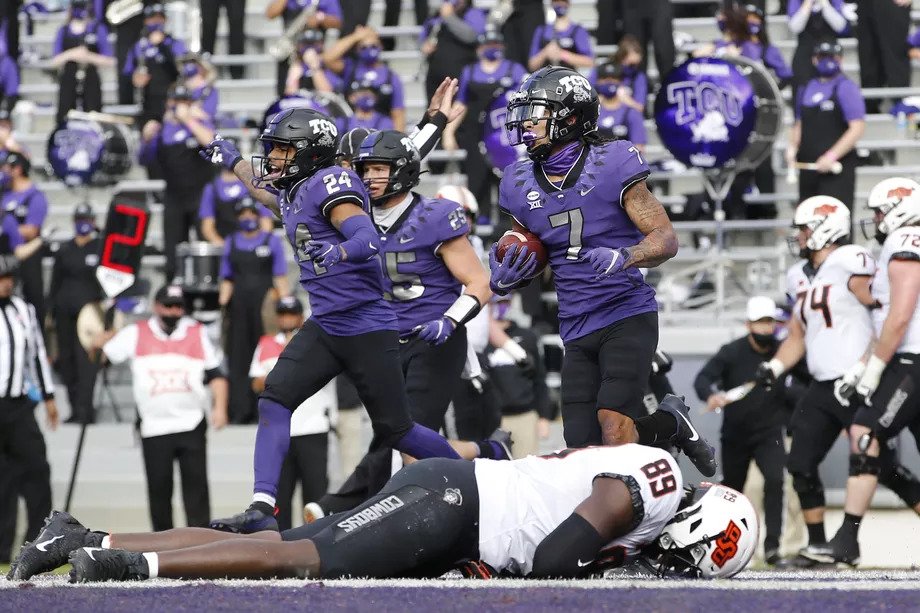 Just like the bulk of 2020, TCU's football season looked bleak at the halfway point, losing three of their first four games including a 33-14 shellacking at the hands of Oklahoma at Amon G. Carter Stadium. However, a much improved defensive effort from both the pass rush and the secondary has completely altered the Horned Frogs' season outlook. They clinched their first winning Big 12 season and with a win they will clinch their first regular season finish being two games above .500 for the first time since the 2017 season, Kenny Hill's last as TCU's starting quarterback.
"Well, I mean, you lost two one-score games [Iowa State and Kansas State], and it [the turnaround] says a lot about a young football team to be honest with you," TCU Head Coach Gary Patterson said. "You only had eight or nine seniors, and so how these guys fought back when they've played with a lot of energy, when they've played when they look like they're having fun, really good things happen to them. So we've got we've got to keep doing that. Really, to be honest with you, defensively we played real hard but we didn't play great as far as the accountability factor. Everybody said, well, we played really hard, I said can you imagine when we play that hard and we do what we're supposed to do and how we're supposed to do things."
During the 1-3 start, TCU was allowing 30.5 points per game. In the last six games, a 5-1 stretch, the Horned Frogs are allowing 18.3 points per game. The two reasons for the turnaround, an improved pass rush and better play in the secondary, are undeniable, but it's kind of like a chicken versus the egg debate about which improvement came first.
The Horned Frogs had just five sacks as a team through the first four games, but they matched that total in games five and six against Baylor and Texas Tech. Overall, TCU has 17 sacks in the last 6 games more than tripling their total from the 1-3 start.
In the secondary, safety Trevon Moehrig has remained steady, but the cornerback play has seen a boost from sophomore Tre'Vius Hodges-Tomlinson. Tomlinson played just under 100 snaps, according to Pro Football Focus (PFF), his freshman year, but his time as a starting cornerback following the departure of 2020 first-round draft pick Jeff Gladney began a little bit rocky. Hodges-Tomlinsone had issues in the season-opener against Iowa State, allowing all four targets in coverage to turn into receptions including a 17-yard touchdown that allowed the Cyclones to extend their lead to nine, 16-7, with 53 seconds remaining in the first half. Hodges-Tomlinson has the second-best PFF coverage grade in college football of 89.5. He has allowed just 12 catches on 40 targets with 13 pass breakups in that span.
"Well, our group has been playing well the last five or six weeks, they've been coming on," Patterson said. "They didn't play with a lot of energy at West Virginia, but when we play with energy we give ourselves a chance. I told them again, if you want to have fun, you have to create the fun yourself. By going out there and just thinking it's all going to happen, it's not going to just happen. You've got to create it. When they've done that, and I think we've gotten back to that level because I think earlier in the season we weren't playing with a lot of emotion, and I think we've gotten back to playing with a lot of emotion, you're going to give yourself a chance to be successful. Defense is 75 percent effort and then you put all the other stuff into it. You've got to play with great effort to give yourself a chance. This group is doing that. With all the guys they've had down and how it's all come to pass and the success they've had. Hopefully we can do that for one more ball game here."
Their final game of the regular season, at this point, is against Louisiana Tech, a team that compares to Texas Tech. TCU's 18 points allowed in their 34-18 win against the Red Raiders was their fewest allowed in a win this season.
"Probably like Texas Tech, they throw the ball, they're going to be in with four wide receivers, and as a general rule, they spend their time in 10 personnel [1 running back & 4 wide receivers] throwing the ball," Patterson said. They are very good at the quick passing game. They've got players. Receiver Isaiah Graham was a TCU Horned Frog at one point in time. They've got some guys who can run around and do some stuff. You've got to get ready to play. All the screens, all the quick [passing game] and then they'll throw vertical at you so you've got to get ready to play."
The Horned Frog pass rush abused the Red Raider offensive line earlier this season with the aforementioned five sacks, three of which were by defensive end Ochaun Mathis on three of Texas Tech's first four possessions. Texas Tech has allowed 16 sacks in 10 games this season, tied for 66th in the country in sacks allowed. Louisiana Tech has allowed 21 sacks in 8 games this season, which is tied for 85th in the country in sacks allowed. If TCU's defense can continue to "create their own fun", the Horned Frogs will be walking out of Amon G. Carter stadium for the final time this season in a great mood.