Texas Two Step: Could Desmond Bane become a Dallas Maverick?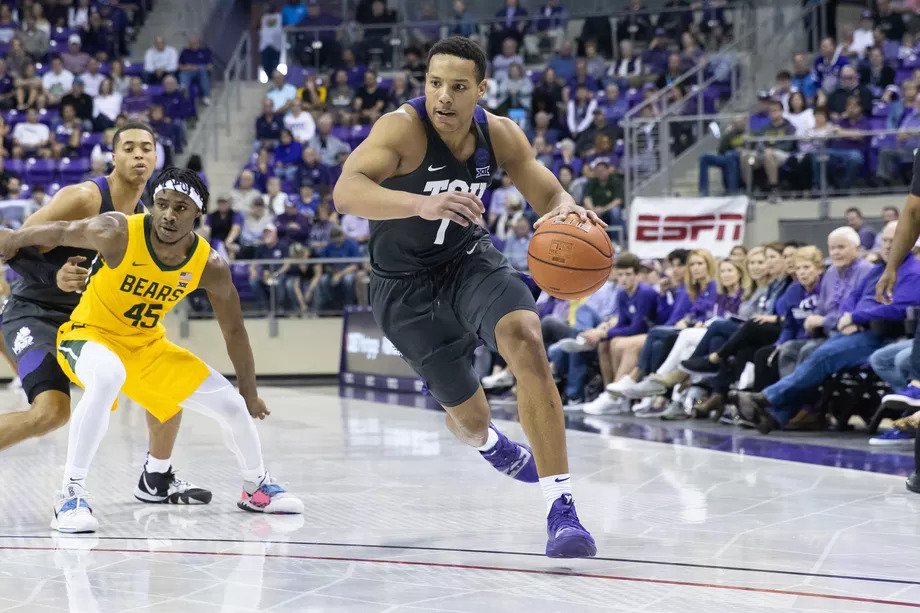 It's NBA Draft Eve, and there's a chance that when the Dallas Mavericks open their presents, the 18th and 31st overall picks, one of them will be 6-foot-6-inch, 215 pound TCU product Desmond Bane.
"I have been in contact with the Mavericks, and I feel like there is interest there, but my agent says that's all I can really say about that," Desmond Bane said. "Dallas is kind of like a second home to me. I'm comfortable, I know my way around, I can get a cheap house out there, good bang for my buck. Being able to play with someone like Luka Doncic who makes the game easier for everybody else around him is something I would be extremely interested in."
Bane also presents a multitude of reasons for why the interest is mutual. He was a career 43 percent three-point shooter in four seasons at TCU, two points higher than Stephen Curry's college three-point percentage, 41 percent, in his three seasons at Davidson. Like Curry, Bane isn't just a shooter as he ranked second in the Big 12 with a scoring average of 16.6 points per game, sixth in assists (3.9) and 10th in rebounding (6.3). That made him the Horned Frogs' first All-Big 12 First Team selection and the only player to rank in the top 10 in the Big 12 in points, rebounds and assists.
Acquiring more shooting and play-making on the perimeter around Doncic, All-NBA First Team selection, and forward Kristaps Porzingis seems to be a priority since the Mavericks are one of the teams in hot pursuit of versatile Oklahoma City Thunder forward Danilo Gallinari, according to Brad Townsend of the Dallas Morning News. The Maverick offense, the highest-scoring in the NBA last season, relied heavily on the supporting cast around their European imports to utilize motion and screens to knock down three-pointers, as only the Houston Rockets attempted more three-pointers per game. That was Bane's bread-and-butter during his first three seasons in Fort Worth while point guard Alex Robinson ran the TCU offense.
"I definitely think the majority of my game will be off the ball, and I am capable of playing in secondary actions whether that be in transition or handoffs or other actions like that," Bane said. "I think it's [being on the Dallas Mavericks] a fit like a glove. I feel like I fit their system and their scheme perfectly. I know they're looking for wings who can shoot the ball and have a defensive mind-set and willingness to guard, and I feel like I fit that mold."
While NBA teams aren't able to do much as far as in-person workouts go during the pandemic, Bane was able to prove he belongs on the court with some of the best the NBA has to offer when training in Miami and catching fastbreak alley-oops from five-time NBA All-Star John Wall.
"As far as competing with these guys, it was a big confidence booster for me playing with and against guys like John Wall who has been to multiple All-Star games," Bane said. "James Harden and D'Angelo Russell were also in and out of the gym, so being able to compete with those guys and hold my own says a lot about where I feel like my NBA future is headed."
Bane, who said discipline was one of the biggest lessons he learned from TCU head coach Jamie Dixon, also had an opportunity to learn about how off-court behavior can impact a player's on-court future when training in South Beach.
"I got to learn from guys like Michael Beasley, a guy who was a number two overall pick in the draft," Bane said. "He's currently not on an NBA roster, not due to his talent, but to some of the mistakes [off-court] that he has made along the way. I can learn from him on what to do and what not to do."
Whether it's off the bench or potentially replacing Dorian Finney-Smith in the starting lineup alongside Doncic, Tim Hardaway Jr., Porzingis, and Dwight Powell, acquiring someone like Bane through the draft is the most cost-effective thing to do for the Mavericks to fill that need for for an increased spark on the perimeter. The salary cap is shrinking due to the pandemic and maintaining financial flexibility to keep an eye on the 2021 free agency class that may contain the winner of the last two NBA MVP awards, Milwaukee Bucks forward Giannis Anteokounmpo, is simply good business.
Regardless of where he ends up, Bane said his next team won't have any doubts about the level of work ethic he will bring with him.
"NBA teams would be getting a mature, consistent, and hard-working player in me," Bane said. "I feel like I bring value on both ends of the floor from knowing the game and the physical attributes that I have. I have a nice body of work over four years at TCU, and I have been able to develop not only physically, but mentally in several ways along the way which will help me in my NBA career."