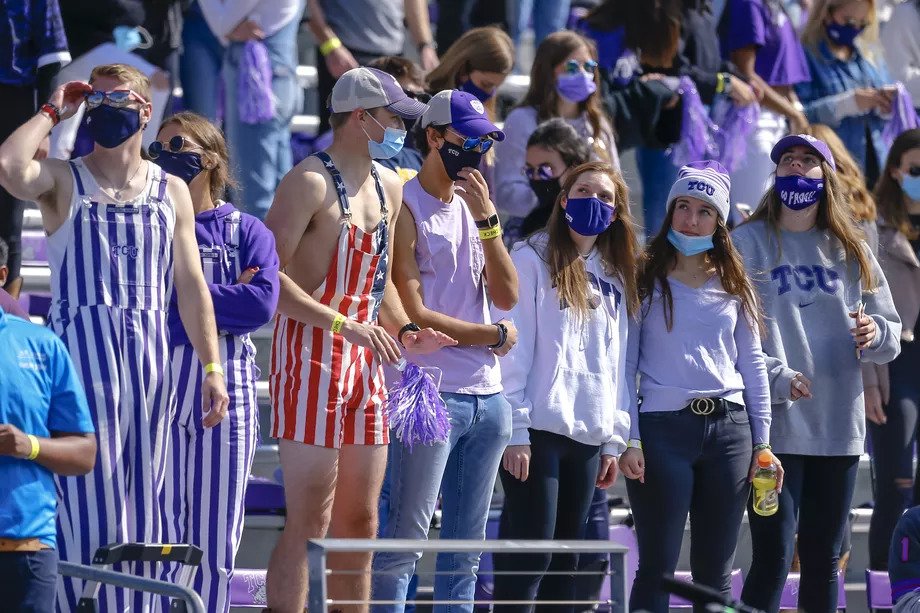 TCU has an Amon G. Carter stadium problem. There's nothing wrong with the stadium, the eastern side club and suites additions are complete, and they look great. The issue lies with the home team's performance inside the venue. In 2020, the Horned Frogs are undefeated (2-0) on the road, with wins over Texas and Baylor. They have out-scored their opponents by a combined 12 points and committed one fewer turnover than their opponents in those games. At home, they are winless (0-3). The Frogs have been out-scored by a combined 29 points and have committed one more turnover than their opponents in those games.
Home teams in the NFL have been dealing with woes at home as well. Entering Week 8 of the 2020 season, home teams had won 51 percent of their games, which would be the second-lowest home win percentage in an NFL season since the 1970 NFL-AFL merger.
So of course, one could point to the COVID-19 pandemic as a reason, since every stadium has had to either limit or eliminate its ability to host fans. However, that's not what TCU Head Coach Gary Patterson is doing.
"To be honest with you, we haven't been playing at home the last couple years very well, except night games," Patterson said. "Not just COVID-19; look back last year, we played better on the road. We have to have more energy."
Patterson is correct. The Horned Frogs were 3-3 at home in 2019, which as Patterson said isn't good enough as they ended the year with a deflating 20-17 home loss against West Virginia. That kept them out of a bowl game, finishing the season 5-7. The last time TCU had a winning record at home was 2018 when they went 4-2 en route to a 7-6 overall season that concluded with the wackiest bowl game in recent memory: The Horned Frogs defeated the California Golden Bears 10-7 in overtime as the teams combined to throw nine interceptions.
There's a variety of factors from losing the turnover battle to having negative plays on early downs offensively that could be highlighted to as the reason for the Amon G. Carter futility this season. Simply not having the "energy" also checks out. During the 2018 season, TCU had a number of players return from their 2017 team that finished the year 11-3 and ranked ninth in the final Associated Press poll. That was the last dominant Horned Frog team as they went a perfect 6-0 at home and capped off the year with an Alamo Bowl win over a top-15 Stanford team following an appearance in the Big 12 title game.
The 2017 season presented a number of reasons for TCU to have the swagger or energy to dominate at home: strong quarterback play and the Big 12's best defense. Current TCU offensive assistant coach Kenny Hill led the NCAA in third-down completion percentage (67.3) and set a TCU single-season record (67.2). He took care of the football, throwing 23 touchdowns and only eight interceptions in addition to leading all Big 12 QBs with 325 rushing yards. Patterson's defense allowed 19 points per game and 227.5 yards per game, both best in the Big 12.
The Horned Frogs only have four players who saw action in at least five games during the 2017 season: offensive tackles T.J. Storment and Austin Meyers, tight end Artayvious Lynn, defensive tackle Corey Bethley, and linebacker Garret Wallow. This year's roster simply doesn't have much experience to draw on from what it was like to deliver beatdowns to visitors at Amon G. Carter Stadium.
However, Patterson is 89-27 in home games, winning 77% of them, throughout his 20 years as TCU's head coach. There's no reason it can't get turned around. Handling nine-point underdogs Texas Tech this weekend would go a long way to get back on track in front of the Fort Worth faithful. Read More