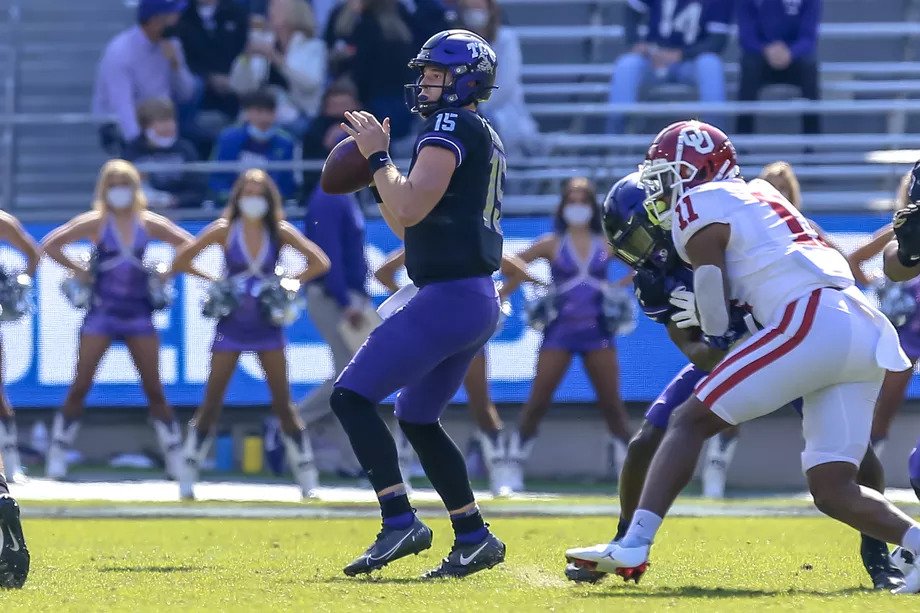 ame five of the 2020 season presents a crossroads for the Horned Frogs. After losing their first two games by a combined 10 points against Iowa State and Kansas State, TCU had its first ugly loss of the year against Oklahoma, 33-14. Gary Patterson's ballclub is 1-3, its worst start since 1999, which was Patterson's last full season as just TCU's defensive coordinator. Saturday will show how much fight the 2020 edition of the Horned Frogs have left in the tank and how badly they desire to get "back on the horse."
"For our guys, we had two weeks to get ready for Oklahoma, and they're not used to losing," TCU Head Coach Gary Patterson said. "But they're 1-3 so how do you face that? The best way is to get back on the horse."
Getting back on the horse this week would mean defeating the rival Baylor Bears, who are dealing with their own issues, sitting at 1-2 under new head coach Dave Aranda. In a game where TCU is actually sitting as 2.5-point road favorites, this week for the Horned Frogs comes down to how badly they want it against their I-35 rivals.
"You fight through what you have to fight through, we got a great nucleus," Patterson said. "[QB] Max [Duggan] is playing better, we got to play better in the red zone; offensively we've been able to move the ball thirty to thirty but we got to be able to play in the red zone."
The good news for Patterson's group is that they have scored on all 10 of their trips inside their opponents' 20-yard line this season, but the bad news is only three of those scores were touchdowns. A red zone touchdown percentage of 70 percent sounds great, but that rate puts the Horned Frogs at 23rd in the nation among teams that have played multiple games just behind Georgia State and just above Troy. What would help Duggan more than anything is more time to work when dropping back to pass.
"I thought we did a lot better job against Oklahoma, but we didn't run the ball," Patterson said. "It's one of those things, like any young football team, whatever you isolate to improve, we do, but it's continual going forward. We were able to move the football, really could've scored 21 points, at least, maybe 24 in the Oklahoma game, that would've made a difference in the final score and how you did it. You can't play from second-and-long, first-and-long, I don't care if it's TCU or any offense, they're just not very good when you're behind the sticks. It's just simple."
TCU has surrendered 13 sacks in four games. While sacks alone don't necessarily paint a complete picture, their total puts them at tied for 76th in the nation with UT San Antonio, Navy, Liberty, and Troy. On the flip side, the Horned Frogs have to cut down on their tendency to loosen up defensively.
"Defensively you got to cut out the big plays; you do that you've got a chance," Patterson said. "Ninety-five percent of the time the plays we're playing really well, but you can't give up those 3-5 plays a ball game. We've been talking about it, but I've actually kind of quit talking about it. It's kind of like when you're not tackling well I've found the best way to quit tackling not well is to not talk about it. You get your legs and shoulders fresh."
It's true: the Horned Frogs do give themselves a chance defensively, allowing only 16.3 first downs per game, the second-best mark in the Big 12 behind the conference's top total defense, West Virginia. However, they have allowed 17 plays from scrimmage (carries or receptions) of 30 or more yards, which is tied for the seventh-most such plays allowed in the NCAA this season. Both passing touchdowns from Oklahoma quarterback Spencer Rattler a week ago fell in that bucket, 50 yards and 61 yards.
Bottom line, TCU has a strong awareness of their faults, and if they show up ready to take out their frustration on the Bears, a win is quite possible. No one gave TCU a chance against then-No. 9 Texas: every analyst on ESPN College GameDay foretold of a Longhorn win. Something about playing Texas brings the best out of TCU, they're 7-2 against the team from Austin since joining the Big 12 in 2012. Chasing down the other team's running back and then forcing a fumble on the one yard-line two plays later, that's heart more than anything else. A simple change in attitude against another rival may be all they need to salvage their season.
"You've got to stay upbeat, what these kids have gone through, what they've done up to this point, you can't control injuries, you can't control any of those guys, and we are getting ready to go and know we're working toward the future," Patterson said.
Vegas is betting on a brighter future for TCU on Saturday. Even though Patterson relishes being the underdog, being frustrated about needing to prove people right may be exactly what the Horned Frogs need. Read More