Featured
TCU's Dixon creating environment for substantive change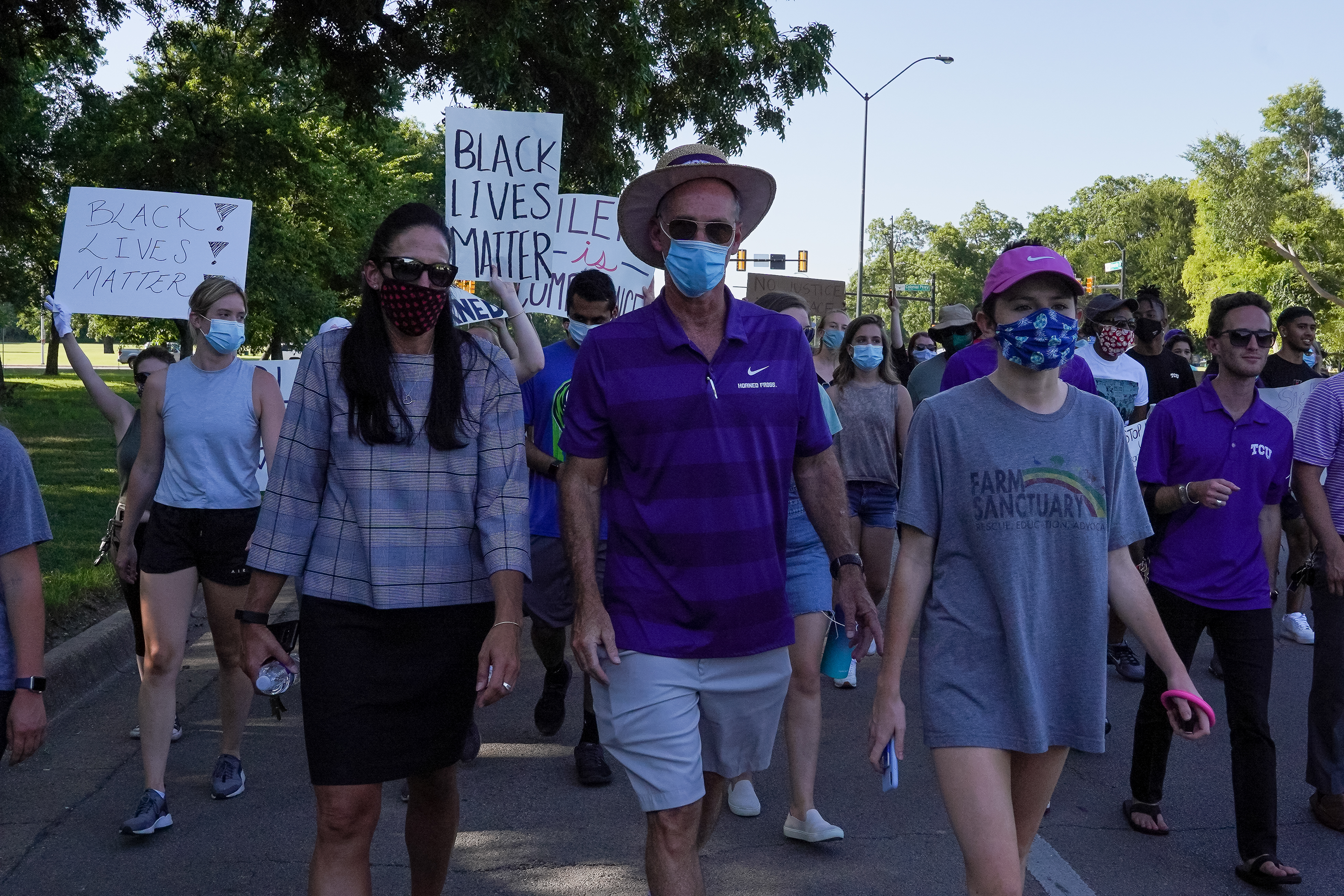 The video of the death of George Floyd at the hands of a police officer in Minnesota sparked the conversation about racism throughout the world. Many corporations, teams, coaches, athletes, and celebrities have, to varying degrees, released statements, videos, and posted links condemning Floyd's death.
TCU Men's Basketball Head Coach Jamie Dixon is working to create sustainable change throughout college basketball. In his new role as president of the National Association of Basketball Coaches Board (NABC) of Directors, Dixon said he wants to create more opportunities for Black people, as 56% of Division I basketball players are Black while 69% of head coaches are White. Dixon's one-year term as NABC president began in April and runs through next year's Final Four.
So far, he has created a committee on Racial Reconciliation to address racial injustice in both collegiate athletics and society. The committee has already sent a list of recommendations to all of its coaches. The committee has also proposed to high schools and colleges that their students "complete at least one course on African-American History or a related topic on the African-American experience" before graduating.
Dixon's coaching career has spanned over 30 years, and he also played for TCU from 1983-1987. He recognizes that steps must be taken in order to have a demographic composition of college coaches more representative to that of the players.
"I think obviously more has to be done," said Dixon, who joined a Black Lives Matter march at TCU earlier this month. "While there have been some strides, there certainly needs to be more work done. Whether that be assistant coaches, the professional development designee is part of something we are working on in legislation we're moving forward with. There are numerous considerations we're doing in NABC in the coaching community."
Between his participation in a student-led Black Lives Matter protest march and the changes he is pursuing for college basketball, Dixon's actions are some of the first major steps in creating lasting change.
"Awareness and a better understanding of what systemic racism is and doing things visibly on the court like wearing t-shirts, speaking about it to the press or on their social media are very important," TCU assistant professor of sociology Dr. Alicia Smith-Tran said. "Systemic change has to happen from a policy level, and also doing things like having requests of administrations or demands that they think things should be done within the institution like hiring practices and the way that the institution is run from within, systemically."
Creating a Culture of Empowerment
On June 9, a Black Lives Matter march organized by students began at the TCU campus bookstore before proceeding straight down the middle of University Drive. Dixon and his teenage daughter, as well as Player Development Coordinator Corey Santee were part of the group of over 200 people who participated.
"First and foremost, this is about your everyday beliefs and how you live your life," Dixon said. "I am constantly listening to and encouraging my family and my players. This discussion is not new to us. I have been brought up and have raised my children in an inclusive environment and treating all people as one would like to be treated."
Fostering a culture of encouragement and empowerment at TCU has been one of Dixon's top priorities since his return to his alma mater in 2016.
"I am most concerned with listening to our players and encouraging them," Dixon said. "I think of myself as a college teacher and former student athlete, and as a student I was quieter and somewhat more introverted in all facets, not just this issue. I think back again to how I would have needed that encouragement as a young 17-year-old to speak out arriving on campus at TCU."
Player Development Coordinator and TCU Basketball alum Corey Santee has a great appreciation for the environment Dixon is building at their alma mater.
"It's very comforting that Coach Dixon walked with us because it's a time when we have to get comfortable having uncomfortable conversations as Black people are sharing their feelings and experiences that they have had, which is bringing us closer together here at TCU," Santee said. "This really is a big family atmosphere at TCU and in this time of need being more aware of what's going on, not only in our country, but our campus is starting to bring things to light, and we've become closer as a family as a result."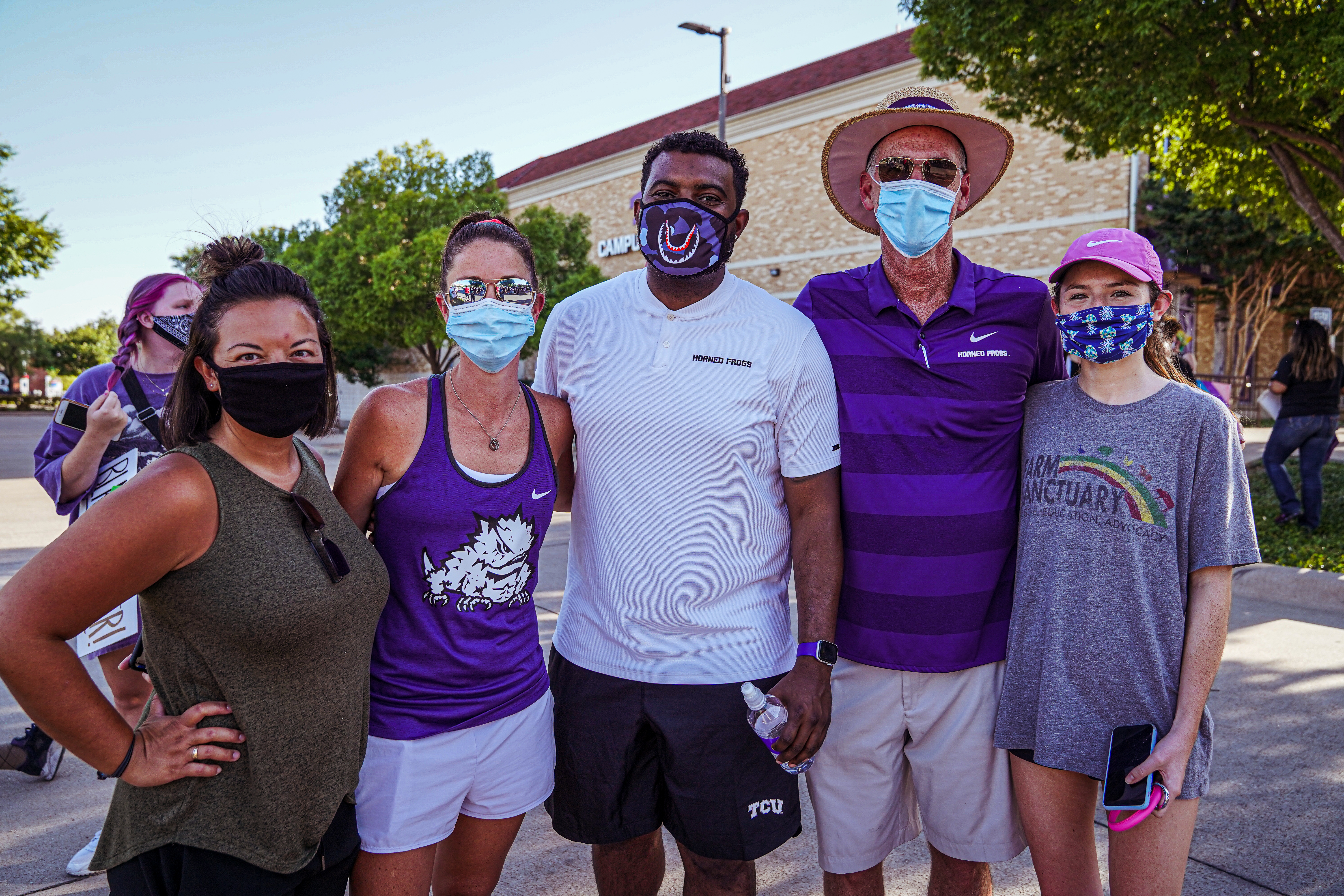 Santee, a TCU basketball alum who finished his four-year career from 2001 to 2005 at No. 2 atop the Horned Frogs' all-time points and assists lists, joined Dixon's staff prior to the 2017-2018 season as a graduate assistant. Following the completion of his master's degree, Dixon hired him in a full-time position as his Player Development Coordinator. The position reflects the emphasis Dixon has placed on Santee's role of being a mentor to the players more than in years past. It's also a distinction Dixon hopes will become universal across all of college basketball.
"The professional development designee role was carved out as he [Santee] rose up from being a graduate-assistant, it's a role that fits him [Santee], one we hope with legislation that the position becomes one where the coach in that role can get more engaged on the floor and gain even greater experience as an assistant coach," Dixon said.
Santee and others looking to climb the coaching and administration ranks across the country are limited because NCAA basketball coaching staff regulations do not allow them to assist with any "on-court" basketball coaching. Although Santee can be on the bench with the other coaches during the games, he is barred from giving any basketball strategy and is limited to player encouragement. This leaves coaches in this role unsure about how much they can contribute to the team. These semantics in the rulebook are another element to that role Dixon wants to change. However, that doesn't mean Santee isn't having an impact on the players.
"Corey [Santee] and I have grown together since we joined, or in his case, re-joined, the program as he's helped with everything from picking out a TV for my dorm at Best Buy and just giving me great pointers about life," TCU guard RJ Nembhard said. "It's a very impactful role that Corey plays and as a Black male to have someone of the race in that position is inspiring. He's a TCU Hall of Famer who has helped me grow not only as a basketball player, but as a person too."
Raising Awareness on Campus
On TCU's campus during the 2019-2020 school year, 68.2% of undergraduate students were White, 14.6% were Hispanic or Latino, and 5.2% were Black. When Santee, a native of Flint, Michigan, where 53.4% of the city's population is Black, arrived on campus in 2001, he initially went through a culture shock.
"I grew up with friends of all colors so when I got to TCU, the experience was just new to me, but I am a people person, so showing my personality made people more comfortable to approach me," Santee said. "I realized that if you were at TCU as an African-American during my time at TCU, you could be automatically assumed that you play a sport. It was assumed that I played basketball. I didn't take it personally because I didn't think of it like that at the time, but when I look back at it, I kind of see what was going on. That can happen at any university."
However, Santee said times are different now because Dixon has established an open dialogue with his players.
"I didn't have the kinds of conversations we are having now with my coaching staff, so I think it's great we are having this dialogue now because back when I was a player, this was kept to yourself and you had to adjust accordingly," Santee said. "Now, our conversations are more open, and everybody is more aware of what is going on with the Black Lives Matter movement, bringing to light what African-Americans have been dealing with."
These conversations have led to current TCU players, such as guard RJ Nembhard, feeling inspired to use their own platform to encourage change.
"Coach Dixon has consistently been asking what he and the coaching staff, and him in particular, can do to help us throughout the tough times that we go through, and even when this happened with George Floyd and all the racial injustice that is going on throughout society," Nembhard said. "He [Dixon]stepped it up even more in asking us how he can lend us a helping hand, we can call him at any time, and it's important to have Coach Dixon and his staff who are all guys that are great speakers have gotten us motivated to go out and help the community to bring about change."
In a time where the spread of COVID-19 has put a halt on normal, organized team basketball activities, Nembhard followed Dixon's inspiration about 20 miles down the road in his hometown of Keller, Texas, where his high school alma mater, Keller High School, is 74% White.
"In Keller, a predominantly White community, to have more than 3,000 people out there marching and supporting that Black Lives Matter, they had to block the roads, it was a peaceful march without issues, and the police chief, mayor, and other speakers talked,'' Nembhard said. "As an athlete, you're so consumed with your sport and how to get better at your particular sport, so it's easy to lose track of how important it is to impact the community and grow off the court or field. It's a blessing in disguise to have this break from sports to be able to interact with our communities and bring change. Our generation has the opportunity to decide how we want our society to be, for not only us, but for our kids and their kids."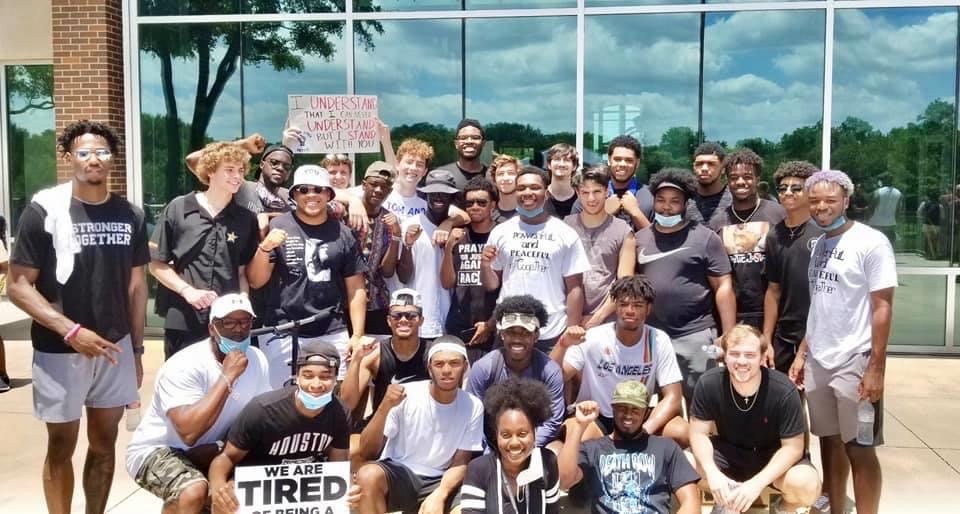 Nembhard said the way for TCU as a student body to mature in promoting racial equality starts with awareness.
"It stinks that a tragic event like George Floyd's death finally woke everybody up across the country, but the biggest thing going forward is awareness since TCU is a predominantly White community, so sometimes there's not a lot of awareness, but that's not on them," he said. "It's just how it is."
Dr. Smith-Tran elaborated on the reason why "just how it is" goes deeper than casual ignorance.
"One thing that I talk about in my sociology classes is the concept of White privilege, as some people feel uncomfortable that White Americans in this country have advantages and privileges that they haven't asked for but have been born into," Smith-Tran said. "There's this guilt that can come with it because it can feel uncomfortable knowing that there are groups of marginalized people that have been born into disadvantage, which can lead to paralysis for some in the White community because they didn't ask for this, but they want to help and just don't feel like they know how. I think that can bring about guilt with people who are well-intentioned about these issues, which can lead to them sometimes feeling like they don't know what to do."
Whenever TCU returns to the hardwood to begin the 2020-2021 season, the players have the opportunity to raise even more awareness about racial injustice in any manner they decide with Dixon and his coaching staff supporting their players in speaking out.
"The flag means a lot of different things, and I know some people take it personally and that it's disrespectful to the soldiers; however, I see it as being a Black male that the flag is supposed to represent freedom, and we've seen throughout our nation today that it's not true," Nembhard said. "I understand why people kneel, and I'm not sure what I'm going to do at this moment, but I am for whatever all of us players decide we should do before the games because it's our team's right to express how we feel."
The NCAA's policy is in alignment with Nembhard's stance, issuing the following statement:
"As an integral part of higher education, the NCAA values expression and freedom of speech for all students. We applaud college athletes for being involved in their communities and advocating for change. We expect the expressions will be peaceful and will not interfere with the timely, safe conduct of the event."
With heightened national awareness regarding the issue of racial inequality, significant conversations may arise. Nembhard welcomes them with open arms.
"Don't be afraid to ask tough questions, I had a couple of my White friends ask questions about serious issues, and we had some tough conversations," Nembhard said. "I know it's tough in the White community to understand some of the things that have been happening since they haven't experienced our experiences. The biggest thing is to not judge, ask first to get a better insight. We just want equality, not any wars or vandalism. We want justice to be served, equal rights, and for us to be treated as humans because at the end of the day we are all humans no matter the skin color, race, or height. Change will come with uncomfortable conversations and sitting down to figure out how to live the right way."
These conversations have extended to the top of TCU's athletics department with Dixon empowering the players to speak their mind.
"When George Floyd's situation happened, it's kind of tough for White males to understand what is going on, but Coach Dixon asked us what he could do to help,'' Nembhard said. "He then took that upon himself and marched in 100-degree weather in a pandemic, which was huge. He set up a conference call with all of us players, no coaches, and [TCU's Director of Athletics] Mr. Donati to talk about starting groups at school to talk about the different things that go on around campus that we might have seen. He [Dixon] has been there for us, and that's big." Read More