Freshmen aide No. 25 TCU's efforts to overcome Fisher's absence ahead of showdown with No. 7 Kansas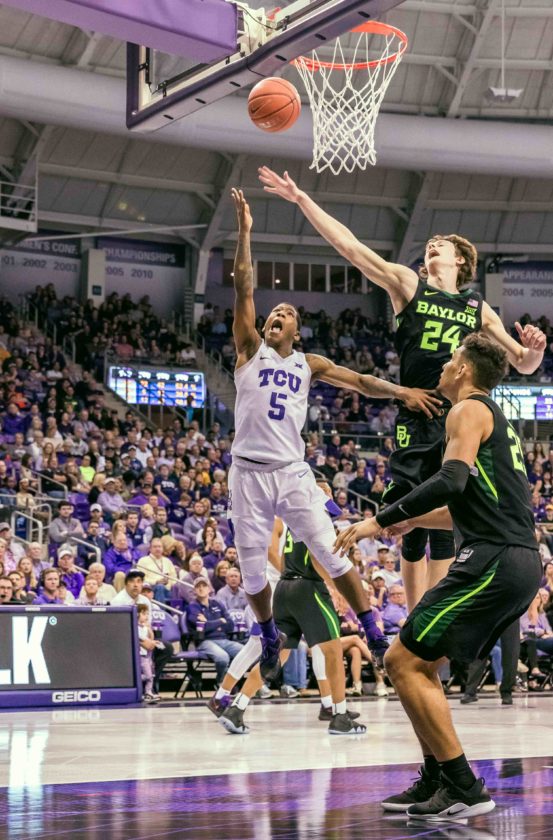 Following an outstanding Diamond Head Classic Tournament run that earned guard Jaylen Fisher an all-tournament team nod, the Horned Frogs appeared to be entering Big 12 play mostly healthy. Then, the swelling returned to a knee that needed surgery to repair a torn meniscus, which cost Fisher most of last season.
"He was pretty active and drove it more than he had done in any game, so we came out of it feeling pretty good," said TCU head coach Jamie Dixon. "Took a few days off and then there was swelling the next day, and when we came back from our break, the swelling had not gone down."
The knee forced Fisher to miss TCU's Big 12 opener against Baylor at Schollmaier Arena, an 85-81 victory that vaulted the Horned Frogs back into the AP Top 25 for the first time in six weeks at No. 25.
Two freshmen guards, RJ Nembhard and Kendric Davis, stepped up in a major way. Nembhard replaced Fisher in the starting lineup with an efficient 10 points on three-of-five shooting with three assists and no turnovers.
"[RJ's] three-of-five, three assists and no turnovers, that's a perfect game really on the perimeter," Dixon said. "He's a [red-shirt] freshman and we've only played 13 games, so a great sign for him." "
The redshirt from Keller, TX averaged in the mid 20's for points per game totals at Keller High School, so learning a new role has been a work in progress.
"I think it is a hard transition for anyone coming in from high school especially if you're averaging a lot, but you have to adjust, and as a new guy, you're behind guys who are seasoned, so you have to do your best to learn," Nembhard said. "It was definitely a confidence booster, being able to fill that role for Fish while he's out."
Davis, a true freshman from Houston, totaled six points on two-of-three shooting to go along with an assist and a couple turnovers in the victory over Baylor.
His presence as another primary ball-handler allows for senior point guard Alex Robinson to take a breather every few minutes instead of playing 38 to 40 minutes as was the case when TCU dealt with Fisher's injury a year ago.
"It's different having another point guard because this is something you can't plan for having Jaylen, and I thought Kendric may be the guy that redshirts if Jaylen is healthy and ready to go, but we knew we were going to need one or the other," Dixon said. "Kendric has handled it so well. It's an unbelievable asset because you have three point guards, and I don't think anyone in the country has three point guards in the country that are this good, but we also have one that has had some knee injuries."
The injury adjustments have also made their way to the frontcourt this season as Horned Frog center Yuat Alok is out with a broken hand for the foreseeable future.
Dixon said he's confident in his big-men's production even without the 6'11" Alok.
"I feel like we have enough at the five: JD is more than effective there and almost flourishes in that spot as he's become a better player in his senior year," he said.
Miller, who is averaging 11.5 points per game, added 13 points and 10 rebounds in the win Saturday over Baylor. Redshirt freshman Lat Mayen also added a defensive presence down low for TCU in the handful of minutes he received Saturday.
"We can play Lat at that spot and he was effective against Bucknell," Dixon said. "It gives us a different look to bring in a guy that gives you a different look offensively, and it will be pretty effective defensively at the spot too."
The Horned Frogs' next opponent, the seventh-ranked Kansas Jayhawks, are also walking wounded into Wednesday's 8 p.m. contest as they announced starting center Udoka Azubuike is out for the season with a torn ligament in his hand.
No matter who is on the court for the Jayhawks, Allen Fieldhouse in Lawrence always provides a tough test, as Kansas is a jaw-dropping 242–13 at home since head coach Bill Self took over in 2003. TCU has beaten Kansas twice as a member of the Big 12, once in Fort Worth and once in Kansas City at the Big 12 Tournament.
"Last year I went to Allen Fieldhouse, I had goosebumps and I was nervous in my jumpsuit. It's a historic place, but we need to block out the noise and treat it as another game since it's just us on the court." Nembhard said. "We have guys like Alex [Robinson] and [Desmond] Bane that are going to make the game easier for us, but it's still going to be a dogfight."