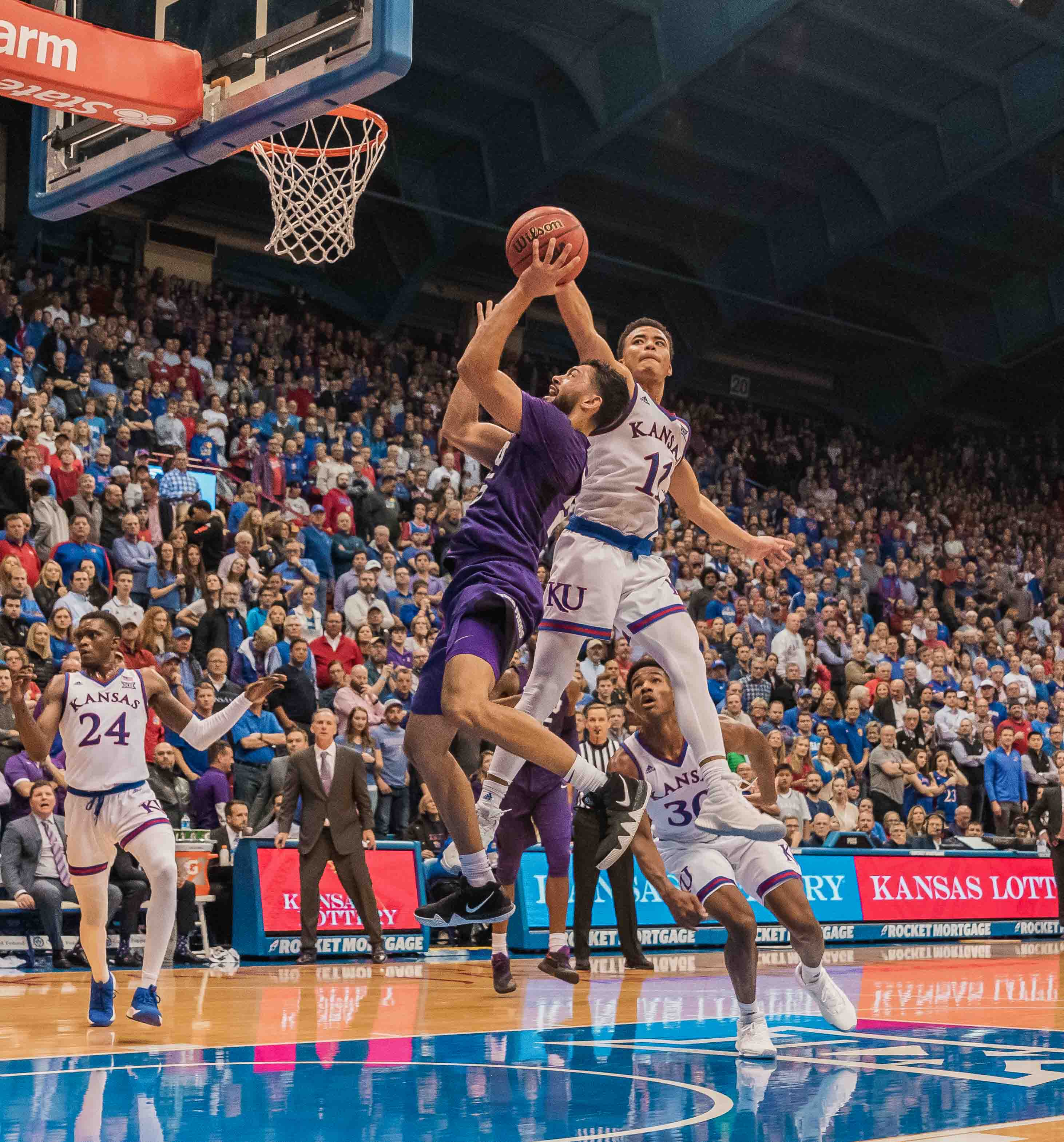 Two of TCU's season-worst 20 turnovers committed late in the final 1:40 doomed their attempt to secure the program's first win in eight tries at Allen Fieldhouse on Wednesday in Lawrence, as they fell by nine, 77-86 to the No. 7 Kansas Jayhawks.
The loss snaps the No. 25 Horned Frogs nine-game winning streak and drops their record to 12-2 and 1-1 in the Big 12.
"I thought we would handle the defensive pressure they would throw at us, but we didn't," said TCU head coach Jamie Dixon. "We'll learn from it, but give them credit for wearing us down, going inside, and being the more physical team."
Entering the contest, TCU lead the Big 12 in assist-to-turnover ratio at 1.7, but they were only able to dish out 12 assists to their 20 giveaways.
Balanced scoring allowed the Horned Frogs to hang with the Jayhawks for most of the night as five of the seven players to see the floor totaled double-digit points. Guard RJ Nembhard led the way with 14, Desmond Bane scored 13, guard Alex Robinson and center Kevin Samuel each accounted for 12, and Kuoat Noi finished with 10.
Kansas' offense was anything but balanced as forward Dedric Lawson led all players with 31 points and 14 rebounds.
"He's good, that's what they do, and we prepared for it by double-teaming, and he still got 31, which isn't a good sign," Dixon said. "He's a good free throw shooter too, which is another problem. They do a good job getting him the ball."
Kansas also more than doubled TCU's free throw attempts shooting 20-of-27 from the line off the Horned Frogs' 18 fouls while TCU went 9-for-13 shooting free throws on the Jayhawks' 13 fouls. Lawson had 9 of his 31 from the line.
The Jayhawks and Horned Frogs were neck and neck for the majority of the first half, as Kansas held a one-point edge, 29-28, with 3:13 left in the first half.
At the half, the Jayhawks held a nine-point lead, 40-31, as they scored 11 of the final 14 points.
The first few minutes of the second half were reminiscent of the first, back and forth, but the Horned Frogs began to break through after the opening five minutes. TCU would score seven straight to trim the KU to just two, 52-50, with 12:42 left to play. Nembhard drained a three-pointer from the right wing, guard Kendric Davis finished a smooth up-and-under lay-up, and forward Kouat Noi laid-in a fast break bucket at the rim.
With TCU still down two after another Nembhard three-pointer, 55-53, the Kansas defense tightened, forcing three turnovers that allowed them to take an 11-point lead, 64-53, with 8:05 remaining.
The Horned Frogs wouldn't go away, scoring six in a row courtesy of lay-ups from Robinson, Davis, and Samuel, which left them down five, 64-59, with 5:08 left to play. However, the Jayhawks countered with two more Lawson free throws and a Vick jumper to go back up nine, 68-59. TCU would answer with back-to-back three-pointers from Robinson and Bane, which had the Horned Frogs down three, 68-65, with 3:34 to go.
A couple minutes later, Robinson drilled a three-pointer that kept TCU within three, 71-68, but those would be the final Horned Frog points of the night as back-to-back turnovers by Noi and Bane hampered the TCU offense while the Jayhawks added a lay-up and a few more free throws to close out the night.
The Horned Frogs return to action Saturday in Norman against No. 23 Oklahoma.Read More