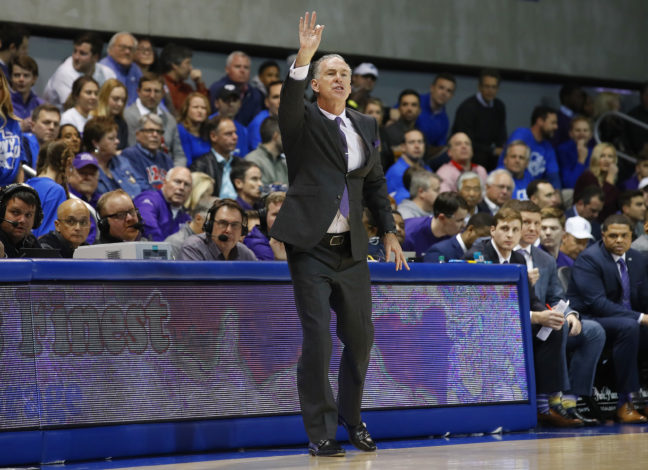 Despite being off the hardwood for 11 days, TCU men's basketball has remained in the national spotlight.
Head coach Jamie Dixon has been rumored as a potential candidate to replace Steve Alford as UCLA's head coach after the Bruins fell by 15 points at home Saturday against Liberty, leading to Alford's dismissal. He led UCLA to four NCAA Tournaments and three Sweet Sixteen appearances in 5.5 seasons before being released Monday following a 7-6 start to open the season.
"I grew up in it so that was my first entry into basketball because UCLA was so good when I was a little kid and then the Lakers picked up after that," said Dixon. "In my mind, that's where basketball started, watching those games."
Ultimately, Dixon put the rumors of his departure to the West Coast to rest.
"I'm so happy here and thankful for the situation I have with the best A.D. and the best chancellor, plus our family is happy so why would I be thinking about anything else," he said. "Our players were joking about it, so I told them they're stuck with me, just to get that out of the way."
Senior point guard and the Diamond Head Classic's Most Oustanding Player Alex Robinson's attitude about the reports reflected that the talk had been addressed.
"We're cool and focused on winning this year, so whatever situation that is, it's none of our business," said Robinson. "We have to handle what we can handle. That's what we're focused on."
What the Horned Frogs can handle is their 3 p.m. Saturday showdown with Baylor, a team with experience similar to TCU entering conference play. Baylor returned four players this season who had played under head coach Scott Drew compared to TCU's five under Dixon.
"They're playing better, which is a result of some new guys getting more minutes and also [guard Mario] Kegler was out as well," said Dixon. "In a lot of ways, they've been in our position this season with a lot of guys out, but they're playing better with the win against Arizona and with a game they should've won against Stephen F. Austin."
With Horned Frog center Yuat Alok missing his third-straight game with a hand injury, TCU will deploy smaller lineups at a higher frequency with both RJ Nembhard and Kaden Archie likely to see some time at forward next to Kouat Noi, JD Miller or Kevin Samuel in the frontcourt.
"I feel like we're really deep and everyone knew that coming into the season, but as you saw in Hawaii, a lot of our new guys are playing better, so I'm not too worried about what they'll do against Baylor," said Robinson. "I think they will be prepared and ready."
Dixon noted the edge that seems to come with every TCU vs. Baylor game, regardless of sport, since he's returned to campus as a primary factor in TCU's focus for Saturday.
"Baylor has a certain, as I've come to know in the last two years here, it's more of a rivalry than I remember it being back in the day because every game was a rivalry game when I was here," said Dixon. "Baylor means something too."