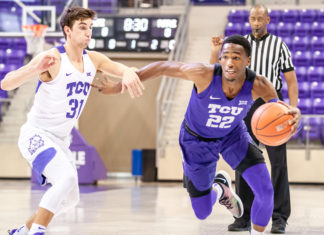 Head basketball coach Jamie Dixon arrived at TCU in a hurry to succeed.
An NIT Championship, followed by the first NCAA Tournament appearance since 1998 has TCU starting the season as a top 25 team. But Dixon wants more.
"In my mind it hasn't been fast enough, we're in a hurry even though I know it takes time and patience to get better," said Dixon.
He's looking for No. 20 TCU to make back-to-back NCAA Tournament appearances for the first time since 1952-1953. After making the leap offensively last season, scoring 82.1 points per game, up nearly seven points from the 2016-2017 season, this year's climb back to the Big Dance will start with defense.
The Horned Frogs will look vastly different as Vladimir Brodziansky and Ahmed Hamdy have graduated and been replaced by a couple of near-seven footers at center in redshirt first-year Kevin Samuel and the No. 1 junior-college recruit Yuat Alok and two more 6'10 first-years in Angus McWilliam and Russell Barlow.
"We're going to be a different team since we don't have anyone that can score on the block like Vlad," Dixon said. "With Kevin and Yuat, they're more of a threat offensively than I thought they were, so we adjusted what we're doing. We're going to incorporate them a little bit more than what we had anticipated."
At the power forward position, the team returns both Kouat Noi, the Big 12's fourth-leading three-pointer shooter (43.4 percent) and one of its more tenacious defenders in JD Miller. Dixon said the team is working on improving their defensive and rebounding skills.
Dixon has high expectations for Miller, who's entering his senior year.
"We need him to be a great defender and rebounder for us," Dixon said. "He's built to be a good defender. I challenged him to be the best defender in the league. He's got wingspan, athleticism, size."
Last season, the defensive numbers slipped as the Horned Frogs points per game allowed figure jumped from 69.7 to 75.4.
"We lost our depth and we were limited to begin with," Dixon said. "I think the biggest component to a good defensive team is depth."
Dixon said one area of focus for defense has been the three-point line, where TCU's opponents hit on 37.6 percent of their attempts from beyond the arc.
"We did a little better at that toward the end of the year," he said. "Our defense did improve down the stretch, but it took us a little to too long to get that point."
The replacement of Kenrich Williams, the heart and soul of Horned Frog basketball, falls on the shoulders of a TCU backcourt full of experience.
Senior point guard Alex Robinson, who received a Preseason Big 12 Honorable Mention, averaged 6.1 assists per game last season, the fourth-highest mark in the conference. Junior guard Desmond Bane, who's returning as TCU's leading scorer with 12.5 points per game last season, led the Big 12 in three-point shooting, connecting on 46.1 percent of his long-distance attempts.
"Alex and Desmond are the two that have been out there every day which is not a surprise, those are two you can count on all the way through," Dixon said. "We need to practice to get a little bit better, but I like what we've gotten out of those guys as far as effort in practice."
The return of junior point guard Jaylen Fisher, who's coming off another season cut short by a right knee injury, will also alleviate Williams' graduation to the NBA. Three days before his injury, Fisher was showing signs of a breakthrough, scoring a season-high 22 points on 9-of-17 shooting and 4-of-9 from the three-point line in a Jan. 13 matchup at Oklahoma.
In Fisher's absence, it will be on a few highly-touted recruits to step up in four-star, first-year guards Kendric Davis and Kaden Archie along with 2017 four-star recruits, redshirts Lat Mayen and RJ Nembhard. Hopes are especially high for Davis, a point guard who has exceeded expectations in fall practice.
"I like Kendric a lot, he has a lot to learn, but he's competitive, and he has a good skill set," Dixon said. I think he's going to be a good player."
The Horned Frogs begin their road to the NCAA Tournament with their season-opener Wednesday night against California-State Bakersfield. Tip-off is set for 8 p.m.