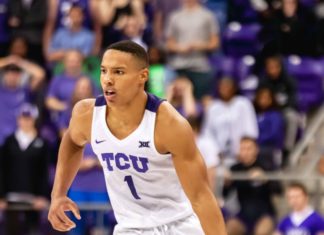 TCU's 2018-19 campaign started off slowly, but a strong second half from junior Desmond Bane, who scored 13 of his 14 points in the final 20 minutes, led the team to a 66-61 victory. He also earned a double-double, the first of his career with a team-best 10 rebounds.
"I just stuck with it, there was times when other guys were getting open looks in the first half and it was falling my way in the second half," said Bane. "My teammates kept trusting me, [Alex Robinson] kept telling me it's going to come it's going to come, so just staying patient, playing the game."
The Horned Frogs introduced six new players into their rotation while missing the service of veterans Jaylen Fisher and Kouat Noi.
The first 20 minutes were forgettable for TCU, shooting just 37 percent from the field while allowing CSU Bakersfield to connect on 52 percent of their looks. Guarding the three-point line better, a defensive area emphasized by Dixon in the offseason, wasn't reflected in the first half as CSU Bakersfield hit nearly half of their shots from distance.
TCU, showing some first-game jitters, shot a meager 22 percent, two of nine, from the three-point line in the first half as they trailed 37-28 going into halftime.
Redshirt freshman guard R.J. Nembhard was a bright spot for the Horned Frogs in the first half, scoring five of his eight points in the first 20 minutes. He finished his night with an additional four rebounds and two assists.
"RJ has been pretty solid for us defensively, that's the thing we've seen, and he's been pretty solid offensively, the shooting obviously a couple shots down the stretch there that didn't go for him but we're happy with RJ," head coach Jamie Dixon said.
With 13:15 left to play, the Horned Frogs utilized a 10-2 run to cut their deficit to two, 46-44 with 11:06 to play.
A layup from the top-rated junior college recruit, center Yuat Alok, in traffic on a pin-point pass from Robinson evened the score at 46 with 7:53 left to play. Alok finished with 11 points and six rebounds in his TCU debut.
Trailing by a point, the Horned Frogs regained their first lead since the opening minutes on a three-point play from Bane.
The contest continued to swing back and forth, and the game eventually became tied once again, 57-57 with 3:10 left to play.
Bane would follow with a layup on the next possession to give the Horned Frogs a two-point lead that they wouldn't relinquish, hanging on for the last 2:48 to win 66-61. Freshman guard Kendric Davis hit four critical free throws in the closing five minutes, including two in the final 27.4 seconds to help the Horned Frogs clinch their 12th straight home opener victory.
"I felt he'd [Davis] make free throws at that time and maybe another ball handler would help too," Dixon said."That was part of it. … He's going to be a good player."
A season ago, the Horned Frogs were known for their offense, averaging 82.1 points per game, but winning a sloppier, defensive slug-fest left the team encouraged about their ability to grow as the season progresses.
"We held them to 36 percent, shooting," Dixon said. "That's a good team, that's an old team, that's a tough team, that's a well-coached team, Bakersfield, and that's a team you don't want to play early, first game of the year with three returning college basketball players, but we did it, we got a win and we're going to get better for it."
Up Next
The Horned Frogs return to action at 4 p.m. Sunday inside Schollmaier Arena against the Oral Roberts Golden Eagles. Noi's knee injury is not thought to be serious, and there's a chance he will make his season debut Sunday.