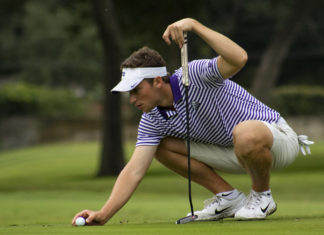 Senior Stefano Mazzoli's fifth-place finish highlighted an otherwise bumpy three days for the TCU men's golf team at the Nike Collegiate Invitational held at the Colonial Country Club in Fort Worth.
Mazzoli shot 1-over 71 in the final round and 2-under 208 for the tournament. The tie for fifth was the best-ever finish for a TCU golfer in the five-year history of the tournament. The previous best was Chelso Barrett, who finished tied for 14th at the 2016 NCI.
"I'm really happy playing here at Colonial my senior year, it's something I'll never forget," said Mazzoli. "I wasn't coming in confident, so I'm happy for finishing well for that reason too with a good round today."
His Tuesday didn't have an ideal start, culminating with a double-bogey on his eighth hole of the day. However, he turned it around on his second nine, sinking birdies on the first two holes.
"It was a nice comeback after the bad double bogey on 17 today," he said of the back to back birdies.
Once Mazzoli got rolling on his last nine, he played boegy-free golf.
"I was just trying to play like yesterday, pretty solid from the tee hitting the fairway and giving myself a chance from the green," he said. "It didn't happen at the beginning of this round, and I'm really happy with how I finished on the back nine."
Senior Triston Fisher was TCU's second finisher, placing tied for 38th at 9-over 219. First-year Alejandro Aguilera had his best round of the tournament, shooting 1-over 71. He finished tied for 55th, one spot behind senior Pierre Mazier, who tied for 52nd.
As a team, TCU finished tied with Oregon for 12th place. In a field with half of Golfweek's top 10 teams in the nation, No. 7 Duke won the tournament at 2-under 838, and Duke's Chandler Eaton won the tournament at 6-under 204 after posting consecutive rounds of 3-under 67.
"The truth of the matter is we've played here so many times that I expected us to play better than we did, I'm very disappointed," said TCU head coach Bill Montigel. "I'm very proud of Stefano, we've just got to get other guys to perform at that level."
The Horned Frogs will return to competition in a couple of weeks when they play at the first Big 12 Match Play Championship Oct. 12-14 in Hockley, Texas.
"We can learn from this, we still have an incredible amount of golf ahead of us, so hopefully we can rebound from this," said Montigel.
TCU RESULTS
T12. TCU: 288, 286, 296 = 870 (+30)
T5. Stefano Mazzoli: 70, 67, 71 = 208 (-2)
T38. Triston Fisher: 71, 71, 77 = 219 (+9)
T52. Pierre Mazier: 73, 72, 77 = 222 (+12)
T55. Alejandro Aguilera: 74, 78, 71 = 223 (+13)
T74. Turner MacLean: 81, 76, 77 = 234 (+24)
Read More