NFL teams with best QB talent in Super Bowl era: Aaron Rodgers, Brett Favre help push Packers to top of list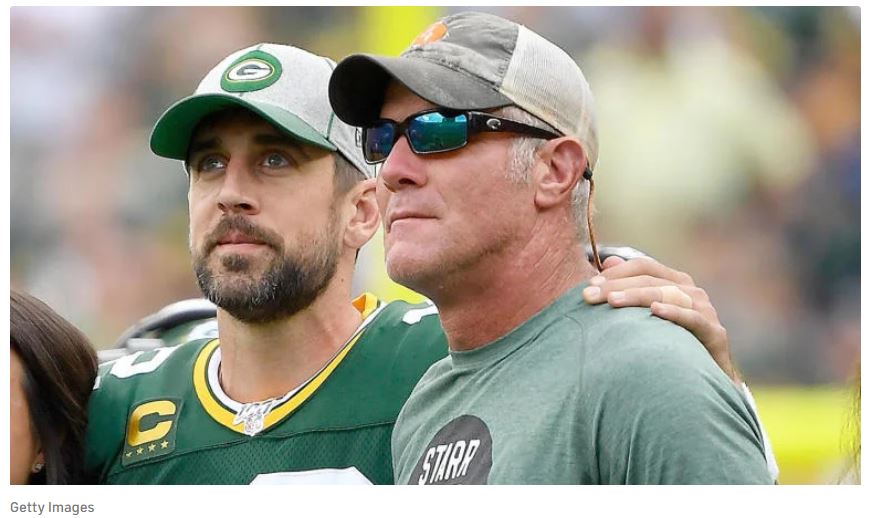 With Aaron Rodgers' "intention" to play for the New York Jets, his legendary Green Bay Packers career certainly appears to be in the rearview mirror. That now provides the opportunity to factor him into the discussion regarding which NFL teams have had the best quarterback talent in the modern era -- aka the Super Bowl Era, which began in 1966. His career with the Green and Gold helps power the Packers to the top of this list, which includes NFL teams' Hall of Fame quarterbacks whose careers occurred since 1966.
Quarterbacks whose careers were still going during the Super Bowl era yet began prior to it are counted. That paved the way for Hall of Famers like Bart Starr, Johnny Unitas and Len Dawson to be included in this conversation. See where each of some of the most successful teams' quarterback groups stacked up below.
Only Hall of Famers or no-doubt-about-it Hall of Fame quarterbacks counted toward this exercise. Since this is about quarterbacks' individual talent, the gap in weight between a player's individual accomplishments and championships won -- a team statistic -- is smaller here than it is when you tune into any hot-take sports talk show these days.
(Note: Championships listed for players are championships won as starters. For example, the Super Bowls the San Francisco 49ers won with both Joe Montana and Steve Young on the roster count for Montana only in this exercise since he was the starter. NFL championships are counted for players whose careers ended in the Super Bowl era, but started prior to 1966 since the NFL is the league we have today. That's the standard operating procedure also used by the NBA.)
1. Green Bay Packers
QBs: Bart Starr (1956-1971; HOF Class of 1977), Brett Favre (1992-2007; HOF Class of 2016), Aaron Rodgers (2005-2022)
Group accolades: 7 NFL championships, 3 Super Bowl MVPs, 8 NFL MVPs, 1,069 TD-529 INT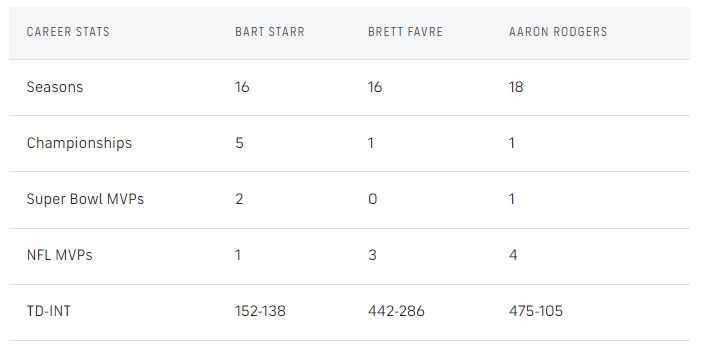 No team in NFL history has a Hall of Fame quarterback trio like the Packers' Bart Starr, Brett Favre and Aaron Rodgers. Starr and Hall of Fame head coach Vince Lombardi dominated the 1960s so thoroughly that the Super Bowl trophy is named after the head coach. Favre shattered NFL records, retiring as the NFL's all-time leader in passing yards, passing touchdowns and interceptions. He also still stands today as the only player in league history to win three consecutive NFL MVPs. Rodgers is the most efficient quarterback in league history with the highest career touchdown-to-interception ratio as well as the two best single-season passer ratings all time with a 122.5 rating in 2011 and a 121.5 rating in 2020. As it stands in 2023, this top spot is firmly secure in Titletown.
2. New England Patriots
Hall of Fame quarterback "group" is one player*
QB: Tom Brady (2000-2019)
Brady accolades: 6 NFL championships, 4 Super Bowl MVPs, 3 NFL MVPs, 541 TD-179 INT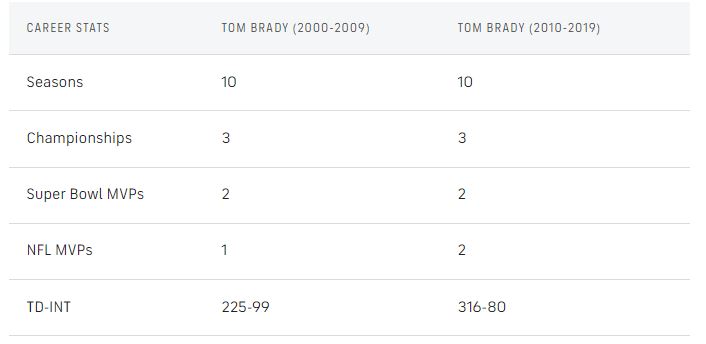 The Patriots being ranked this high goes against the "groups" concept, but Brady's career in New England, as evidenced above, can be chopped in half and still function as two Hall of Fame careers. Six championships and four Super Bowl MVPs are both the most by any player all time -- and that doesn't even include his one ring and Super Bowl MVP in the 2020 season with the Tampa Bay Buccaneers.
Brady's 541 passing touchdowns with the Patriots would rank as the third-most all time behind his entire career total of 649 and Drew Brees' entire career total of 571. Simply incredible. All three of his NFL MVPs came during his New England career, and they rank as tied for the third most in league history. Brady's efficiency also puts New England in the two spot as well since his 541 touchdowns and 179 interceptions with the Patriots ranks as one of top five ratios for a career all time.
Indianapolis Colts
Johnny Unitas played for the franchise when it was in Baltimore
QBs: Johnny Unitas (1956-1972; HOF Class of 1979), Peyton Manning (1998-2010; HOF Class of 2021)
Group accolades: 4 NFL championships, 1 Super Bowl MVP, 7 NFL MVPs, 686 TD-374 INT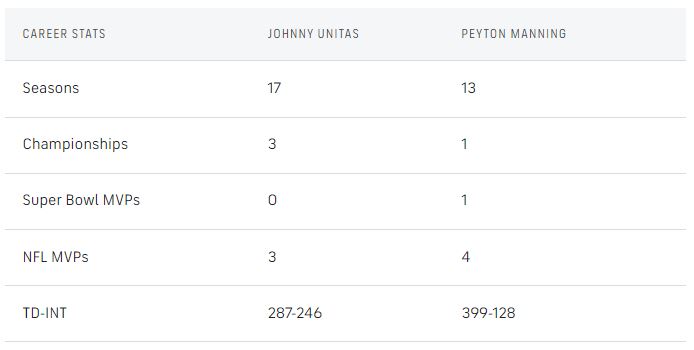 If not for Brady's GOAT run with the Patriots, the Colts franchise would occupy the two spot. Their Hall of Fame duo of Johnny Unitas and Peyton Manning barely edge out the San Francisco 49ers' 1-2 punch of Joe Montana and Steve Young. The individual brilliance of Unitas and Manning (three more NFL MVPs, over 200 more passing touchdowns) moved the needle just enough to overcome Montana and Young's additional championship.
Unitas was a pioneer of passing consistency as his record of 47 straight games with a passing touchdown stood for 47 years before Drew Brees broke the mark in 2012. Manning revolutionized the quarterback position with his preparation and ability to act as a coach on the field, constantly audibling to get one move ahead in the chess match with opposing defenses. He retired as the NFL's all-time leader in passing yards and pass touchdowns, and his four MVPs with the Colts is tied for the most with one team alongside Aaron Rodgers. Manning has an additional MVP trophy with the Denver Broncos that gives him the most in a career in NFL history.
4. San Francisco 49ers
QBs: Joe Montana (1979-1992; HOF Class of 2000), Steve Young (1988-1999; HOF Class of 2005)
Group accolades: 5 NFL championships, 4 Super Bowl MVPs, 4 NFL MVPs, 465 TD-209 INT
Prior to the careers of Peyton Manning, Tom Brady, Brett Favre and Aaron Rodgers concluding, the San Francisco 49ers once held down the top spot in these rankings. The quarterback transition from Montana to Young remains the best in NFL history, but they're lacking in individual accolades and volume in comparison to some of the groups ahead of them. Montana is still No. 2 on the list of all-time quarterbacks, but in terms of team groups, he and his successor check in at number four.
5. Kansas City Chiefs
QBs: Len Dawson (1962-1975; HOF Class of 1987), Patrick Mahomes (2017-present)
Group accolades: 3 NFL championships, 3 Super Bowl MVPs, 2 NFL MVPs, 429 TD-227 INT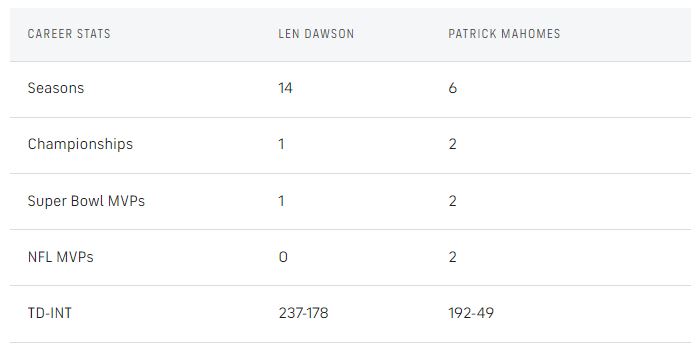 This No. 5 spot had long been occupied by the Denver Broncos, but Patrick Mahomes becoming the first player in NFL history with multiple league MVPs and Super Bowl MVPs in a five-season span rocketed the Kansas City Chiefs into a top-five post. Mahomes is also only the third player ever with multiple NFL MVPs and Super Bowl MVPs, joining that exclusive club with Tom Brady and Joe Montana. His accomplishments combined with Len Dawson's Hall of Fame career are just enough to push them past their AFC West rivals, the next team on this list.
6. Denver Broncos
QBs: John Elway (1983-1998; HOF Class of 2004), Peyton Manning (2012-2015; HOF Class of 2021)
Group accolades: 3 NFL championships, 1 Super Bowl MVP, 2 NFL MVPs, 440 TD-279 INT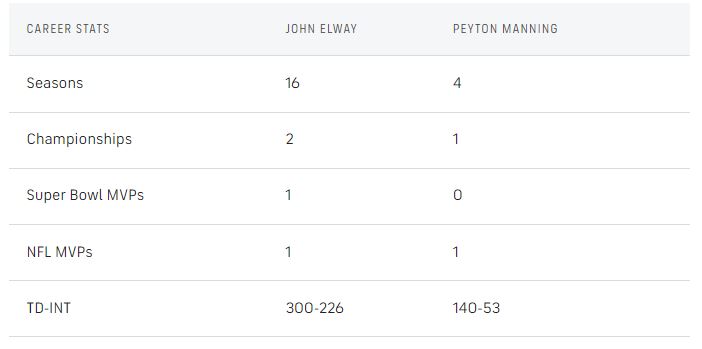 John Elway is one of the best quarterbacks all time, but his inability to separate himself from his peers in the 1980s and 1990s leaves his career resume looking smaller than the eye test of his on-field greatness. Peyton Manning rebounded from what was once thought to be a career-ending neck injury to have the most prolific passing season in NFL history, setting the all-time single-season records for passing yards (5,477) and passing touchdowns (55) in 2013 for his record-breaking fifth NFL MVP. Denver reached two Super Bowls -- winning one -- in his four seasons, making him one of the best NFL free agent signings, if not the best, of all time. If Manning had been around longer at Mile High Stadium, perhaps Denver would be higher in these rankings.
7. Pittsburgh Steelers
QBs: Terry Bradshaw (1970-1983; HOF Class of 1989), Ben Roethlisberger (2004-2021)
Group accolades: 6 NFL championships, 2 Super Bowl MVPs, 1 NFL MVP, 630 TD-421 INT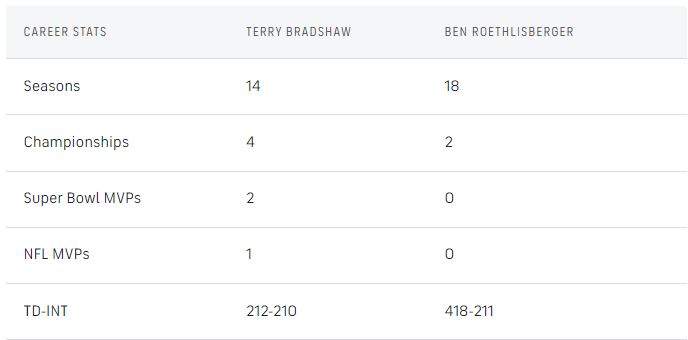 The Steelers are tied for the second-most championships of any team quarterback group on this list with the New England Patriots, but Terry Bradshaw and Ben Roethlisberger's individual accomplishments pale in comparison to the other quarterbacks on this list with only two Super Bowl MVPs and one NFL MVP between the two of them. Also holding the Steelers group back is that Bradshaw barely had more passing touchdowns than interceptions, with 212 passing touchdowns and 210 interceptions. Both had the privilege of playing with some phenomenal defenses, with Bradshaw suiting up alongside the Steel Curtain defense led by multiple Hall of Famers. Roethlisberger also took a backseat to his defenses for good chunks of his two Super Bowl runs.
8. Dallas Cowboys
QBs: Roger Staubach (1969-1979; HOF Class of 1985), Troy Aikman (1989-2000; HOF Class of 2006)
Group accolades: 5 NFL championships, 2 Super Bowl MVPs, 0 NFL MVPs, 318 TD-250 INT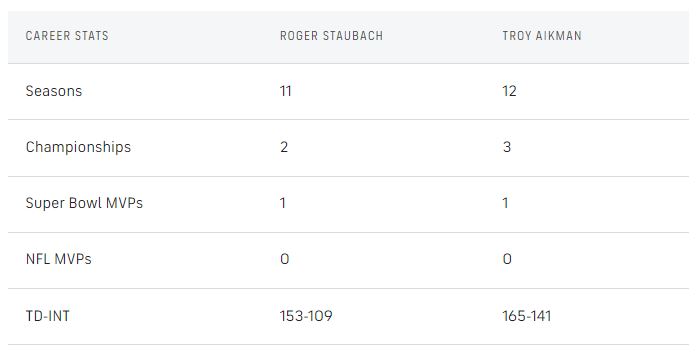 The Dallas Cowboys' duo of Roger Staubach and Troy Aikman runs into a similar issue that the Steelers group does on this list: Not enough production to separate themselves as singular all-time talents among other all-time legends. Staubach and Aikman each benefitted from having their offenses led by Hall of Fame running backs in Tony Dorsett and Emmitt Smith respectively, a significant reason why their individual stats don't pop out as much in these rankings. Both passers oversaw a lot of winning, but neither was the leader of their offense to the point where their talents were able to shine historically bright among these other all-timers.
9. Miami Dolphins
QBs: Bob Griese (1967-1980; HOF Class of 1990), Dan Marino (1983-1999; HOF Class of 2005)
Group accolades: 2 NFL championships, 0 Super Bowl MVPs, 1 NFL MVP, 573 TD-361 INT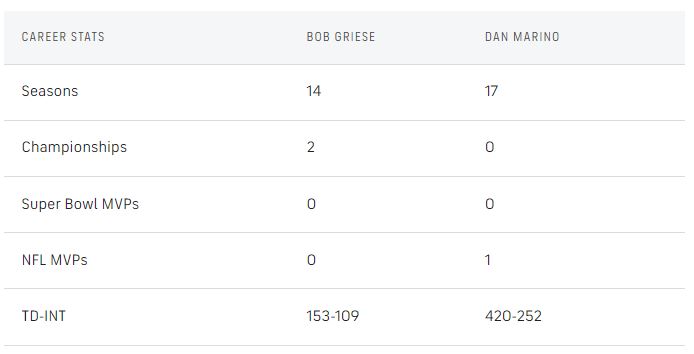 Bob Griese is a lot like Troy Aikman and Terry Bradshaw in that both oversaw historic levels of winning, but none of them popped as much individually thanks to the strong defenses and running games that surrounded them. Dan Marino retired as the NFL's all-time leader in touchdown passes, but the Dolphins' loss in his only Super Bowl appearance also holds Miami's pair of legends down in comparison to the quarterback groups ahead of them. Both had outstanding careers, but the success of the others on this list creates a high bar to clear.
Honorable Mention: New York Giants
Phil Simms and Eli Manning make the Giants' inclusion an honorable mention but not quite an official nomination on this list. Both have two Super Bowl rings on their resumes and three Super Bowl MVPs between the two of them. However, they combined for a grand total of six career Pro Bowl selections. Not once were either considered the best at their position throughout the course of their careers, which has led to Simms not being in the Hall of Fame, and Manning's candidacy being debatable.
Manning likely ends up in Canton because of his two Super Bowl MVP performances opposite Tom Brady and Bill Belichick in multiple Super Bowls, but he didn't play at that level consistently enough throughout the course of his career to lift the Giants higher here. Read More