Jalen Ramsey trade grades for Dolphins, Rams: Miami has Pro Bowl CB duo with Xavien Howard, L.A. eyes future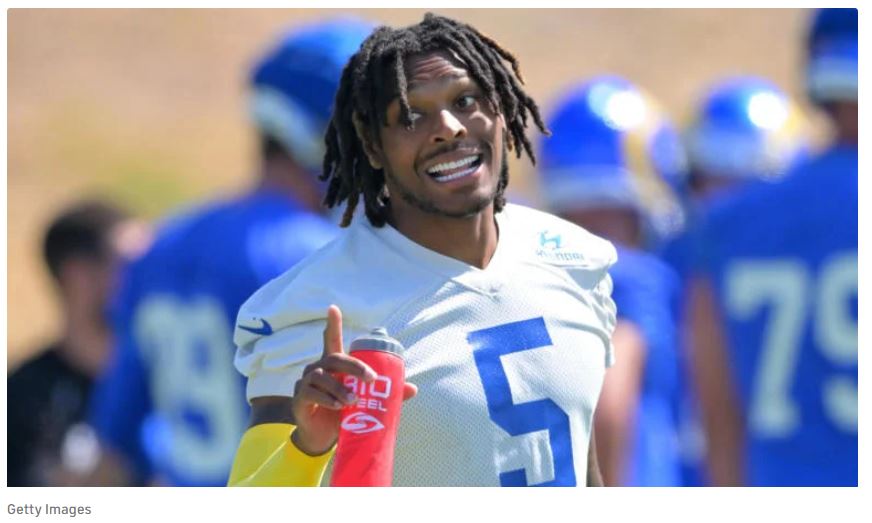 The Los Angeles Rams powered their way to a Super Bowl LVI title in 2021 by throwing caution to the wind and exchanging multiple draft picks for big-money stars like Jalen Ramsey, Von Miller and others. Now, the bill appears to have come due in Southern California to the benefit of South Florida's team, the Miami Dolphins. The 'Fins are acquiring three-time First-Team All-Pro cornerback Jalen Ramsey from the Rams in exchange for the 77th pick in the 2023 Draft (a third round selection), as well as 24-year-old tight end Hunter Long.
This blockbuster deal is fresh off the grill, but there's now enough information to assess some trade grades.
Trade grades
Dolphins: A
Acquiring a 28-year-old superstar who is one of only seven players in the entire league to make each of the last six Pro Bowls is a significant win. Ramsey was Pro Football Focus' third-highest graded cornerback last season with a grade of 86.4, trailing only 2022 NFL Defensive Rookie Year of the Year and New York Jets cornerback Sauce Gardner (87.9) as well as Denver Broncos 2022 First-Team All-Pro cornerback Pat Surtain II (86.8).
To be able to rebound from the failed move that was cornerback Byron Jones' five-year, $82.5 million contract to add Ramsey to a secondary with Pro Bowl cornerback Xavien Howard and their promising, 23-year-old safety Jevon Holland gives Miami one of the best defensive backfields in the entire NFL. This is a big deal because the Dolphins will face Josh Allen's Bills twice, Mac Jones with an actual offensive coordinator twice, and potentially Aaron Rodgers' New York Jets twice. Shoutout to general manager Chris Grier for maximizing the salary cap window provided by having starting quarterback Tua Tagovailoa on his rookie deal for two more seasons as he has added All-Pro wide receiver Tyreek Hill, Pro Bowl pass rusher Bradley Chubb, and Ramsey via trade in the last 365 days. The cap may not look as pretty following the 2024 season, but as Grier observed from the Rams, that's tomorrow's problem.
Rams: C+
For Los Angeles, the bill for their Super Bowl LVI run is now due, and they are paying up. On Friday, general manager Les Snead referred to quarterback Matthew Stafford, wide receiver Cooper Kupp, and defensive tackle Aaron Donald as the team's "pillars." Ramsey was noticeably absent from that statement, indicating he was up for grabs. Following a 5-12 finish in 2022, the worst record in NFL history for a defending Super Bowl Champion, Snead correctly realized that their lack of depth brutalized any hopes of staying afloat after injuries to all three of the team's pillars last season.
So, he's now making amends to ensure the Rams are a deeper team in 2023 with the pick up of an additional third round pick plus 24-year-old tight end Hunter Long. He's a nice backup to Tyler Higbee, but the draft pick is the real prize here since the Rams' sixth overall draft pick belongs to the Detroit Lions this April because of the Stafford trade. Thanks to this deal, Los Angeles now has three picks in the draft's first three rounds, but they are one second round pick and two thirds. Snead can look forward to making a first round pick for the first time since taking Jared Goff first overall in 2016 in the 2024 NFL Draft. It would've been nice to get at least a second rounder back in the deal for a player of Ramsey's caliber, but the Rams aren't in a position with leverage entering this offseason. Read More