Five moves Packers should make in 2023 NFL offseason: Trade Aaron Rodgers, draft a pass catcher in first round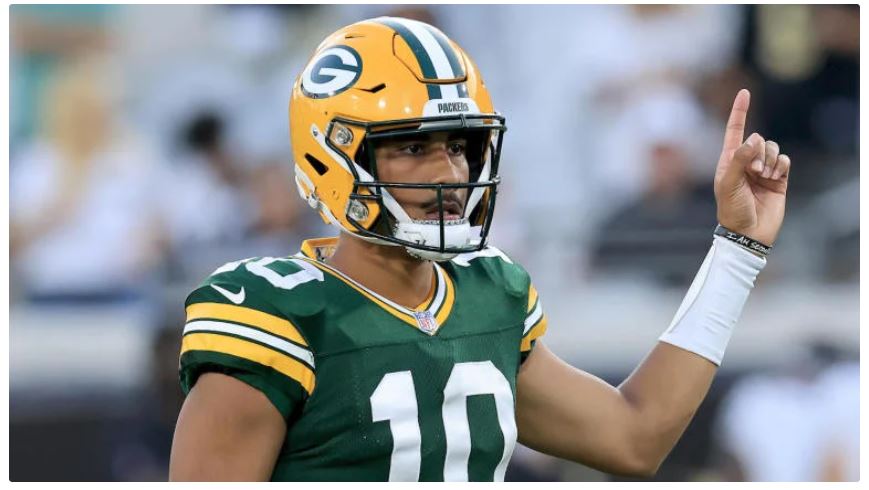 The Green Bay Packers, once a team that was almost always in playoff contention the last 31 years with Hall of Famer Brett Favre and future Hall of Famer Aaron Rodgers at quarterback, missed the playoffs for the first time under head coach Matt LaFleur as a broken thumb derailed Rodgers' 18th season, his 15th as the starter. The rest of the roster around Rodgers joined him on the injury report in 2022 as maladies to All-Pro left tackle David Bakhtiari, linebacker Rashan Gary, All-Pro linebacker De'Vondre Campbell and cornerback Eric Stokes also contributed to breaking the Packers' NFL-record, three-year streak of 13-win seasons.
Green Bay was an average team at 8-9 in the first year without first-team All-Pro wide receiver Davante Adams, scoring 21.8 points per game (14th in the NFL). That was expected as Rodgers attempted to connect with rookie wideouts Christian Watson and Romeo Doubs, the team's second- and fourth-round picks in the 2022 NFL Draft. The bigger disappointment was the defense, thought to be a top-five unit with numerous first-round picks and considerable financial resources invested into that side of the ball. The unit allowed 21.8 points per game, ranking 17th in the NFL. The Packers own all of their picks, excluding their sixth-rounder, and was awarded a couple of compensatory picks on Thursday -- fifth- and seventh-rounders. Here's a roadmap to how Green Bay can take a step forward toward a brighter future in 2023 and beyond.
Rip off the Band-Aid and trade Aaron Rodgers to Jets
Even though NFL Media's Ian Rapoport reported on Feb. 27 that the Packers would welcome Rodgers back with open arms, the writing is now on the wall at Lambeau Field since his reporting changed Thursday, saying his return is now "less likely." General manager Brian Gutekunst said "all options are on the table" in regards to Rodgers' future at the NFL Scouting Combine and a report surfaced that the team is done "begging Rodgers to return on his terms" on Monday. Given that Green Bay granted the New York Jets permission to talk to their four-time NFL MVP and Super Bowl XLV MVP, the longest-tenured player in team history, it's clear that they're more than comfortable moving ahead with 2020 first-round pick quarterback Jordan Love. That's a stark change in tone from just an offseason ago when the Packers gave Rodgers a three-year, $150.8 million contract extension and rebuffed the Denver Broncos' efforts to trade for their face of the franchise.
"We're excited about him," Gutekunst said about Love at the combine. "I've expressed to a lot of people that he needs to play. That's the next step in his progression. Jordan's done a great job, worked really hard so he's doing everything we're asking."
Even Jets players are envisioning Rodgers on their sideline as 2022 NFL Defensive Rookie of the Year Sauce Gardner said Thursday, via The Athletic, that many other players are poised to come to New York should Rodgers be traded to the Big Apple.
Even though the Packers' cap space would be dinged with around $40.3 in dead money ($15.8 million in 2023 and $24.5 million in 2024) according to CBS Sports' Joel Corry, Rodgers' contract would be off their books by 2025. Moving on from a living legend is difficult, but both the Green and Gold and their current all-time leader in passing touchdowns (475) are hoping to do things differently than the Favre saga that consumed the 2007 and 2008 offseasons. Time to retool the offense around Love and Watson in order to see if Love truly is a worthy heir in the Packers' line of succession from Favre to Rodgers as he enters the last non-option year of his rookie deal. If he is, Gutekunst and the Packers' faithful will likely pop a bottle of champagne in celebration. If he's not, 2022 Heisman Trophy winner and USC QB Caleb Williams as well as North Carolina's Drake Maye will likely be available in the 2024 NFL Draft.
Draft a pass catcher with their first-round pick
It's the offseason in Green Bay which means it's time to whip out the draft statistic that makes the rounds every year: Green Bay has not selected an offensive skill position player (running back, wide receiver or tight end) in the first round since 2002 when it chose Florida State wide receiver Javon Walker with the 20th overall pick. The last time the Packers took such a player in the first round, Tobey Maguire's "Spider-Man" (the first one) was the world's top grossing movie. It's also the longest drought in the common draft era (since 1967) without selecting a running back, wide receiver, or tight end in the first round. It's well past overdue.
More than 20 years of drafting and no offensive skill position players is a testament to the front office's belief that Favre and Rodgers could do more with less talent at their disposal, and both proved that theory to be correct for many seasons. However, one could argue that the Packers have also squandered some of both Favre's and Rodgers' twilight seasons by not surrounding them with more talent as their mobility and other skills slowly deteriorated.
Whether or not Rodgers returns to Green Bay, he or Love could use another weapon or two in the passing game to complement Watson, whose nine scrimmage touchdowns were tied for the most among all rookies with Seattle Seahawks running back Kenneth Walker III. Those nine scores from scrimmage were tied for the fourth-most in the entire NFL among all wide receivers with a few of the league's best: the Vikings' Justin Jefferson, the Bengals' Ja'Marr Chase, the Cowboys' CeeDee Lamb, the Browns' Amari Cooper and the Seahawks' Tyler Lockett. The Packers' Week 18 slip up against the Lions showcased the need for another weapon or two, as the Lions double-teamed Watson or bracketed him with a safety nearly the entire game, daring another pass-catcher to beat them.
TCU wide receiver Quentin Johnston, one of the driving forces of the Horned Frogs' surprise College Football Playoff run; Notre Dame tight end Michael Mayer, who led all tight ends in receptions (180) and receiving yards (2,099) across the three two college football seasons; or Utah tight end Dalton Kincaid, perhaps the most polished route-runner of the 2023 NFL Draft's loaded tight end group, would all be strong picks at No. 15.
Sign a starting-caliber safety in free agency
The Packers are stacked at cornerback with Pro Bowl selection Jaire Alexander, ballhawk Rasul Douglas -- his nine interceptions across the last two seasons are tied for the third-most in the NFL -- and third-year, former first-round pick Eric Stokes. That's not the case with the position group behind them. Adrian Amos, who was one of the best safeties in football in 2020, continued a downward trend in his play from decent to needing to be let go in 2022. Amos surrendered six touchdown passes in coverage for the second straight season after only allowing two in 2020. He allowed a 102.8 passer rating in coverage as the primary defender, the 17th-highest in the NFL among defensive backs to play in at least 10 games. He's set to hit free agency this offseason.
Former first round pick Darnell Savage also regressed to the point that he was benched and then inserted back into the lineup to play in a reduced role at the nickel. He lost his safety spot to Rudy Ford, a player the Jaguars kicked to the curb on roster cutdown day prior to the start of the 2022 season.
"Our secondary is a little bit unsettled, Gutekunst said at the NFL Scouting Combine, via Yahoo Sports. "We have a couple of safeties that are moving on that were here last year."
With that much turnover on the back end of the defense, it would make sense for Green Bay to pursue an experienced safety to pair with Alexander, Dougals and Stokes. Currently with $24 million in cap space, according to OverTheCap.com, that's more than enough room to make a splashy signing at the position, especially considering what the New Orleans Saints did to sign quarterback Derek Carr despite being in the red in cap room. The safety position is one of the deeper groups in the upcoming free agency class. Jordan Poyer -- the only player with 20 or more interceptions (22) and 10 or more sacks (10.0) since 2017 when he joined the Buffalo Bills -- Jessie Bates III -- the Cincinnati Bengals leader in tackles (479) and interceptions (14) since entering the NFL in 2018 -- and Vonn Bell -- who ranks as one of the most physical safeties in the league since joining the Bengals in 2020 with eight forced fumbles (most among safeties since 2020) and four fumbles recovered (tied for second-most among safeties since 2020) -- are all free agents this offseason. Any one of those three would represent an upgrade in the Packers secondary.
However, should Gutekunst opt not to spend a significant chunk of the Packers' $16.5 million in cap space, Cleveland Browns safety John Johnson III, who played under Green Bay defensive coordinator Joe Barry with the Rams, or New York Giants safety Julian Love could be more affordable options.
Add depth at edge rusher through free agency and the draft
The Packers had the 10th-best pressure rate this season at 34.6% -- a strong year from a macro view in terms of bothering opposing quarterbacks. However, that figure is propped up by the first nine weeks of the season when their 39.8% rate was the second-best in the NFL. During that span, linebacker Rashan Gary dominated with 38 pressures, tied for fifth-most in the NFL, and six sacks. Once Weeks 10-17 rolled around -- after the 25-year-old Gary went down with a torn ACL -- they plummeted with the sixth-lowest rate in the league (29.7%).
Green Bay's other outside linebacker, 30-year-old Preston Smith, had a solid year as one of 23 players in the NFL with at least 20 quarterback hits and eight sacks, but the Packers' defense needs more than just those two, given the pass rush died when one of them couldn't play.
In terms of free agent targets, Yannick Ngakoue is the market's top pass rusher, but he could outside of Green Bay's price range. Lorenzo Carter could be a high-upside add on a one-year, prove-it deal at 27 years old. If Gutekunst is looking to add some older veterans on a cheap, one-year deals to help mentor some draft picks, there's a number of established veterans to choose from in this class, including Jason Pierre-Paul, Carlos Dunlap, Jadeveon Clowney, Melvin Ingram, Justin Houston, Robert Quinn and Bruce Irvin.
Some names to target in Rounds 2-5 of the draft could be Notre Dame's Isaiah Foskey, whose 11.0 sacks were tied for the fifth-most in college football this past season; Army's Andre Carter II, whose 15.5 sacks in 2021 were the second-most in the country behind only Alabama's Will Anderson Jr. and also more than current Detroit Lion Aidan Hutchinson; or Ohio State's Zach Harrison, one of the key pieces of a defense that nearly knocked off eventual national champion Georgia in the College Football Playoff semifinals.
Re-sign Rashan Gary to a long-term deal now
As mentioned above, the Packers had one of the NFL's top pass rushes with Gary, their 12th overall pick from the 2019 NFL Draft, on the field creating chaos for opposing quarterbacks. Given that he's 25, plus the advancement of modern medicine, it's likely Gary is able to rebound from his season-ending knee injury and return to Lambeau Field as a game-wrecker once again. The Packers would wise to secure Gary's services long term now because his leverage isn't as high coming off an injury, and then the team can project future seasons' cap space situations with a core player secured.
The deal would be also advantageous to Gary as he would gain long-term security. Green Bay has shown a willingness to pay some of its top talent despite coming off a season plagued by injury. Look no further than Alexander -- the team's 18th overall pick in the 2018 NFL Draft -- who missed 13 games with a shoulder injury in 2021 and then was made the highest-paid cornerback on a per-year basis after signing a four-year, $84 million contract extension the following offseason. Alexander rewarded Green Bay's faith with a Second-Team All-Pro and Pro Bowl season in 2022. No reason why Gary can't follow in his defensive teammate's footsteps.Read More