Dalton Schultz 2023 NFL free agency: Return to Dallas, head south to Houston among top landing spots for TE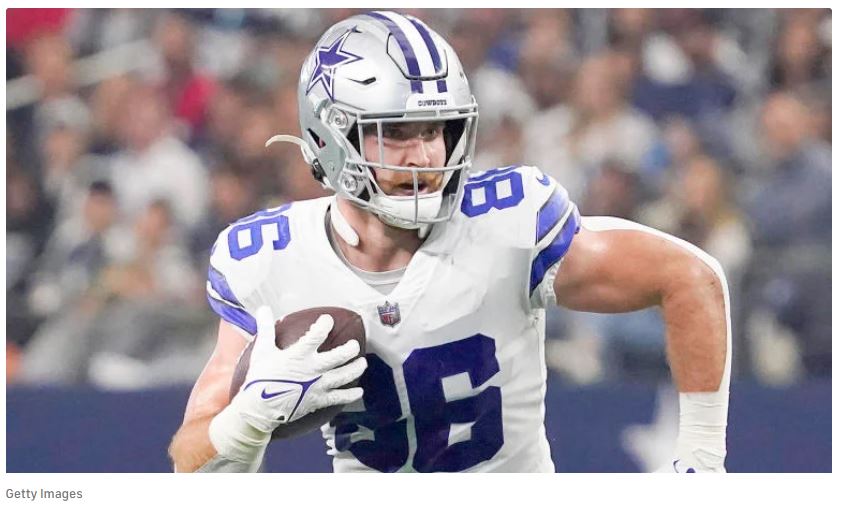 Dallas Cowboys tight end Dalton Schultz, who received the franchise tag last offseason and is arguably the top player at his position in free agency this year, has a career arc that most resembles a roller coaster. Since Mike McCarthy arrived as the Cowboys head coach in 2020, Schultz is one of five tight ends with 2,000 or more receiving yards (2,000) and 15 or more receiving touchdowns (17) along with Chiefs' Travis Kelce, Ravens' Mark Andrews, 49ers' George Kittle and Vikings' T.J. Hockenson. While he has been a borderline, top-five producing tight end across most receiving metrics since 2021 -- ranking fourth in catches, sixth in receiving yards, and fifth in receiving touchdowns -- those ranks are slightly deceptive.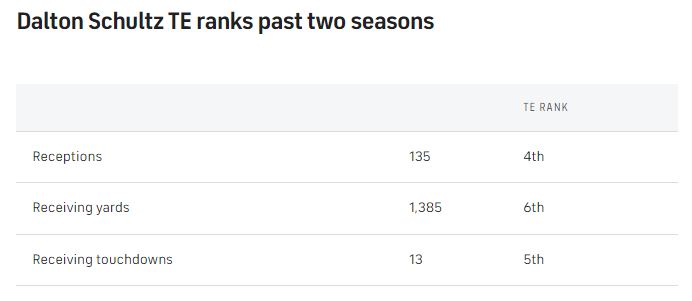 The bulk of that production came in 2021 when Schultz totaled nearly the same amount of receiving touchdowns (8) that he has recorded in the other four seasons of his career combined (9).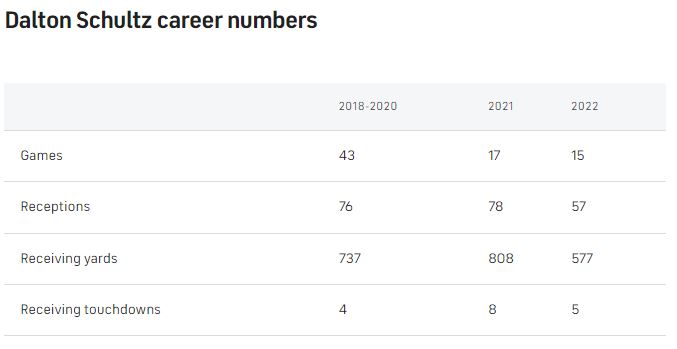 However, the Stanford alum still has a number of productive years left as he readies to hit the free agency market for the first time at 26 years old. Here's a look at some of the most likely and/or most intriguing landing spots for the most proven tight end in the 2023 free agency class.
Dallas Cowboys
Obviously, the most natural landing spot for Schultz is back with the Dallas Cowboys. He has caught 15 touchdown passes from Dak Prescott, tied for the second-most touchdown connections with the Silver and Blue's face-of-the-franchise passer along with wide receiver CeeDee Lamb's 15. Only current Cleveland Browns wide receiver Amari Cooper, with 22 touchdown receptions from Prescott, has more.
Knowing how Jerry Jones likes to run his team like a family business, keeping the sentimental favorites on the roster, it would make plenty of sense for them to pay to have Schultz remain in North Texas. However, for a team that cried poor with the salary cap just an offseason ago when it jettisoned Cooper in a salary-dump move, it will be interesting to see if there's enough money to go around for Schultz, Tony Pollard, a potential Prescott extension, and likely future second contracts for Lamb, Micah Parsons and Trevon Diggs.
Houston Texans
The Texans are drafting a quarterback with their second overall pick to be their new face of the franchise. Whether it's Alabama's Bryce Young, Ohio State's C.J. Stroud or maybe even Kentucky's Will Levis, that rookie will need playmakers to throw to beyond a disgruntled Brandin Cooks. While Houston also has the 12th overall pick in the upcoming draft thanks to their trade with the Cleveland Browns that sent Deshaun Watson up to Ohio, it's unlikely a tight end is selected that high. Since the Texans became an NFL franchise in 2002, only five tight ends have been selected in the first 12 picks of a draft.
The Texans have the fifth-most cap space ($36,4 million) in the NFL, per OverTheCap.com, and it would make sense for Houston to use some of that room to acquire more receiving help. That way the Texans can use their second early first-round pick on another area of need because they have plenty of them.
Detroit Lions
The Lions are another team with two first-round picks, sixth overall and 18th overall, and they, too, could use an upgrade at tight end over Brock Wright and Shane Zylstra. The fighting Dan Campbell's have a solid, young core of wide receivers with Amon-Ra St. Brown and Jameson Williams, but they could use a reliable chain-mover over the middle. Schultz would quickly become a reliable option for Jared Goff who has had strong, on-field chemistry with past tight ends like Tyler Higbee, Gerald Everett and Hockenson.
Tennessee Titans
The Titans simply ran out of players, on both sides of the ball, for the second season in a row in 2022, cratering to a 7-10 finish after a 7-3 start. Whether Ryan Tannehill, Malik Willis, Josh Dobbs, or someone else is the Titans quarterback in 2023, that person needs more options in the passing game than second-year wideout Treylon Burks, Nick Westbrook-Ikhine and Kyle Philips. Schultz would become a top-two pass-catcher in Tennessee's offense upon signing a contract. Read More