2023 Super Bowl: How Eagles evolved from coaching and roster turnover to NFL championship favorites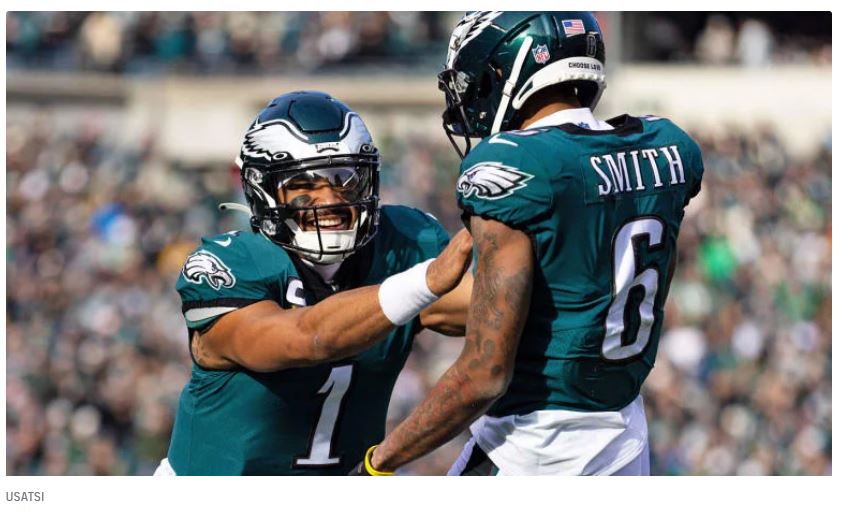 In the game of life, six years can fly by in the blink of an eye. In the NFL, six seasons can feel like an eternity, as it was enough time for the Philadelphia Eagles to experience the league's complete circle of life.
They won their first Super Bowl in franchise history behind head coach Doug Pederson and backup quarterback-turned Super Bowl MVP Nick Foles to conclude the 2017 season. The next year, they lost in the divisional round. Then, the wild-card round. Rock bottom occurred in 2020, when the Eagles finished 4-11-1 as once-face-of-the-franchise quarterback Carson Wentz flamed out and then second-year rookie Jalen Hurts started the final four games.
More on Super Bowl LVII
How to watch Super Bowl 57
The past two seasons were spent re-centering the offense around Hurts' dynamic, dual-threat ability under first-time NFL head coach Nick Sirianni, which led to sneaking into the NFC playoffs as the seventh seed before failing to hang with Tom Brady's Tampa Bay Buccaneers. Today, the Eagles are Super Bowl LVII favorites against the AFC's top-seeded Kansas City Chiefs, looking to complete the cycle with a completely re-tooled roster and coaching staff by hoisting the Vince Lombardi Trophy once again.
The way the Eagles have completely turned over their roster since their Super Bowl LII championship in the 2017 season is unique, as they have an entirely new team with the exception of seven players on its current 53-man roster: three offensive linemen, two defensive linemen and two special teams players. That type of roster churn highlights a willingness to part with key veterans who led them to past glory and/or put up big numbers. That's the opposite composition of their Super Bowl opponent, since the AFC champions have the same head coach (Andy Reid), quarterback (first-team All-Pro quarterback Patrick Mahomes), and top pass-catcher (first-team All-Pro tight end Travis Kelce) from their Super Bowl LIV championship team in 2019. What the Eagles have done is NOT normal.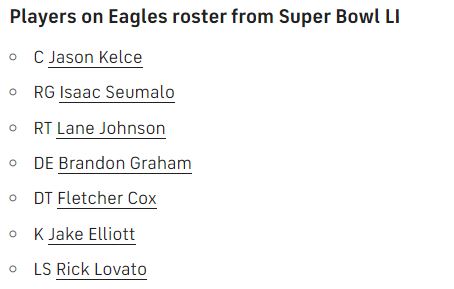 Not only does Philadelphia's return to the Super Bowl with a new team stand out in today's NFL, but also in league history: This season's Eagles are the fourth team ever with a different quarterback and head coach in two Super Bowls across a six-season span. They're the first team to accomplish this feat since the New England Patriots in the 1996 and 2001 seasons, and they're hoping to join the 1976-1980 Raiders as the only teams to win two Super Bowls in a six-year span with a different quarterback and head coach. Those teams were coached by two Hall of Famers in John Madden and Tom Flores respectively.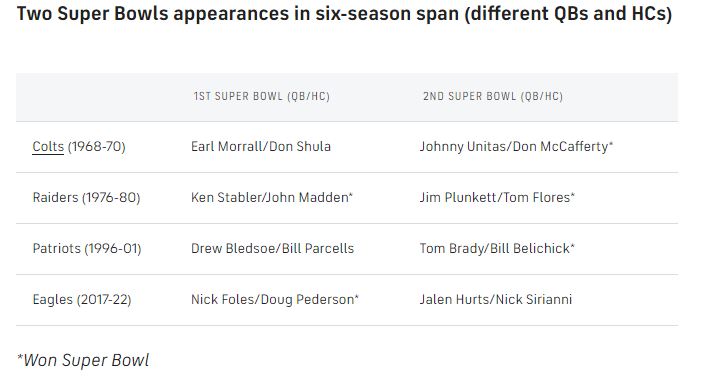 The Leap: From last team in to No. 1 seed
The Eagles' improvement over the past three seasons has been a straight line, up and to the right. How unlikely has their year-to-year turnaround under second-year head coach Nick Sirianni been? Well, he inherited a 4-11-1 unit and has regular season records of 9-8 and 14-3 in his first two seasons leading the charge, making the Eagles the first team in NFL history to increase their regular season win total by five or more games in consecutive seasons.

One of the reasons as to why this unprecedented growth has occurred is directly correlated to Philadelphia being good at essentially every element of football, whether it's passing or running the football offensively, blocking up front, rushing the passer or blanketing opponents in coverage.
A key contributor to the Eagles' well-roundedness is the growth of third-year quarterback Jalen Hurts, a second-round pick still on his rookie contract, which has allowed general manager Howie Roseman to bring in the following players: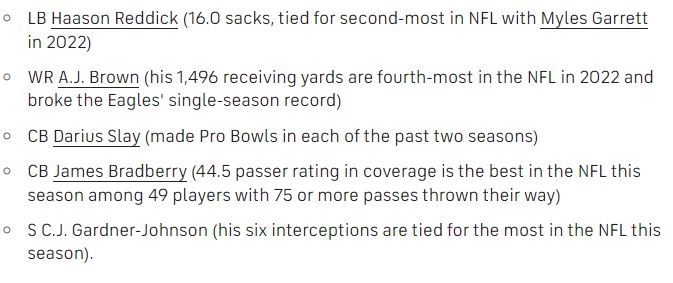 Reddick, Brown and Bradberry -- all acquired this past offseason -- were named second-team All-Pros.
A well-rounded juggernaut
Aerial Fireworks: Eagles league's best deep passing team
When many think of Philadelphia's top-three scoring offense, they think of Hurts executing the read-option with Pro Bowl running back Miles Sanders and barreling into the end zone for another score. However, that preconceived notion could help catch some defenses off guard since the Eagles' dual-threat dynamo leads the NFL in passer rating on throws of 25 or more air yards (123.4) thanks to his league-leading 10 passing touchdowns on those throws.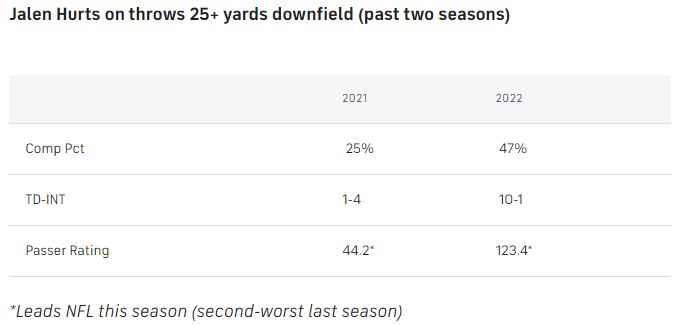 T
he two major differences have been Hurts' scheme comfort and the acquisition of Brown from the Tennessee Titans. The Eagles quarterback has played for four different coaches and their staffs in his past five seasons of football: Nick Saban at Alabama (2018), Lincoln Riley at Oklahoma (2019), Doug Pederson with the Eagles (2020) and now Sirianni (2021-present). He expressed the importance of having continuity with his coaches back in the offseason.
"I think the biggest thing is just coming in with having the same coach consecutively, all the plays being in the same system, so I think that's been very pivotal going into the offseason and as we go throughout the plays," Hurts said at the Eagles' organized team activities in early June. "Just going through the plays and running them against our defense, just being decisive out there on the field knowing where I'm going to go with the ball based on the look that they give me. I think there's a natural maturation as I've always talked about. Just taking it day by day."
That confidence, combined with the addition of Brown, instantly clicked for the Eagles offense as the former Titan broke the Eagles' single-season receiving yards record and had seven receiving touchdowns of 25 or more yards. Seven receiving touchdowns of 25 or more yards downfield are the same amount Hall of Famer Randy Moss had in his record-breaking 2007 season with the 16-0 New England Patriots. Brown's deep-threat dominance is remarkable considering the Eagles had two such passing touchdowns as a team during the 2021 season.
Ground and Pound: Breaking a nearly 100-year rushing record
Another reason the Eagles are the best deep-passing team in the league is in part to their potent rushing attack, one that left NFL Defensive Player of the Year finalist and Dallas Cowboys linebacker Micah Parsons incensed after a primetime Week 6 road loss. They ran the third-most run-pass option plays in the NFL this season (218), two behind the Green Bay Packers' and Carolina Panthers' 220. That consistent confusion merged with Hurts and Sanders legs has led Philadelphia to 39 rushing touchdowns this season, including the playoffs, breaking the previous single-season rushing record of 38 that was held by the 1924 Frankford Yellow Jackets, a team whose final NFL season came in 1931.
Broad Street Bullies
The Eagles offensive line is, in a word, dominant. Three of Philadelphia's starting offensive linemen were named to the Pro Bowl, they ranked in the top three for both pass-blocking grade (83.8, first) and run-blocking grade (76.1, third) , according to Pro Football Focus. In addition, first-team All-Pro center Jason Kelce and first-team All-Pro right tackle Lane Johnson had two of the four-lowest pressure rates allowed among offensive linemen with at least 500 pass-blocking snaps.
This unit can make a phenomenal case for being the biggest X-factor in the Eagles being only the fourth team in NFL history to have at least five games with over 300 passing yards and five games with over 200 rushing yards. The last team to accomplish this feat was the Super Bowl Champions of the 1989 season, the San Francisco 49ers, the fourth and final championship with one of the greatest quarterbacks of all-time, Joe Montana.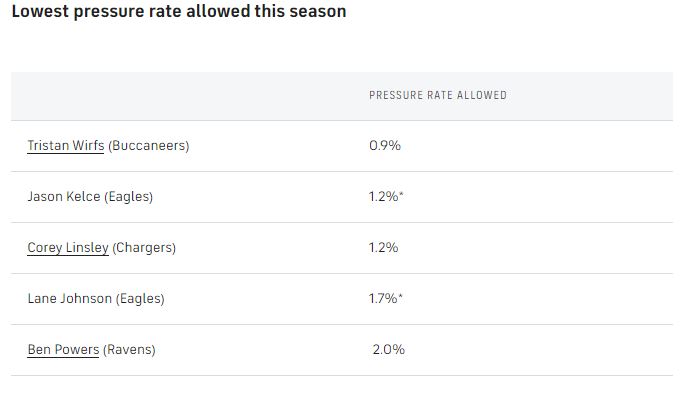 Defensive Disruptors: A no-fly zone
The Eagles are the league's best pass defense through the conclusion of all but the NFL's final game, allowing the fewest passing yards per game (171.0) and passer rating (80.1). In addition to the stellar defensive back play they have received from Gardner-Johnson, Slay, and Bradberry, they have a historic pass-rush up front that allows the secondary to do what they do.
The Eagles have 78 sacks this season including the playoffs, the third-most in NFL history behind only the 1985 Bears (80 sacks) and 1984 Bears (82 sacks). The reason for this is that Philadelphia is the only team in NFL history to have four players this year who all recorded at least 10 sacks in the regular season -- Haason Reddick (16.0), Javon Hargrave (11.0), Brandon Graham (11.0) and Josh Sweat (11.0). Naturally, the Eagles led the NFL with an 11.2% sack rate in 2022, meaning they sacked opposing quarterbacks on more than 10% percent of their pass attempts. No other team had a rate above 9%. With a front and back end of a defense working so perfectly in unison, it's made the Eagles a team that loses only when it beats itself.
Postseason Destroyer
The Eagles haven't broken a sweat yet this postseason because of their no-weakness build, squashing the New York Giants and San Francisco 49ers by a combined score of 69-14 on their path to becoming the NFC champions. This waltz to the Super Bowl is unparalleled, as Philadelphia is the first team in NFL history to score 30 or more points and allow fewer than 10 points in consecutive playoff games. It's also only the third team ever to enter the Super Bowl coming off back-to-back wins by 24 or more points, joining Joe Montana's back-to-back Super Bowl champion 49ers in the 1988 and 1989 seasons.
If the Eagles can keep up this level of bully ball for just one more game, Broad Street will be lit up with joyous fans chanting "Fly Eagles Fly" all night long on Super Bowl Sunday. Read More