Three ways to fix the Cowboys in 2023: Acquire another Pro Bowl-caliber receiver, add depth to both lines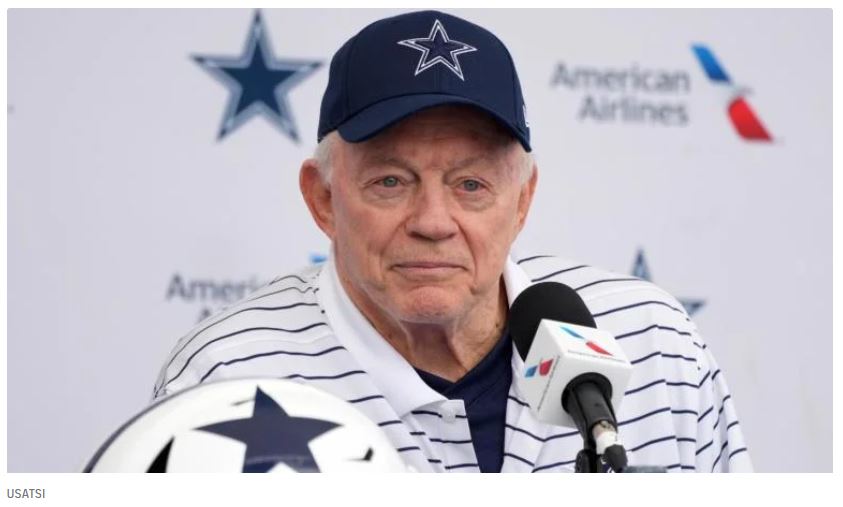 Another year, another Dallas Cowboys thud in the playoffs against the San Francisco 49ers following their 19-12 road loss in the NFC divisional round on Sunday. Dallas has once again banged its head up against the divisional round wall as its loss to conclude the 2022 season marked the franchise's 12th consecutive playoff appearance without reaching the conference championship round, the most consecutive such playoff trips in NFL history. The theme from the postgame comments by head coach Mike McCarthy, owner and general manager Jerry Jones, quarterback Dak Prescott, and linebacker Micah Parsons was unanimous: disappointment.
"I thought defensively we did a really great job for the most part, but would we have liked to have had a couple more stops?" McCarthy said after the loss on Sunday. "Yes. Did we need more third-down conversions on offense? Yes, we could have that too. Red zone production. Extremely disappointed. This has been an incredible journey with this group of men. We came up short tonight to a very good football team."
"I thought we were well-suited to win this thing," Jones said Sunday. "Frankly, I wouldn't say surprised, I would say real disappointed we couldn't make something happen right down to the last solid series."
"Disappointed. … For us to only put up the points that we did [12], that's unacceptable and that starts with me," Prescott said Sunday. "I've got to be better. No other way to sugarcoat it."
"There's no feeling like this," Parsons said. "I hurt for the guys, I hurt for the fans, I hurt for myself and how much I pushed through this year to try and get this title. It's just not enough. I give my all every week for these guys and they give it back to me, but it just wasn't enough."
With that in mind, here are three things the Cowboys could fix or improve upon in order to get over the divisional round hump and even closer to their first Super Bowl title since the 1995 season. It's not all doom and gloom: the Cowboys did just have consecutive 12-win seasons for the first time since their 1990s glory years.
All moves suggested below come with the assumption that Dallas brings back running back Tony Pollard on a team-friendly deal following his gruesome fibula injury and proceeds to release Ezekiel Elliott. The 27-year-old former top-five draft pick had career-lows in carries (231), yards per carry (3.8), and rushing yards (876) in 2022. The Cowboys would save just under $5 million in cap space this season and would avoid Elliott's cap hits that are all over $14 million per year across the next three seasons.
1. Acquire another Pro Bowl-caliber receiver
Even though his head coach described ball security as a focus, Prescott seemed to lack that level of focus for a lot of the season, forcing the ball to Pro Bowl wide receiver CeeDee Lamb over and over again. Prescott's 15 interceptions made him the NFL's co-leader along with Houston Texans quarterback Davis Mills despite the Cowboys quarterback missing five games with a thumb injury. That made him the only quarterback to ever lead or co-lead the league in picks despite missing five or more games.
Many of his interceptions were on throws that he tried to squeeze toward Lamb, including a back-breaker in the red zone against the 49ers. Late in the first half, with the Cowboys driving to try to take a lead, he forced a pass intended for Lamb into double coverage. Lamb was not quite open, and on second-and-2, only 18 yards away from scoring a touchdown, Prescott did not have to force the throw. He threw it anyway. It hit San Francisco safety Jimmie Ward in the chest, then popped into the air before landing in the arms of 49ers linebacker Fred Warner. The 49ers turned the interception into three points of their own and took a 9-6 lead into halftime. Had the Cowboys scored a touchdown there instead, they may have won the game.
"On the second one, the nickel squeezed, tried to throw it low to CeeDee [Lamb], but he was able to make a play on it and tip it up in the air to the linebacker [Fred Warner]," Prescott said. "Just two throws [interceptions] that I can't have, that you can't have in the playoffs. You can't have when you're trying to beat a team [the San Francisco 49ers] like that. You can't have it on the road. No excuses for that, those two are 100% on me."
However, one could argue a second-half incompletion that was forced in Lamb's direction in the second half was just as costly. Facing third-and-5 from the 49ers' 40, Prescott took a deep shot down the middle intended for Lamb who lined up in the slot to the right of the offensive line. Warner, an All-Pro this season, anticipated the throw as he dropped back into deep zone coverage and knocked the ball away. Dallas then took a delay-of-game penalty and punted the football away. The 49ers scored their only touchdown of the night on their ensuing possession.
The problem with this play is that Cowboys wide receiver T.Y. Hilton, who lined up in the slot on the left side of the formation, was WIDE OPEN. As in, nobody was in Hilton's zip code as the 49ers dropped back into zone coverage with Hilton blowing past his defender to where a safety hadn't rotated over. Had Prescott seen this, Hilton would've had one of the easiest receiving touchdowns of his 11-year career.
Lamb had a game-high 13 targets on Sunday while no other wide receiver had more than Michael Gallup's three. Tight end Dalton Schultz had 10 targets, and he hauled in five of them for 27 yards and a touchdown. However, the Cowboys may have come out on top had he looked at other receivers.
"I'm not really sure honestly, I have to go back and look at the tape," Prescott said when asked about his inability to find other wide receivers besides Lamb against the 49ers. "Not real sure. CeeDee is the guy you want to get the ball too, I can tell you that. He did really good things with it. He's a young player just scratching the surface. Unfortunately, I wasn't able to get those other guys the ball. Obviously, we have other playmakers other than CeeDee, and it's on me to get it to them to allow them to make plays. I just wasn't able to do that."
Prescott's inability to see other receivers other than No. 88 highlighted how much he felt the departure of four-time Pro Bowl wide receiver Amari Cooper this past offseason. The 28-year-old totaled 1,160 receiving yards, the second-most of his career, and nine receiving touchdowns, a career-high, in Year One with the Cleveland Browns while catching passes from Jacoby Brissett, a career backup, and a Deshuan Watson who hadn't played NFL football in a year-and-a-half.
With another threat on the outside, Prescott could return to his 2021 heights when he threw a franchise-record 37 touchdowns. Dallas has a few different avenues to go about accomplishing this remedy. One route is through the first couple rounds of the NFL Draft, and wide receiver could be a need that warrants that high of selection between Prescott's inability to trust other options and some of those other options, Hilton and Noah Brown, hitting free agency.
Another outlet could be through free agency where New England Patriots wide receiver Jakobi Meyers and Kansas City Chiefs wideout JuJu Smith-Schuster, both 26 years old, comprise the top options. Odell Beckham Jr., the 30-year-old three-time Pro Bowler the Cowboys recruited heavily in December, will also be available. The last lever Jones could pull is through the trade market where a former three-time All-Pro, Cardinals wide receiver DeAndre Hopkins, could be available with Arizona starting over with a new general manager and head coach.
Regardless, Jones needs to do something to add a serious talent to his receiving corps in order to prevent Prescott from becoming an overly predictable turnover machine once again in 2023.
2. Acquire another solid player at LB, CB opposite Micah Parsons and Trevon Diggs
Since the NFL began officially tracking forced fumbles in 1993, only one player in the entire NFL in that span has racked up at least 13 sacks and at least three fumbles in each of his first two seasons: Parsons.
The two-time All-Pro and Pro Bowl selection was able to accomplish this for two reasons. The first is he is a freak of nature. The second is the Cowboys having Leighton Vander Esch, in 2021 and 2022, and also Anthony Barr, just this past season, line up in the traditional inside linebacker spots on most snaps, allowing Parsons the ability to line up in a variety of different alignments across the defensive formation. With the addition of the four-time Pro Bowler Barr, Parsons lined up as a defensive end primarily looking to pass rush a significant amount of the time (81.1%) of his snaps, according to Pro Football Focus. He lined up as a traditional inside linebacker 18.1% of the time and as a cornerback on eight snaps (0.8%).
"You want to make sure that you're not in one location long enough for teams to say 'this is where he's [Parsons] going to be, so this is how we're going to go," Cowboys defensive coordinator Dan Quinn said prior to Dallas' Week 13 matchup against the Indianapolis Colts. "He'll move off the ball sometimes, left side, right side, so you can move him around. … When you have that type of versatility, not every player can do that. The fact that Micah can move from inside linebacker to outside linebacker to right defensive end to left defensive end to standing over the center. Putting him in different spots is one of the real parts of not allowing someone to know, 'Hey, always put a tight end to the offensive left [side] to chip Lawrence Taylor' not that it worked against him or anyone else. I think having the ability to move is a big piece of that."
Whether it's bringing back the 26-year-old Vand Esch, drafting a linebacker in the first three rounds, or signing someone like Pittsburgh Steelers linebacker Devin Bush, a former top-10 pick, to a one-year, prove-it deal, a move has to be made at that spot.
The same goes for the cornerback position opposite Diggs, 2021's interceptions leader, with Anthony Brown hitting free agency and Jourdan Lewis coming off a season-ending, Lisfranc foot injury. If not in the first two days of the trade, some of the notable names on the free agent market are projected to be Philadelphia Eagles cornerback James Bradberry, Baltimore Ravens cornerback Marcus Peters, New England Patriots cornerback Jonathan Jones, and Minnesota Vikings cornerback Patrick Peterson.
Defensive tackle next to Osa Odighizuwa could also stand to be addressed with Johnathan Hankins hitting free agency and a lack of trust in third year-pro Neville Gallimore – who was inactive against the Buccaneers in the wild- card round – but that's likely a Day Three draft pick need.
3. Draft another offensive lineman in the first three rounds
Cowboys left tackle Tyron Smith is one of the best of his generation at position -- as evidenced by the 2010's All-Decade Team nod plus eight Pro Bowl selections and two All-Pro spots. However, he has missed 33 of a possible 50 regular-season games since 2020, including 13 games this season, which is a ginormous deal for a mountain of a man who stands 6-foot-5 while carrying around 320 pounds.
Jones hit on Smith's likely long-term replacement at left tackle, rookie Tyler Smith, with the 24th overall pick in the 2022 NFL Draft, but he'll need to come away with another starting-caliber lineman in the first three rounds once again between the aging Smith and the team's right tackle Terence Steele, who suffered a season-ending ACL injury back in Week 14. Those injuries may have also contributed to Prescott's league-leading interceptions total. Prescott was pressured on 31.4% of his dropbacks in 2022, which was 13th-fewest in NFL, but he likely needs to be inside the top 10 fewest pressured passers in 2023 in order to cut down on the turnovers. [Read More] (https://www.cbssports.com/nfl/news/three-ways-to-fix-the-cowboys-in-2023-acquire-another-pro-bowl-caliber-receiver-add-depth-to-both-lines/)