Three ways to fix the Packers in 2023: Health, defensive scheme changes and drafting a first-round playmaker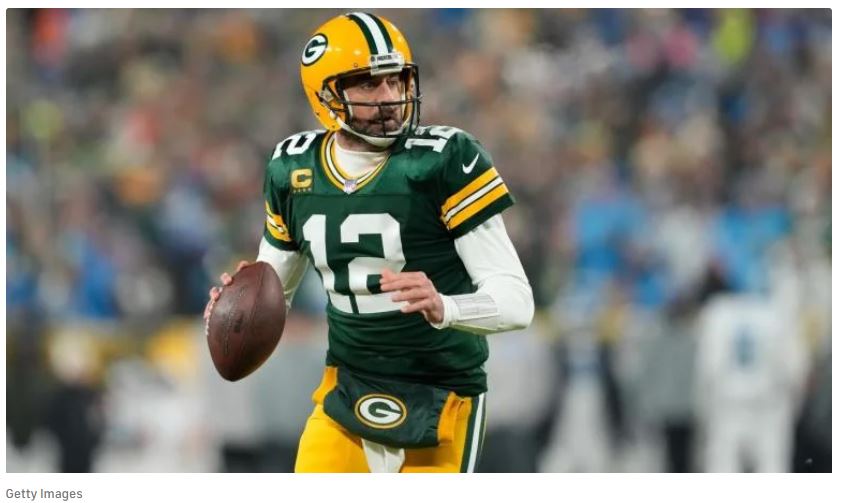 After becoming the first team with three consecutive 13-win seasons in NFL history, the Green Bay Packers' fourth season under head coach Matt LaFleur ended with a thud: no playoff appearance and an 8-9 record following a 20-16 season-ending loss against the Detroit Lions on "Sunday Night Football" when a Week 18 win would've earned the Green and Gold the final NFC wild card spot.
"Obviously coming off a very disappointing season where I don't think anybody expected this, but it's here," Packers head coach Matt LaFleur said during his end-of-season press conference Monday. "You always have to get to the truth of the matter, and the bottom line is what we did this season was not good enough, so there's a lot of room for improvement. There's a lot of things that we didn't do consistently enough throughout the course of the season that led us to this point."
With that in mind, here are three things the Packers could fix or improve upon in order to get back to the lofty standard LaFleur set in his first three seasons in Green Bay.
A return to health
"We never quite had the continuity we would have liked, but that's the game," LaFleur said. "You have to be able to adapt and adjust to try and put your players in the best position possible and hope that they can go out there and execute to the best of their abilities. We just didn't do it consistently enough. There were flashes. I am excited. I think there are a lot of young players in our locker room who can take that next step and show that improvement."
Following back-to-back seasons as NFL MVP, Aaron Rodgers had arguably his worst season since becoming the Packers starting quarterback in 2008. His 91.1 passer rating was his worst in his 15 years as Brett Favre's successor.
While some of that can be contributed to not finding a go-to, No. 1 option in the passing game until rookie Christian Watson emerged in Week 10 against the Dallas Cowboys with three receiving touchdowns, much of the 39-year-old's play can be explained by the broken right thumb he played though since the last play of Week 5 -- a 27-22 loss against the New York Giants in London.
Cowboys quarterback Dak Prescott missed five games to heal from a similar injury. Rodgers opted to tough it out and play in all 17 games, most of which he had a significant amount of tape wrapped around his thumb and palm on his throwing hand. Watching him throw week to week, it was clear Rodgers didn't have the same laser-like accuracy that has become a staple of his Hall of Fame career. If he decides to continue playing football in 2023, keeping him clean is priority number one.
In order to keep Rodgers upright, two-time first-team All-Pro left tackle David Bakhtiari needs to be protecting his blind side. When Bakhtiari was on the field in 2022, he remained one of the NFL's best. He only allowed one sack this season and five total since December 2018. However, he has struggled to stay healthy since tearing his ACL in practice on New Year's Eve in 2020, as he missed all but one game of the 2021 season. His status week-to-week was up in the air this season en route to playing 11 games. The good news is that the Packers believe they can manage his knee with more consistency going forward. Bakhtiari finished out the season playing in both Week 17 against the Minnesota Vikings and Week 18 against the Detroit Lions.
"Once we got [Bakhtiari] back out there on a consistent basis, once we learned how to best practice him, and once he learned how to do that for himself, I thought he played at a pretty high level," LaFleur said.
Through the first nine weeks of the 2022 season, Packers linebacker Rashan Gary was one of the most disruptive pass rushers in the league, as his 38 pressures were tied for the fifth-most in the NFL, trailing only Vikings linebacker Za'Darius Smith (46), Patriots linebacker Matt Judon, Browns defensive end Myles Garrett (41) and Cowboys linebacker Micah Parsons (39). Then, he suffered a torn ACL in Week 9 at the Lions. The Packers defense didn't recover from losing its best pass rusher until the team's four-game winning streak from Weeks 13-17 after it fell to 4-8. Getting its 25-year-old, former 12th overall pick in the 2019 NFL Draft back will be a significant boost to the Packers defense.
Inside linebacker De'Vondre Campbell's four games missed with a knee injury from Weeks 9-12 equated to a 1-3 stretch for the Packers. The 2021 first-team All-Pro is the glue who holds the middle of Green Bay's defense together, and not so coincidentally, the team's late-season four-game winning streak occurred once he returned to the lineup in Week 13 at the Chicago Bears.
Second-year cornerback Eric Stokes, the team's first-round pick in the 2021 NFL Draft (29th overall), was a big part of its plans in the secondary after a strong rookie year. Being able to deploy him, Pro Bowler Jaire Alexander and ballhawk Rasul Douglas has been critical to Green Bay's defensive game plan.
While every team in the NFL has injury issues, ailments to the Packers' top players severely capped their ceiling in 2022.
Defensive consistency
Packers defensive coordinator Joe Barry appeared to be on the hot seat after Green Bay's 40-33 loss at the Philadelphia Eagles on "Sunday Night Football," surrendering 363 rushing yards -- the Eagles' most in a game since 1948 and the Packers' most allowed in a game since 1977 (against Hall of Famer Walter Payton's Bears) -- and 500 total yards. However, Barry appears to be on track to being retained in 2023.
"That's what I anticipate, yes," LaFleur said Monday when asked about Barry's return in 2023. "We're at the initial stage of all of the evaluations, and I don't anticipate a whole lot, if any, staff changes at all. I do think there's something to the guys we have in this building. Certainly there's a lot that all of us can improve upon, most notably myself."
When asked about specifics on why Barry is the right coach to continue running the Packers defense, LaFleur pointed to the improvement across the last five games of the season, a 4-1 stretch for Green Bay.
"I think that although it wasn't always pretty, I think that we started to improve as the year went on, and I thought we saw more of an identity [Week 18 against the Lions]. We played well enough to win on the defensive side of the ball."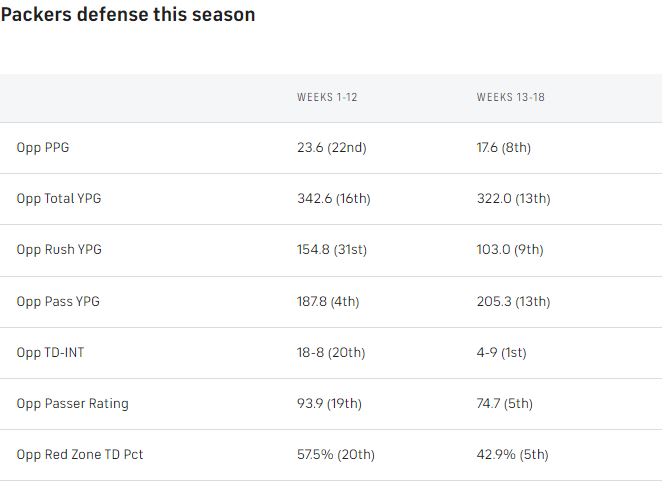 The turnaround occurred as Barry leaned harder into zone concepts and blitzed at a lower rate. That likely contributed to the more disciplined play when stopping the run as well as having more players back in pass coverage, which led to more takeaways. Green Bay blitzed at the second-highest rate in the NFL in the first 12 weeks, then decreased its usage to a bottom-five rate while becoming the most zone-heavy team in the league from Weeks 13-18.

Solidifying that identity allowed the Packers to nearly get into the playoffs following a disastrous start. Entering 2023 with a similar confidence in the scheme could allow for the players that the front office has highly invested in -- like Alexander (four years, $84 million), Campbell (four years, $50 million), Douglas (three years, $21 million), defensive tackle Kenny Clark (four years, $70 million) and linebacker Preston Smith (four years, $52 million), in addition to first round picks like Gary, linebacker Quay Walker, defensive tackle Devonte Wyatt and safety Darnell Savage -- to maximize their potential.
More help for the quarterback
The Packers scored a touchdown on 50% of their goal-to-go drives, the worst rate in the entire NFL this season. Across the previous two seasons -- Rodgers' past two MVP campaigns -- Green Bay scored a touchdown on 83.1% of its goal-to-go drives, the third-highest rate in the league. Same story in the red zone, where the Packers scored a touchdown on 51.9% of those drives this season (24th in the NFL) compared to 68.5% from 2020-21 (third).
Whether it has to do with the gaping hole that was All-Pro wide receiver Davante Adams' departure to the Las Vegas Raiders, play design, or trying to incorporate two rookie receivers (Watson and Romeo Doubs), LaFleur knows that can't happen again.
"There's a lot that we have to study this offseason, whether it was poor play design or lack of execution or all of the above," LaFleur said when asked about Green Bay's lagging goal-to-go attack in 2022. "It wasn't good enough. We did a piss-poor job in the red zone. I've said it before ,'Sometimes if you kick enough field goals, you're going to get beat,' and that's kind of what happened because I felt like a lot of [Week 18 vs. the Lions], we were able to move the football, and then in some critical situations, couldn't convert and had a turnover. You can't do that in these types of games."
Besides schematic tweaks, the other elephant in the room is to acquire better talent. Rodgers walked off the field at Lambeau on Sunday night arm-in-arm with receiver Randall Cobb, the player who he has thrown 45 touchdowns to (third-most of any Rodgers' pass-catcher in his career) as well as one of his best friends. If 2022 wasn't Rodgers' final season, it appeared as if that could be the case for Cobb. Another of Rodgers' more recent security blankets, receiver Allen Lazard, is headed toward free agency and might be on a different team as the Packers are operating with the seventh-smallest cap space in 2023 entering the offseason ($-5.4 million), according to Over The Cap.
With the 15th overall pick in the upcoming draft, it would make a lot of sense to draft a first round pass-catcher for the first time since selecting wide receiver Javon Walker out of Florida State in 2002. The Packers could go with one of the draft's top receivers (TCU's Quentin Johnston, USC's Jordan Addison, Ohio State's Jaxon Smith-Njigba) or tight end (Notre Dame's Micahel Mayer). Pairing one of them with fourth-round rookie Doubs, who showed some potential in an early-season win at the Tampa Bay Buccaneers, as well as Watson -- the rookie second-round pick whose eight scrimmage touchdowns ranked tied for the fourth-most in the NFL from Weeks 10-18, only behind the Chargers' Austin Ekeler, Cowboys' Ezekiel Elliott and San Francisco 49ers' Christian McCaffrey -- could give the Packers offense some much needed versatility.
"[Watson] gave us a legitimate home-run threat, and I think that was on full display [Week 18 against the Lions]," LaFleur said. "We can be extremely creative in terms of how we can get him the ball. I think you saw a little bit of that. … I still think there's a lot of room for improvement in his own game. He is an extremely intelligent player. I've said this before, but you can move him anywhere in the formation and know that he's going to execute to the best of his abilities. There are some things in his releases and route refinement that we can still, like most young players, improve upon. It gets me quite excited. I don't think there's anything this guy can't do, I really believe that. If he approaches the offseason the way I think he'll approach it, I think we'll see an even better version of him next year."
If the Packers can maintain a healthier roster, tailor their scheme to best accentuate the strengths of their talent-rich defense, and add another playmaker or two for the aging Rodgers or former first-rounder Jordan Love, there's no reason Green Bay can't find its way back to the postseason in 2023. Read More