Men's basketball assistant Scott Cross set to become Troy University's next head coach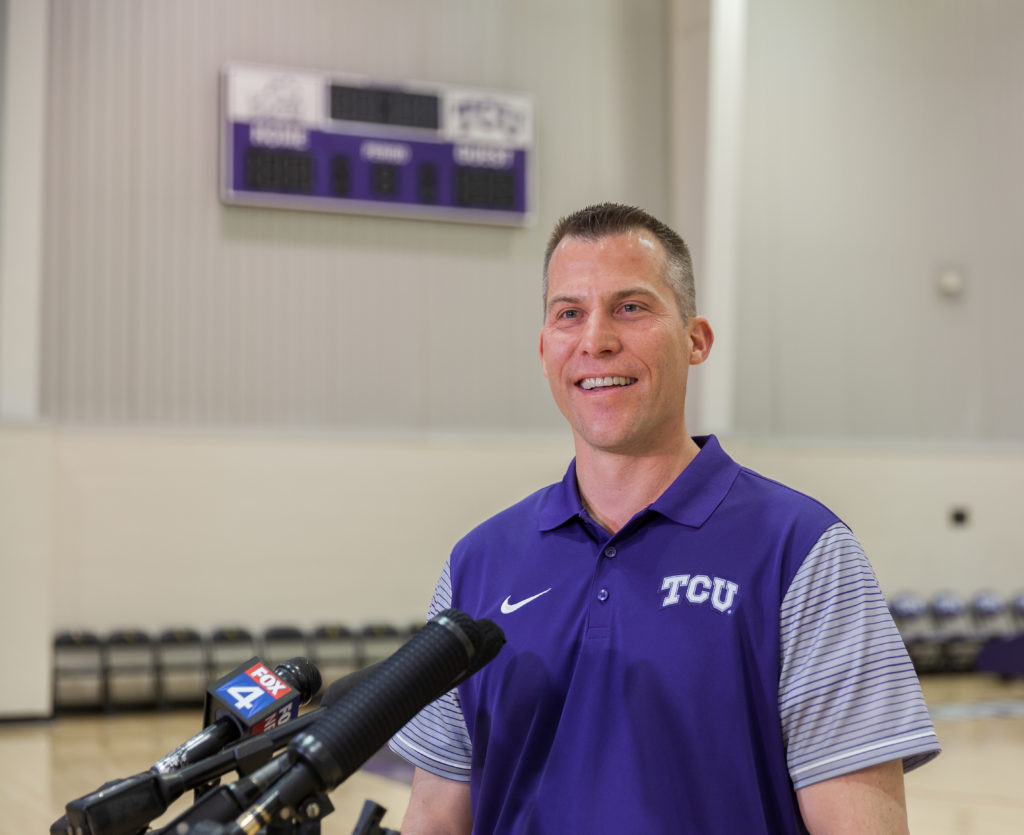 TCU assistant coach Scott Cross is heading to Troy University to become the head men's basketball coach, Jeremy McClain, senior vice chancellor for athletics, announced Tuesday.
"I'm forever indebted to Coach Dixon for giving me the opportunity to be a part of his staff and I'm fired up to take the things I've learned during my time at TCU and put them to work in my next job," Cross said. "Even though I won't be a part of the the Horned Frog program next season, I'll remain one of TCU's biggest fans and try to catch as many games as I can on TV."
All assistant coaches will be given the day off tomorrow, which Cross said he will use to fly out to Alabama for his introductory presser Thursday. However, he made clear that he will make his way back to Fort Worth to be with the Horned Frogs through the conclusion of the season.
"This program gave me a chance to get back on my feet, and I came to TCU to help win championships, so I'll be with the team through their run in New York if we defeat Creighton tonight," he said.
Cross is in his first season on Jamie Dixon's staff at TCU after being fired from his alma mater as UT-Arlington's all-time winningest coach.
He went 225-161 in 12 seasons at in Arlington, leading the program to its first NCAA Tournament appearance in 2008.
Despite his new job requiring the uprooting of his family, something he appreciated not having to do when making the transition from UTA to TCU, he said it still allows him to be closer to his family.
"Remaining in our house in Mansfield while working at TCU gives me a 40 to 45-minute commute, but in Troy we'll get a house super close to campus, which will give me the flexibility to spend more time with my kids since I'll have a significantly shorter drive to work."
Cross will replace Phil Cunningham at Troy.
Troy is coming off consecutive losing seasons, although Cunningham led the program to the 2017 NCAA Tournament.
Even though Cross is leaving TCU, he said he'll take some of Jamie Dixon's defining qualities with him to Troy.
"I've marveled at watching the way he prepares for opponents and the consistent drilling of offensive fundamentals as well as the intensity in which he makes everyone around him believe that the goals set in front of us are attainable," Cross said. "The preparation is probably one of the things that stands out the most about Coach Dixon."
With Cross not returning next season, Dixon has two assistant coaching vacancies on his staff this offseason. Corey Barker was fired by the university after being linked to the FBI college basketball corruption case.
Dixon lauded his assistant for earning another shot as head coach since he looks to hire assistants who are goal-driven.
"Excited for Scott Cross to get excited to coach at Troy, and it shows that TCU gets a lot of respect to have two TCU guys get Division I jobs," Dixon said.
"I tell assistants that I want them to get head-coaching jobs, so I think that's why we're able to get good assistants. It's something I take great pride in. The first time I was panicked when an assistant was hired away, but now I relish it since you want the best. Those are the ones we've got."
The Horned Frogs advanced to New York City for the NIT seminfinals at Madison Square Garden with the 71-58 victory over Creighton. They face the winner of Wednesday's match-up between Texas and Colorado on April 2nd.