Back to the Big Apple: Noi's big night powers men's basketball to second NIT Final Four in three years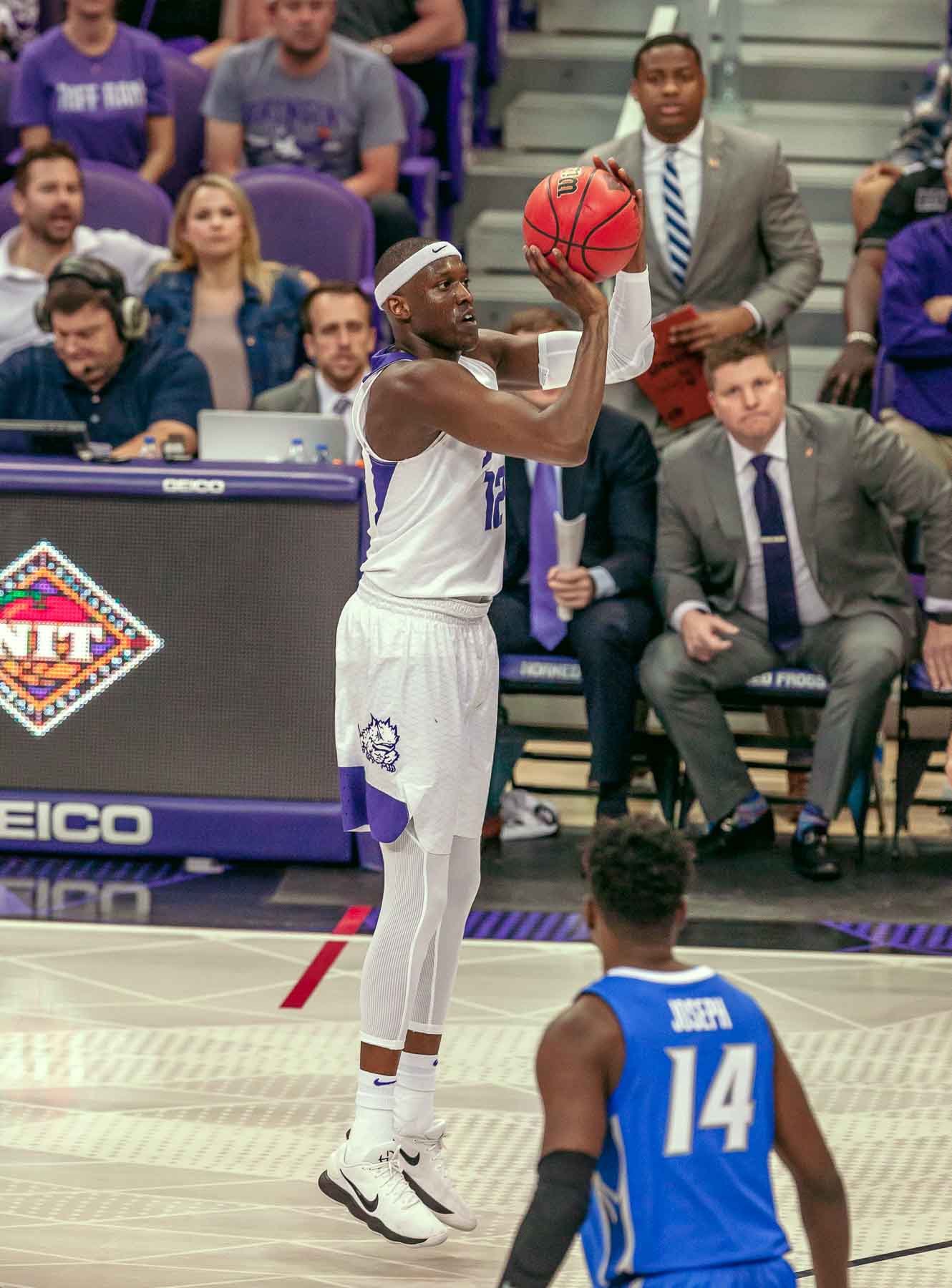 Behind forward Kouat Noi's 25 points and a 16-0 run to begin the second half, the Horned Frogs defeated Creighton in the quarterfinals to advance to their second NIT Final Four in three years.
"It's a different situation than two years ago because this year we felt like we should be in the NCAA Tournament," TCU head coach Jamie Dixon said. "Everyone can feel slighted, but we've been able to do something about it."
However, the team acknowledges just making it back to the NIT semifinals isn't enough.
"We're sending a perfect message to the NCAA Selection Committee, but we've got more to prove to them by winning the whole thing," TCU forward JD Miller said.
Early on, the game seemed destined for a different outcome as the Blue Jays raced out to an early seven-point edge, 20-13. At the half, they were in front by three, 33-30, simply because the Horned Frogs couldn't hit shots. TCU hit on just 37 percent of their looks in the first 20 minutes while Creighton connected on 52 percent of their shots. The Blue Jays also out-rebounded the Horned Frogs by six.
"We knew we were giving up too many easy baskets, and they were out-rebounding us even though we were a way bigger team, so fixing those things was a major focus going into the second half," TCU guard Alex Robinson said.
The last 20 minutes belonged to the Horned Frogs and Noi in particular. He opened the half with a three-pointer from the left wing and later converted all three free throws after being fouled from behind the arc.
Soon after, a couple of thunderous dunks from center Kevin Samuel and forward JD Miller got the Fort Worth faithful on their feet with momentum on TCU's side.
When it was all said and done, a 16-0 run left the Horned Frogs up by 13, 46-33, just four minutes into the second half. TCU ended up out-rebounding Creighton by two and out-shooting them in the second half 75 percent to 50 percent.
"The last three games I wasn't shooting like I'm used to, so tonight I came out with a better mindset and knocked down some shots," Noi said. "I'm just a positive person in general, so I'm always staying strong and looking be a positive influence out there."
Robinson also stood out in his final home game at Schollmaier Arena, posting a double-double of 12 points and 11 rebounds.
"It was better than the last final game," Robinson said. "I loved every bit of it, and the atmosphere was great since everyone showed out, I appreciated it."
Back in the Garden
With two NIT Final Four appearances and the program's first NCAA Tournament appearance in 20 years in the last three seasons, TCU men's basketball has come a long way from only two postseason appearances between the 2004-05 and 2015-16 seasons.
"It'll be fun for our guys and our fans," Dixon said. "Madison Square Garden is the Mecca of basketball, it means something to play at the Garden. It means more than playing at other places. We showed the guys the rings from last time, and I think our players can continue to draw inspiration."
The Horned Frogs will play the winner of Wednesday's NIT Quarterfinal between Texas and Colorado in the NIT semifinals Tuesday, April 2. If the Longhorns win Wednesday night, the teams will meet for the third time this season. TCU won the first two matchups.
"We've had good success against Texas, but it would be a challenge, tough to beat a team three times in a year and tough to even get that opportunity," Dixon said. "It'll be interesting potentially having a rivalry match-up in the semifinals." Read More