Men's basketball comes up short against Kansas State in Big 12 Tournament quarterfinals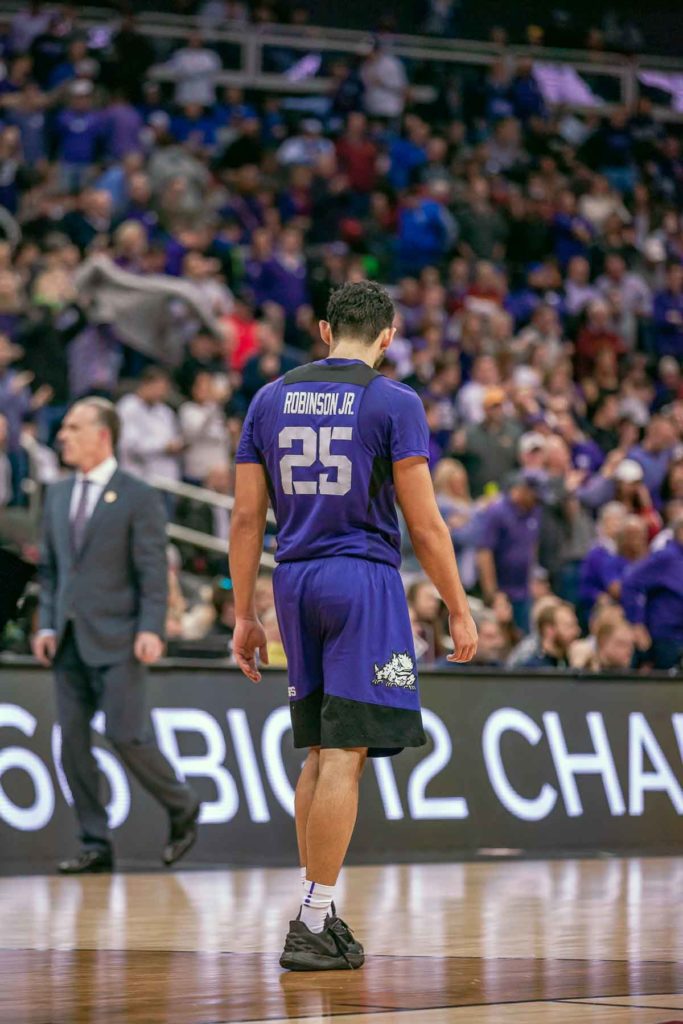 Facing the Big 12 Tournament's top seed Thursday, TCU had an opportunity to guarantee their participation in the NCAA Tournament. The Horned Frogs started fast, building an early 12-point lead, but their 18 turnovers came back to bite, as Kansas State utilized a 17-2 run early in the second half that put the game out of reach, 70-61.
"We played well in the first half, but eventually the turnovers got to us," TCU head coach Jamie Dixon said. "We've proved that we're a very good team; however, we've come up short against the top-10, top-12 team in the country in our league. Specifically, Kansas State, Texas Tech, and Kansas. Disappointed to lose this game because I thought we had the opportunity to win it.
Now, the Horned Frogs have to wait three days to find out if their 20 wins are enough to garner an invite to March Madness in back-to-back seasons for the first tine since 1952-1953. Entering Thursday's game against Kansas State, ESPN's Joe Lunardi listed TCU as a No. 11 seed. CBS Sports' Jerry Palm listed the Horned Frogs as a No. 10 seed.
"I feel like we've definitely done enough since we got 20 wins in the best league in the country, that's hard to do," TCU guard Desmond Bane said. "Seven of our losses have come to top-12 teams in the country, others on the road, so I feel like we have no real bad losses. We're deserving of a tournament bid."
Early on, it did seem like TCU had an opportunity to win and cement their NCAA Tournament case as they built a 12-point lead, 23-11, over the game's first 10 minutes.
Bane picked up right where he left off in Wednesday's victory over Oklahoma State, by drilling a three for the game's first points. He finished with a team-high 16 points. Seniors JD Miller and Alex Robinson shortly followed with three-pointers of their own, which center Kevin Samuel backed up with six of his seven first-half points. Samuel finished with 11 points and five rebounds.
However, the Horned Frogs momentum stalled in the first half's final 10 minutes as a couple fouls caused Bane to sit for a significant amount of time. His absence allowed the Wildcats to climb back, as they scored off many high-percentage looks down low with Samuel attempting to protect the paint without fouling. Transition was also good to K-State as they scored eight fast-break points.
TCU limped into the locker room with a two-point edge as K-State guard Xavier Sneed drilled a three-pointer from the left corner over guard Kendric Davis as time expired. Sneed had a game-high 19 points.
"Sneed is an experienced guy, and he's a big factor for their team," Dixon said. "He made those big shots, at the end of the half was a devastating three."
The free-throw line allowed the Horned Frogs to stay in front during the first half, hitting on 9-of-13 while the Wildcats missed both of their attempts. In the end, both teams finished 10-of-15 from the line.
Turnovers hampered TCU as Kansas-State scored nine points off nine Horned Frog giveaways. Conversely, TCU couldn't capitalize off the Wildcats five first-half turnovers. K-State finished with 22 points off the 18 TCU turnovers, while the Horned Frogs only mustered four points off the Wildcats' nine.
After a Kouat Noi put-back lay-up that had the Horned Frogs up five, 39-34, the Wildcats ripped off a 17-2 run, putting them up 10, 51-41, with 12:45 to play. Noi struggled for the second time this season against the Wildcats, scoring just eight points on 2-of-8 shooting, 0-of-5 from three.
"When I tried to shoot the ball, they were stuck to me, so I just tried to impact the game in a different way by moving without the ball, so even though I didn't have a great scoring game, I felt I was able to still help the team as a rebounder," Noi said. "I feel like today was one of my worst games this season, so they did a good job defensively."
The majority of those points were scored down low as guards Barry Brown Jr and Xavier Sneed as well as center Makol Mawien finished at the rim.
"We tried to slow it down but eventually the turnovers got to us, and they got some transition baskets," Dixon said."A three after a missed free throw can really hurt, but the turnovers buy and large are eventually going to catch up to you and that's where we got a lot of their baskets."
Down eight, 53-45, following a Samuel dunk, Bane willed TCU back into the game with five straight points via a three-pointer from the right corner and a lay-up in transition that had the Horned Frogs down three, 53-50.
Still down three, 55-52, the game began to snowball back away from the Horned Frogs. Noi was called for touch-foul as Sneed connects from three, which turned into a four-point swing that had TCU down seven, 59-52. Another TCU turnover led to a Wildcats to put them up by nine, 61-52, with five minutes to play.
TCU continued to fight as a Samuel dunk, a Davis lay-up in transition, and a Desmond Bane lay-up that had the Horned Frogs within three, 63-60.
"We got a lot of fight in us, I knew there was nobody quitting when they went on that run," Bane said. "We have been preaching stick together and stay together and that's what we did. We were able to get some stops and make a few plays on the offensive end to cut down on the lead."
However, Sneed scored the next five points, drilling a shot-clock beating three over Noi's out-stretched hand in addition to a couple of free throws that put the game out of TCU's reach for good, 70-60.