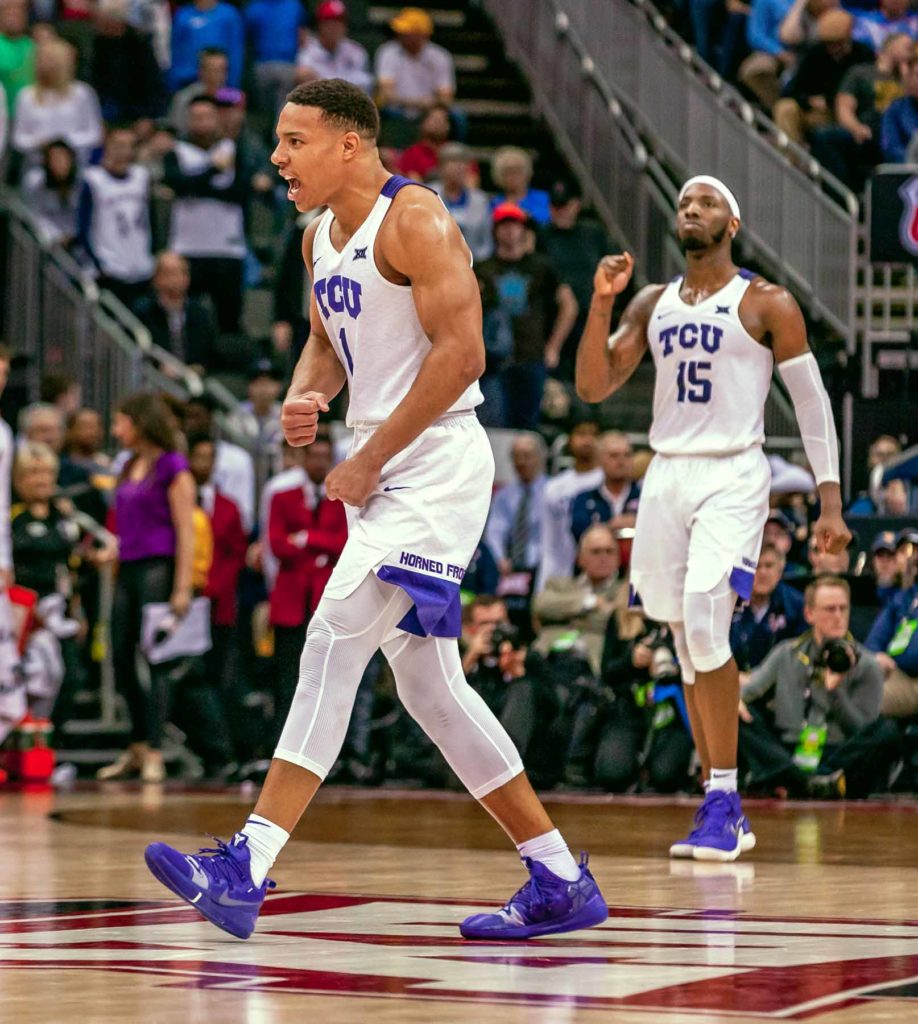 TCU men's basketball needed to defeat Oklahoma State in the opening round of the Big 12 Tournment Wednesday to keep their March Madness dreams alive.
With their backs against the wall after blowing a 21-point second half lead, the Horned Frogs called on Desmond Bane, TCU's resident expert on coming up clutch in Kansas City.
Lindy Waters gave the Cowboys their first lead of the game, 70-68, with 25 seconds to go, TCU's lead and NCAA Tournament hopes seemed to evaporate before their eyes.
"Well, we defended on the last play, we were going back and forth on how to match up, but we're not a perfect team," TCU head coach Jamie Dixon said. "We're figuring it out, but we got some movement, we had a little bit more movement on the last play, and I think we just kind of got stationary. Maybe we learned something from those last two possessions. We can build off it for tomorrow."
However, Bane hit a go-ahead three with 15 seconds to go after playing hot potato with Alex Robinson in the left corner.
"We've been here before, as far as keeping our composure," Bane said. "We've got a lot of guys that have played a lot of games and on my last play, I got downhill, I kicked the it down to Alex, and he kicked it back to me. I was open and just shot it."
The Horned Frogs defense held strong, and Robinson drained a couple free throws to secure the 73-70 win.
"We just wanted to stay locked in and made sure we stayed together," Robinson said. "We knew they were making a run. We wanted to make sure we stopped it and turned it around."
Wednesday was far from Bane's first time coming through for TCU in the Big 12 Tournament. His freshman year, 2016-2017, he coerced Kansas' Svi Mykhailiuk into fouling him from beyond the three-point line with time winding down and tied the game at 82. He drained all three free throws as the Horned Frogs upset the top-ranked Jayhawks.
A year ago, Bane banked in a fall-away three-pointer over Kansas State to send TCU's Big 12 quarterfinal match-up into overtime where they came up just short.
It's safe to say, Bane has earned the trust of his teammates when the lights shine the brightest.
"We have big trust in Desmond," TCU center Kevin Samuel said. "He's a great shooter, so when he got the ball, I knew it was going in."
Prior to Oklahoma State's furious rally, TCU delivered one of its best first-half performances, shooting 58 percent from the field.
After a combined four points in the Horned Frogs' last two regular season games at home Kansas State and on the road at Texas, Kouat Noi shook off his shooting slump with ease in the Big 12 Tournament, drilling back-to-back threes to begin the game. He scored 14 points in the first 20 minutes and finished with 20 points. Those 20 points tied Vladimir Brodziansky for TCU's best individual scoring output in the conference tournament.
"Just the passing and ball movement," Noi said when talking about what lead to his scoring burst. "I give credit to my teammates for helping me when I was open and that's how it happened."
Samuel also stood out in the early going, adding 12 points on 6-7 shooting, in addition to five rebounds. He finished with 14 points and nine rebounds. The Horned Frogs' 6-foot-11-inch, 250-pound center played a critical role in TCU's ability to close off the paint as they out-rebounded Cowboys by six , 38-32.
An early 23-9 TCU run gave the Horned Frogs the breathing room they needed for the entire game with Noi and Samuel combining for 15 of those 23. An unselfish approach fueled TCU as 10 of their first 15 buckets came off assists.
The victory over Oklahoma States runs TCU's overall win total to 20 and their Big 12 victory number to eight. Those are numbers that increase the Horned Frogs chances of earning back-to-back NCAA Tournament appearances for the first time since 1952-1952.
"Twenty wins in the Big 12, toughest conference in the country, and we played a tough non-conference, so I think so," Dixon said. "But, you never know what plays out in the other things, but given that's a safe bet historically, and I would say yes as things have played out this years with the different conferences and our conference clearly being the best, we've put ourselves in a good spot."
TCU's NET ranking of 47 entering the Big 12 Tournament has them in a nice position, but a win against the tournaments top seed Kansas State in the next round could cement the Horned Frogs as March Madness-bound.
"We will be ready to play, it's an opportunity to play the team that won the league and beat us twice, so we're looking at it as a great opportunity," Dixon said. "We've got to handle things better offensively, and we played really well outside of the last 10 minutes. We've got to handle those things better."
Tip-off between the Horned Frogs and Wildcats in Kansas City is set for 1:30 p.m Thursday from Oklahoma City.