Desmond Bane's career-high leads men's basketball to season sweep of Texas and return to NCAA Tournament contention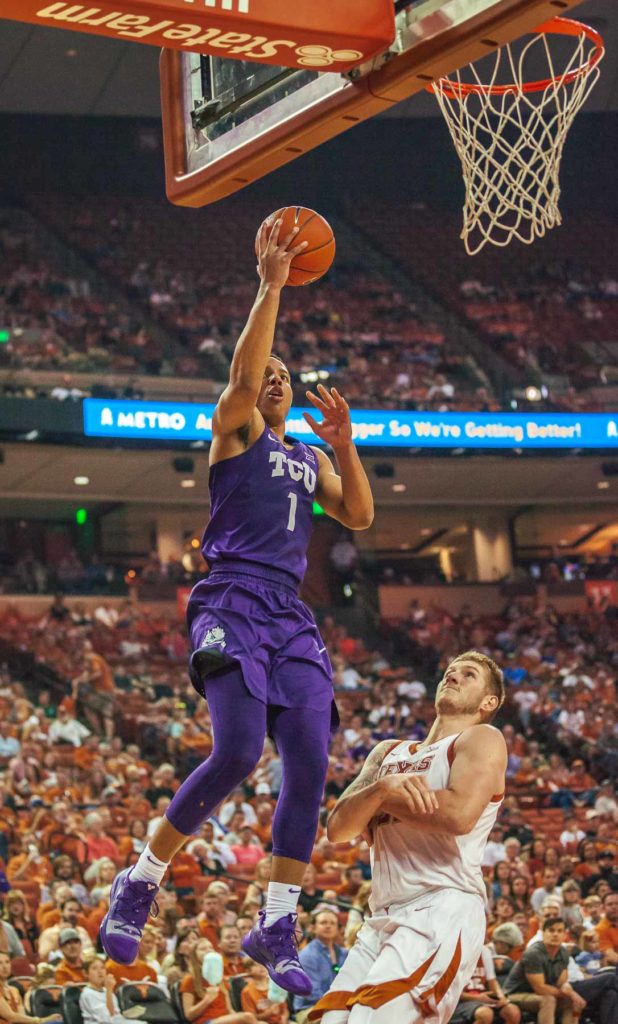 Having lost six of their last seven games, the Horned Frogs needed to win in Austin against the Longhorns to preserve their NCAA Tournament dreams. Saturday, TCU entered as the first team outside of ESPN's Joe Lunardi's projected bracket.
Desmond Bane delivered in a huge way. He scored a career-high 34 points in TCU's 69-56 win as the Horned Frogs swept the Longhorns for the second time in head coach Jamie Dixon's three seasons. TCU is now 5-1 against Texas under Dixon.
"It's going to be a different guy every night, and tonight just happened to be my night," TCU guard Desmond Bane said. "Coach Dixon had us running different parts of our offense that got open looks for my teammates and myself, and I was able to get going. Coach was talking about this as a must-win game, and we came out and played like it was a must-win game."
The junior's 34 came on an efficient 14-of-20 shooting from the field and 6-of-8 from beyond the three-point line.
"When he starts getting it going, you notice it and just start talking," TCU center Kevin Samuel said. "He brings that energy, so we start looking for him every time on plays."
The last time Bane scored the way he did was back in high school at Seton Catholic where he totaled 62 points in a game.
"It feels close, I guess, just on a smaller scale," he said. "I felt good for sure, but 60 is ridiculous. It's crazy I still remember, I think I took 31 shots then."
The opening 10 minutes were back-and-forth, but a three-and-a-half minute scoring drought allowed Texas to take a six-point edge, 22-16, with 7:08 to play.
However, TCU began playing with a sense of urgency, natural for a team in their position, concluding the half on a 19-5 run. A couple of free throws from point guard Kendric Davis drew the Horned Frogs within four, 22-18.
That's when Bane erupted. The junior, who was TCU's leading scorer in their 65-61 win over Texas on Jan. 23, poured it on with nine consecutive points. The first six came from driving lay-ups and the last three came from long distance in the left corner.
"He has to take open shots and get looks in transition, and we also got him a three at the start," TCU head coach Jamie Dixon said. "We said we needed to get a shot early for Desmond, so we ran a play from Coach Scott Cross's time at UT-Arlington and got him a shot. It got Desmond going, so it was huge and a good start for us."
Bane finished the first 20 minutes with 12 points on an efficient 5-of-7 shooting. At the conclusion of his scoring stretch, the Horned Frogs had a five-point lead, 27-22, with 2:57 in the half.
Texas' guard Elijah Mitrou-Long would connect from three shortly after and guard Matt Coleman III hit a couple free throws but TCU closed the half with a tip-in at the rim from Kouat Noi and back-to-back corner three-pointers from RJ Nembhard and JD Miller. In total, the Horned Frogs connected on seven of their last nine shots to end the first half.
Bane's second-half began much like his first as he drilled a three. A dunk from TCU center Kevin Samuel shortly followed. Texas center Jaxson Hayes interrupted with a throw-down, which Samuel countered with another dunk. A fast-break lay-up from Bane occurred shortly thereafter as the Horned Frogs built a 13-point cushion, 44-31.
Bane's fast-break finish also gave him 17 points with 16:28 left to play, which matched his game-high 17 points scored in TCU's Jan. 23 65-61 victory over Texas in Fort Worth.
With 13:36 to go, he knocked down his fourth-straight three-pointer to hit the 20-point mark and put TCU up 14, 50-36.
Another area that was critical to the Horned Frogs' 13-point win over Texas in Austin was rebounding, a stat usually indicative of hustle and energy. On the road, TCU out-rebounded Texas by 11, 35-24.
"We knew we were going to come around and rebounding was an emphasis and we knocked some bodies around," Bane said. "If you out-rebound a team on the road, it's clear, especially by 11, the energy and effort that you're playing with. It was huge for us."
TCU guard RJ Nembhard hauled in a game-high seven boards. Bane was right behind him with six.
Bane's energy and play going forward will be a significant factor in whether or not TCU can win a game in the Big 12 Tournament to cement their claim as an NCAA Tournament in back-to-back seasons for the first time since 1952-1953.
e averages 16.5 points per game in TCU's 19 wins this season, while averaging 10.6 points per game in the Horned Frogs' 12 losses. Dixon's ball-club goes as Bane goes.
"This win is huge for us, going on the road, getting a win, sweeping Texas feels good, and I think we're five for six against Texas the last three years, pretty good success against them," Bane said. "The energy in the program feels right and feels good. Hopefully, we can keep it going and make a run. "
TCU begins postseason play Wednesday in Kansas City at the Big 12 Conference Tournament. As the No. 8 seed, they will face either West Virginia or Oklahoma State. Tip-off is set for 6 p.m.