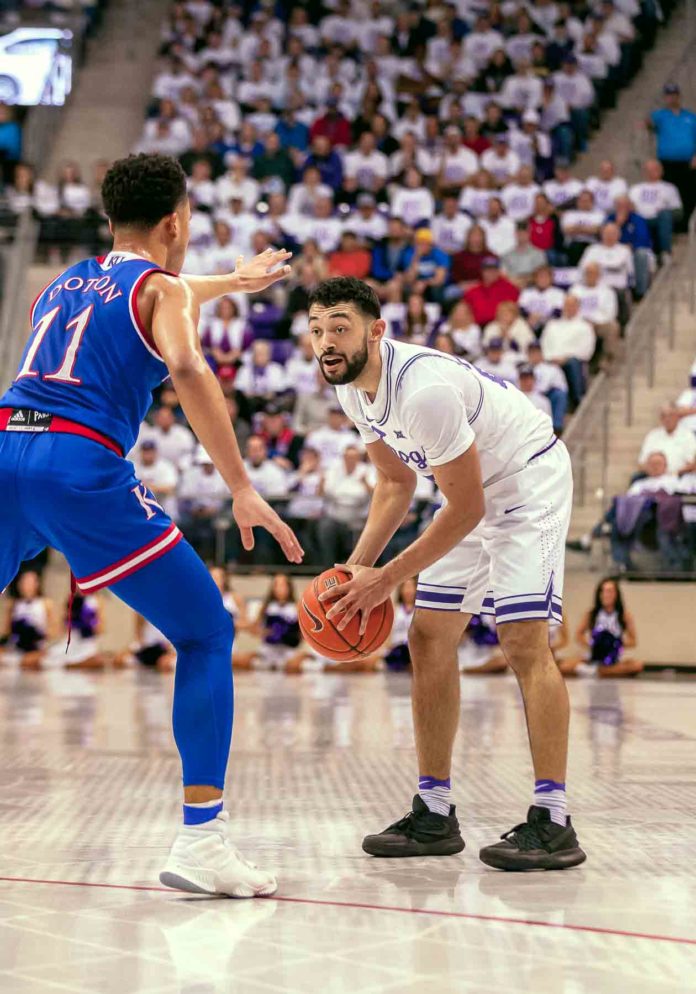 Despite the raucous atmosphere in Schollmaier Arena, TCU men's basketball was unable to hold a four-point lead in regulation as they dropped their first home game in Big 12 play, 82-77.
"Obviously we are disappointed… we had our chances," TCU head coach Jamie Dixon said. "We gave up some layups, didn't get it done on defense. Offensively, we didn't execute the way we needed to. Rebounding stands out to me defensively. We had the lead, we didn't make the play. We have to take the charge, get the stop, get the rebound."
Monday's matchup against Kansas was televised as ESPN's Big Monday game, and the student section was full 45 minutes before tipoff.
The home team was able to score the first seven points with a Kevin Samuel putback, a Desmond Bane three-pointer and a JD Miller spinning layup.
Trailing by 12 with 9:03 left in regulation, the Horned Frogs began to make their push. Back-up freshman point guard Kendric Davis continued to find ways to slither into the lane, and forward Kouat Noi finished a reverse lay-in as well, getting TCU to within three, 65-62. Davis would finish with 15 while Noi totaled 14.
Then, the defense got involved forcing back-to-back turnovers, which led to five straight points from TCU point guard Alex Robinson, a fast-break layup and a three-pointer that returned the lead to the Horned Frogs, 67-65, with 2:48 to play. TCU out-scored Kansas 18-4 during that a five-minute stretch.
"I'm really proud of our guys for battling back," Bane, the Horned Frogs' leading scorer with 18, said. "Being down like that in the second half and coming back shows a lot about our guys. This was a game that we should've won. We should've won."
After a couple free throws from forward JD Miller, who joined the 1,000-point club Monday, TCU led by four, 69-65, with 2:07 to play.
"I thought the momentum was in our favor, and we were playing really good defense at the time," Robinson, who scored 13 points, said. "I felt like if we just stayed consistent within those two minutes, and we limited their possessions we would come out on top."
With Jayhawk forward Dedric Lawson in foul trouble in the second half, it was his brother, Jayhawk forward K.J. Lawson, who hit back-to-back layups to even the game at 69 in regulation. Dedric, after scoring 31 points up in Lawrence, had just 14 Monday in Fort Worth.
"We were more aggressive trying to keep the ball from him, and we've gotten better defensively since then," Dixon said. "He got in foul trouble, which had something to do with it, but he played 35 minutes. I don't know if we guarded him well on the perimeter but in the post we guarded better."
With 24 seconds in regulation, the Horned Frogs couldn't get a shot off as Davis' shot from the elbow didn't leave his hands in time, which sent the game to overtime.
With Kansas up 76-74 with 1:09 left in overtime, the game devolved into a free-throw contest, one Jayhawk point guard Devon Dotson won, shooting a perfect 6-6. On the other hand, Davis and Miller combined to hit 3-6. Dotson finished with a game-high 25 points in addition to 10 rebounds and five assists.
" Free throws are very important, that's a big momentum swing," Dotson said.
Despite the loss, Kansas head coach Bill Self said the Horned Frogs are right there in terms of becoming a team that's consistently at the top of the Big 12.
"There's no question that they're a competitive, contending type team," he said. "TCU is right there on the cusp of being right where it wants to be. Their talent level has been tremendously improved, they're coached by one of the best in the business, there's more energy there… as long as Jamie is there, one of the best in the business, they aren't going anywhere."
The Horned Frogs return to action at 11 a.m. Saturday at Schollmaier Arena against Oklahoma.Read More