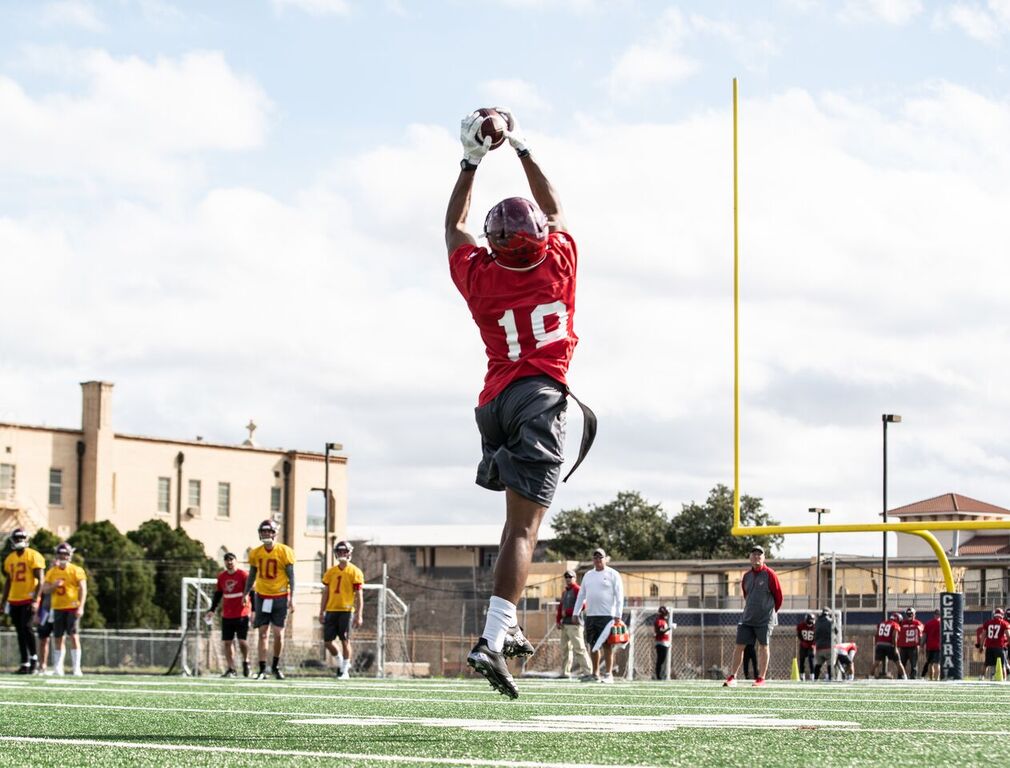 According to data compiled by the NCAA, only 1.6 percent of college football players make it in the NFL.
This statistic is something that TCU head coach Gary Patterson makes sure his players are aware of each year.
"I don't try to create that dream, so we lose guys because we don't create that dream," Patterson said Wednesday at his national signing day press conference. "How can they survive if they are not going to be an NFL player? That's the important thing."
With bachelor's and master's degrees in hand, TCU football alumnus John Diarse is equipped about as well as anyone who has graduated from Patterson's program to live without football, but the wide receiver isn't ready for a new line of work just yet.
Diarse will get another shot on the gridiron with the Alliance of American Football League, when he begins the season for the San Antonio Commanders this weekend.
He came close to fulfilling the NFL dream when he signed with the Denver Broncos after going undrafted last year and had the opportunity to compete for a spot on their 53-man roster while learning from Pro Bowl receivers.
"It was a great experience being able to work with guys like Demaryius Thomas, Emmanuel Sanders, and [quarterback] Case Keenum, great guys like that," Diarse said. "Being around John Elway, a Hall of Famer, just great men who have given this game a lot of great moments and memories. I loved the city of Denver and everything that came with it. They decided to go another direction. It was a very eye-opening experience for me."
The Monroe, Louisiana, native totaled four catches for 68 yards while being targeted six times in the preseason. He received a grim text message after the preseason finale: "Meet me in the cafeteria."
"I met with John Elway, and he told me that they just didn't have the opportunity there for me right now, but from watching me the last few weeks, he said I would have a long-lasting career and that there's always a place in the league for a guy like me, so that was encouraging despite the irony of him saying that as I was cut," Diarse said.
For the first time in his football career, Diarse was cut from a team.
"I wanted to go back home because I was all over the place with that new experience," he said.
In high school, he was named the 4A Offensive MVP by the Louisiana Sports Writers Association. At both LSU and TCU, Diarse played every game and led the Horned Frogs with 575 receiving yards during his senior season in 2017.
After getting cut, he spent the next month back home in Louisiana. The first week, he reflected on that newfound experience of rejection. The next two, he began training and hoping for another shot as he applied the wisdom he learned from his brief time spent around Thomas and Sanders.
"I would definitely say from Demaryius, I learned more about the things off the field that increases or enhances your performance on the field," he said. "You have to find a not a really strict diet, but you have to have a more customized diet that makes your body feel good and that gets the best out of you. Other than that, just how important recovery is, and getting with specialized physical therapists, doctors and chiropractors that can help maximize and enhance your recovery speed. How fast you can go from being sore for three or four days to being sore for a couple of hours."
Sanders' work ethic showed Diarse how to best approach the game of football.
"Just remembering not to take a day for granted whether you're a first-round pick or free-agent, your life can change in a play, positively and spark your career, or it can be season or career-ending, you can never take a day or a rep for granted because that same rep that you may have missed in practice could've been the game-winner in a real, live game," he said. "You never want to take those things for granted. Being on the other side of it, not being employed in the football world, you get a better perspective on how to really seize moments and maximize opportunities."
His call finally came, but it was the Canadian Football League. The Hamilton Tiger-Cats signed him to their practice roster where he became their go-to scout team wideout during the last four weeks of the season.
"I didn't have to do a tryout or anything like that that because the general manager was very confident in my style of play, and he relayed that to the head coach," Diarse said. "Over three or four days, I became the top target for the practice squad guys. I gave the defense really good looks and probably a different style of play. It was fun making plays in practice that reassured that confidence factor in me that I could still play the game whether it's on US soil or Canadian soil."
The Alliance of American Football league will give Diarse his chance to play again with its inaugural season set to begin this weekend. The eight-team outfit is designed to be a brother league to the NFL, almost a minor league, where players have the opportunity to showcase their talents to NFL scouts and general managers over the course of 12-week season kicking-off Feb. 9 on CBS and culminating with the championship game Saturday, April 27.
A league like this is a necessity for players looking to keep their careers going after college since the NFL is the only major professional sport in North America without a developmental or minor league.
"It's awesome as long as it's not an opportunity not to go to school," Patterson said. "It shouldn't turn into a minor league that's an alternative to college, it's an opportunity after college. As long as we do that, I like it a lot. It can give a guy a second chance."
Diarse is set to take the field for the San Antonio Commanders, whose home field, the Alamodome, was the site of both TCU's Alamo Bowl comebacks, giving the receiver a familiar place to begin his quest to make it at the highest level of professional football.
"One of the things the Commanders stress is that they want to put all of us back in the league next year," Diarse said. "A lot of us may have had injuries, a bad situation or the not gotten the opportunity that they deserved. Part of the foundation of this league is to get guys back to the NFL where they belong and show the type of player that I am now compared to what I used to be."
It's an added bonus that he gets to kickoff the new league with three other Horned Frogs turned Commanders: running back Aaron Green, tight end Cole Hunt and defensive back Nick Orr.
"It makes the transition so much smoother when you have guys that you're familiar with, guys you've shared moments and experience with before, especially when all of us are new to this league, team and organization," he said. "Having someone next to you that knows you and you guys can hang, live together and enjoy the situation makes that transition so much smoother. It's like going to work at a new job and your next-door neighbor works there too. It's one of those things that make the work environment so much easier to deal with and more exciting and fun."
The former Horned Frogs kick off their season Saturday in prime time on CBS at the Alamodome against the San Diego Fleet.
"It's going to be action-packed, a prime time game on CBS., 7 p.m. game," Diarse said. "You're going to see some needles in a haystack, that's what's fun about this league. You come across so many guys who just didn't get that opportunity and how good they were. I'm excited about our team personally because I feel like we have the best all-around team, talent and chemistry in this league, and I'm excited to see how we can do as a team on the ninth."Read More