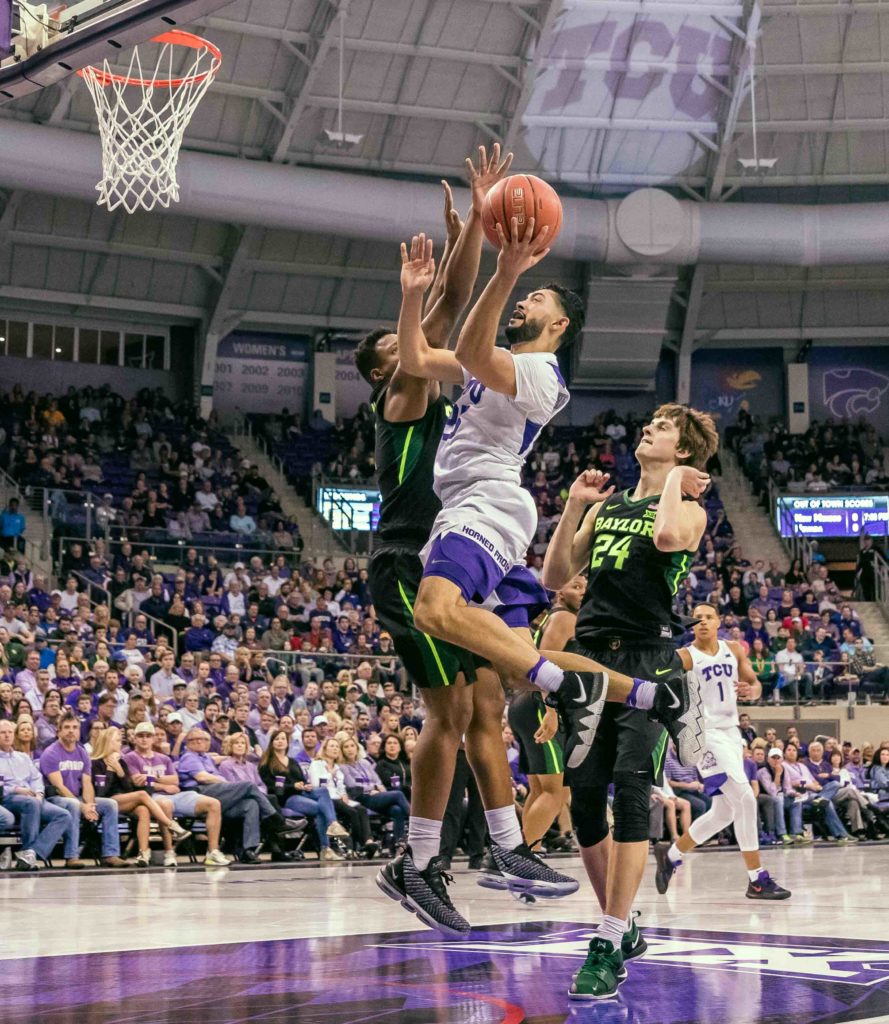 Entering Wednesday's game, Jamie Dixon's club is coming off back-to-back road losses to No. 18 Texas Tech and Baylor, including the worst loss in Dixon's tenure, a 26-point defeat to the Bears on Saturday.
However, Wednesday provides TCU with an opportunity to halt its slide against Oklahoma State, the Big 12's ninth-place team, with a chance to improve to 4-0 at home in Big 12 play.
"Right now we look at them [OSU] as the best team in the league," Dixon said. "We have prepare that way, think that way, and play that way. That's our mentality. We have to be at our best to get back where we want to."
That attitude is justified since the Cowboys' strength is from behind the arc. They shoot a Big 12-best 38.6 percent from the three-point line, an area where TCU slipped drastically after it led the conference in perimeter defense entering last week.
Oklahoma State is powered by the Big 12's best long-distance sniper, Lindy Waters III, who shoots 46.5 percent from three as well as Thomas Dziagwa who leads the conference in three-point field goals made per game, connecting on three per game.
"They're really talented. They're dangerous," point guard Alex Robinson said. "But we need to make sure that we handle our business and do what we're supposed to do on the defensive end."
Last week, TCU allowed Texas Tech and Baylor to race ahead early by hitting a combined 13 first-half three's and shoot a total of 24 of 49 from downtown.
"We have a short memory," Robinson said. "We know we're coming back home and we're undefeated at home. We need to focus on improving the things we need to improve on."
Overall, the team's schedule sets up for them to make a push in the conference standings as six of their remaining 10 games will take place at Schollmaier Arena.
"Our league is ups and downs," Dixon said. "It's who is healthy, who is playing well, who is playing on the road and who is at home. Everybody goes through a run, everybody goes through a slide."
Robinson poised to make history
Robinson, who tweaked his left wrist and right hand, is expected to be a full-go against Oklahoma State after going through medical evaluation, Dixon said Monday.
Robinson said his injuries were "nothing big" and that he doesn't anticipate missing any time. If that's the case, then the senior point guard is set to make program-history in front of the Fort Worth faithful Wedesday as he sits four assists away from becoming the all-time assists leader in TCU history. Former Horned Frog point guard and current graduate coaching assistant Corey Santee holds the record with 575.
Robinson is averaging 7.4 assists per game, the highest mark of any Big 12 player and the fourth highest rate in all of college basketball.
"We have a really good chance to make a big run in the second half of the Big 12," Robinson said. "We have a lot of home games. Our away games seem pretty manageable at this point."
Robinson has had fewer than four assists in just two of the Frogs' 21 games.
"Obviously a big part of our offense comes from his penetration and his dishing it out," Dixon said. "There's good stats to be excited about. You want guys to be hungry for rebounds and assists. We're excited for him."
But Robinson said getting the win over Oklahoma State means more in the moment.
"That's the main focus," he said.