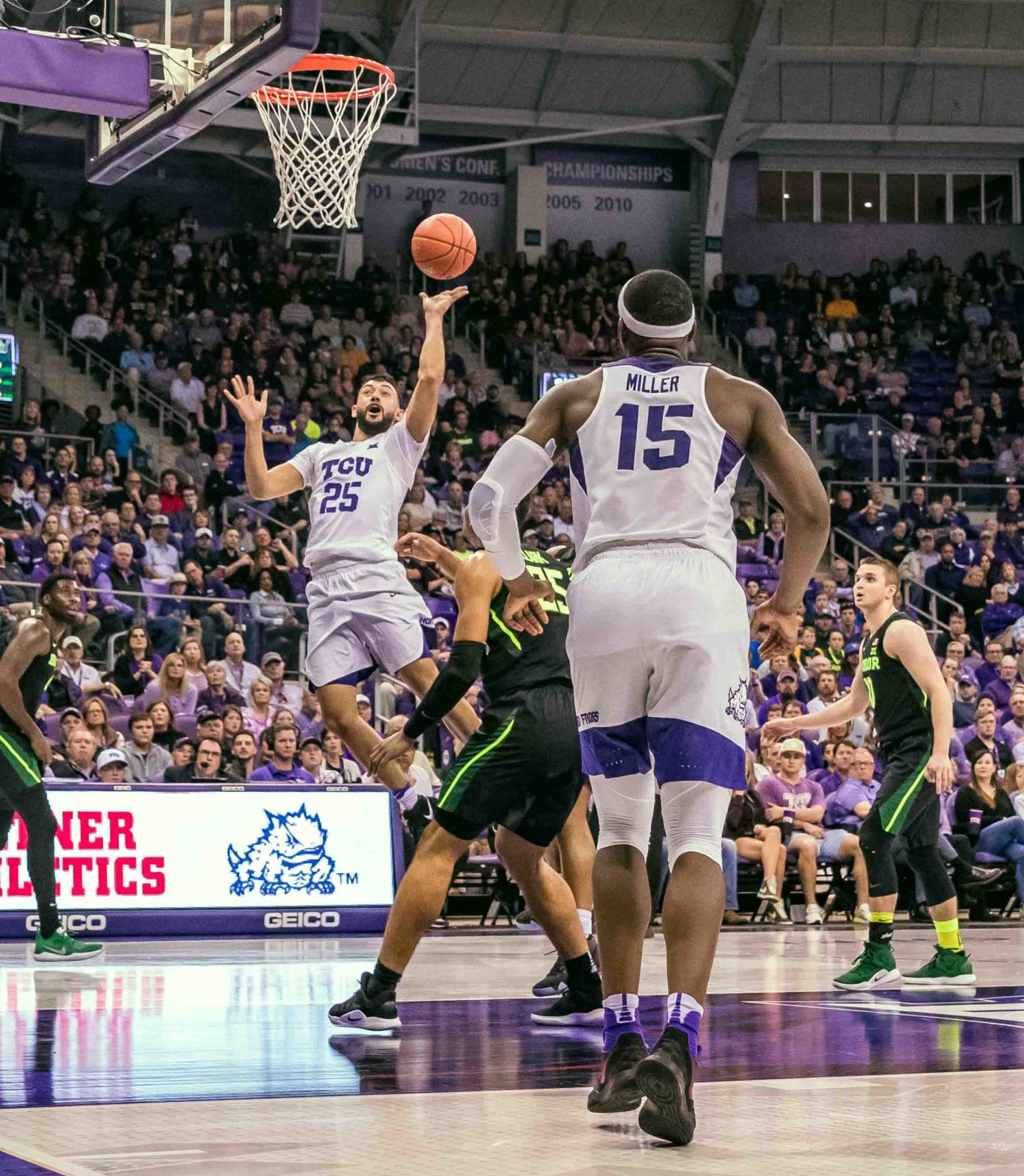 TCU men's basketball has an opportunity to turn the tide Saturday against Baylor after suffering their most lopsided defeat of the season Monday.
"We're in a good spot as far as the analytics and numbers," TCU head coach Jamie Dixon said. "We've just got to get on a run here and go win a road game."
Baylor, who the Horned Frogs defeated in their first conference game of the year by four points, is coming off a 30-point victory on the road over an Oklahoma team that spent a good portion of this season in the Top 25, and they're riding a five-game winning streak that has propelled them to the top of the Big 12 standings.
Things would seem to point in Baylor's favor going into Saturday night's game against TCU in Waco. However, despite a 19-point loss at Texas Tech on Monday, TCU remains confident. This is a team that won back-to-back defensive struggles over Texas, who has since knocked off the Kansas Jayhawks, and Florida before the setback against the Red Raiders.
TCU forward J.D. Miller said confidence won't be an issue coming off the Tech game, either.
"We've got to keep our heads up, never put your head down," Miller said. "Just be ready for each opponent, each and every night. We'll be well prepared for each and every opponent."
Every road contest in the Big 12 presents a unique challenge, and Baylor won't be an exception. The Bears are as hot as any team in the country right now and provide yet another defensive test for the Frogs with their zone defense. The Horned Frogs have the shooters to find the cracks in that zone with forward Kouat Noi hitting 40 percent of his looks from behind the arc as well as guard Desmond Bane connecting on 36 percent of his three-point attempts. However, Dixon said beating the zone is more than just shooting.
"That's one thing I've never fallen prey to, when you think zone you have to shoot it well, but no, you have to attack it well," Dixon said. "That's been our mentality at Pitt for years when facing the Syracuse zone, and you have to get offensive rebounds, you've got to get them in foul trouble, so you can't just rely on solely three-point shooting."
Baylor is the No. 22 ranked team in the country in scoring defense. TCU is coming off two consecutive games against No. 3 (Texas Tech) and No. 10 (Florida).
Miller echoed Dixon's mindset on how important getting offensive rebounds is for the Frogs' success. The teams average of 11.3 offensive rebounds in Big 12 play is good for the third-best in the league.
"Offensive rebounding is really key to winning our games," Miller said. "[The games we've won] we've won our offensive rebounds."
Today, both teams look drastically altered from last month's meeting between the two teams. Baylor lost its best player, forward Tristan Clark, who had a game-high 18 points, to a season-ending injury and has rallied without him.
In the 6 games since losing Clark, the Bears are averaging 74.8 points per game, up from 71.4 points per game prior to his injury.
They've also become a team whose offense is now three-point reliant, averaging 3.4 more made three-pointers per game in six games since Clark's injury: 9.8, up from 6.4.
The Horned Frogs are still sorting out their rotation, inserting freshman center Russell Barlow a couple weeks ago and trying to find more defined roles for freshmen like as Kendric Davis and Lat Mayen. Along with those three, TCU is relying on two other first-year players in starting center Kevin Samuel and guard R.J. Nembhard.
"We're unique. We're playing five freshmen of the nine [in our rotation]," Dixon said. "Their development is huge for us as far as improvement. They've got the biggest growth here. That's what we need. We need them."
Tip-off is set for 7 p.m. Saturday in Waco.