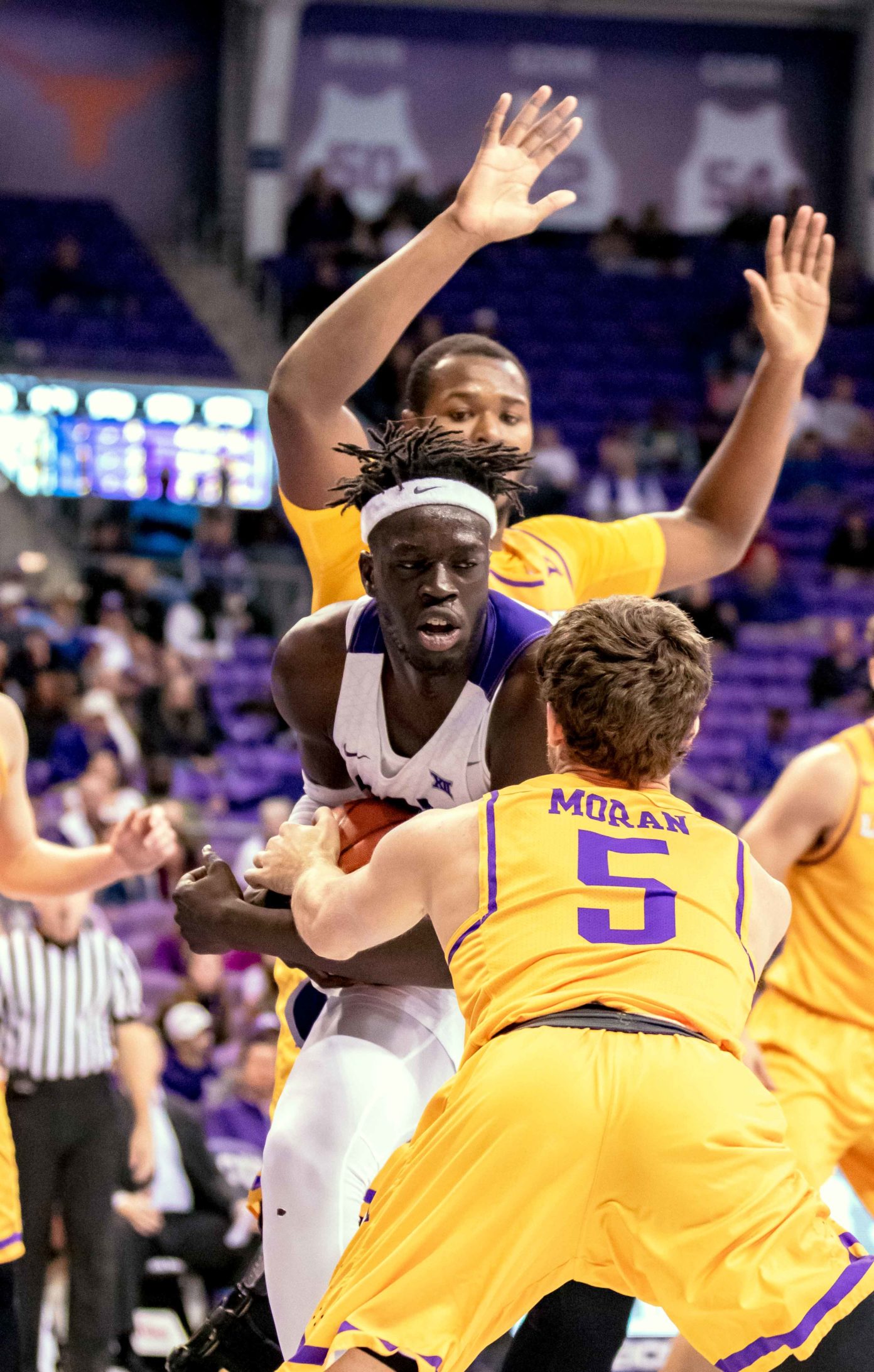 No. 18 Men's Basketball fell to Lipscomb, a participant in last season's NCAA Tournament, Tuesday night at home, 73-64.
The victory was Lipscomb's first over a top-25 opponent since 2006.
"We came out ready with the 14-point lead early, played hard, defended well early, but our offense never quite got going, and that's been our m.o. through these four games," said TCU head coach Jamie Dixon. "We have to work at it. We have to cut down on turnovers and we'll get to work tomorrow. It's a disappointing loss."
After the Horned Frogs jumped out to the 14-point lead, 22-8, the Bison scored 52 of the next 83 points, giving Lipscomb a seven-point lead, 60-53, with just about five and a half minutes left to play.
Both forward Kouat Noi and point guard Jaylen Fisher made their season debuts Tuesday, returning to the hardwood from knee injuries.
"I'm putting teams out there that haven't practiced enough together, we've got to get better," said Dixon. "It's affected our offense, but defensively, our defense let us down in the second half."
Noi finished with four points and a career-high nine rebounds.
The Horned Frogs would score the next seven points with points guards Alex Robinson and Kendric Davis finding their way to the hoop for lay-ups, cutting the Lipscomb lead to one, 60-59. The two teams proceeded to trade baskets until the Horned Frogs trailed by three, 66-63, with 1:47 left to play.
Noi had a three-point attempt to tie the game from the right corner, but it bounced off the rim and Lipscomb guard Garrison Mathews countered with a three of his own to increase the Bison lead to six.
Lipscomb guard Matthew Buckland hit two free throws to push the Bison lead to eight points after a Robinson foul, 71-63. Lipscomb closed the game on a 9-1 run.
The Bison carved out an advantage down low, doubling the Horned Frogs post scoring, 42-26, despite TCU holding the rebounding advantage, 37-30.
TCU's offense shot 6-21 from the three-point line, 44 percent overall offensively and 56 percent from the free throw line.
"We just have to be better, we haven't been very good in the first few games," said Dixon. "Defensively, we've been pretty good, so I've been encouraged by that. When we got down, we extended ourselves and that hurt us with lay-ups, but they were simply more physical than us."
Dixon said his team has to play smarter without fouling and that his team's defensive breakdown was the product of their offensive inefficiencies.
Offensively, Robinson led the way with 17 points, 10 rebounds, and six assists. The 10 boards were a career-high. Davis also provided a lift for the Horned Frog attack with his 14 points on an efficient 5-7 shooting.
"[Dixon] gives us the freedom to make the right play," said Davis. "He trusted in me as a freshman to go on the court in crunch time, so I wanted to make the right play to try to help the team win."
Davis' play made an impression on his teammates even in defeat.
"It's great to see him out there making great plays at the end of the game," said senior forward JD Miller. "It would be difficult for most freshmen to do that, he's one of a kind."
Miller totaled 11 points and three rebounds. Forward Lat Mayen played a career-high 11 minutes, scored a career-high eight points and was a perfect 3-3 from the field including 2-2 from three-point range.
Robinson and guard Desmond Bane led the team in assists with six apiece.
The loss was TCU's first in November since Nov. 24, 2015, when they dropped a 66-60 decision to Rhode Island. The 18-game streak was the second-best in the nation to Virginia's 21.
"This is not football, this is not the BCS, we have a lot of games left and we will get better," Dixon said.
The Horned Frogs return to action at 7 p.m. Monday at Schollmaier Arena against Eastern Michigan.