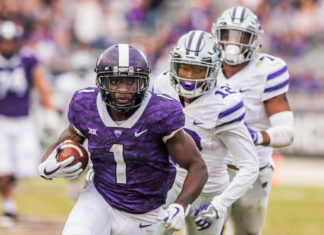 A 14-13 victory over Kansas State saved the Horned Frogs from losing four consecutive games for the first time in Gary Patterson's 18 years as head coach.
"It feels really good to get a win," said TCU quarterback Mike Collins. "October was a tough month and that wasn't the best win, but a win is a win and we will take it."
The Collins-led attack sputtered out of the gate, going three-and-out on the game's opening possession. The Wildcats gifted TCU new life following Isaiah Zuber's muffed punt that Horned Frog linebacker Jawuan Johnson recovered, bringing the offense immediately back onto the field.
"That was a gift from God, he dropped it, and I saw it right there, Johnny on the spot," said Johnson.
Not wasting any time, the Horned Frogs needed only four plays to score their first touchdown on a pitch to running back Darius Anderson.
"Usually, when I've done that, I've faked it and run out to the right," Collins said about being under center instead of in the shotgun formation. "Last week, Kansas covered that. This week, we broke our tendency and pitched it to Jet, he was wide open. I thought we had a good chance on it."
The touchdown was Anderson's third of the season and his first since a 16-yard score against Ohio State on Sept. 15.
A switch at quarterback late in the opening quarter gave Kansas State the spark they needed to even the contest at seven. Following a strong Johnson tackle on third and two, Wildcat quarterback Skylar Thompson exited the game and was replaced by Alex Delton.
"[Delton's] definitely more of a runner," said TCU cornerback Jeff Gladney. "You've just got to focus more on quarterback counters, draws, leads."
Facing fourth-down and short on their own 37, an offside penalty by TCU defensive tackle Corey Bethley extended their possession. Seven plays later, Delton found wide receiver Malik Knowles for a 21-yard scoring strike as Knowles toe-tapped the back of the end zone. The touchdown was Knowles' first career score.
On Kansas State's next drive, the Wildcats found themselves on the TCU 9-yard line on fourth down and four. Instead of kicking a field goal, the Wildcats attempted to throw for a first down, and holder Colby Moore's pass was intercepted in the end zone by TCU safety Markell Simmons with 3:15 left to play in the first half.
The game remained deadlocked at seven well into the third quarter.
After reaching their own 33, Collins uncorked a deep ball down the field to Reagor, and the sophomore receiver, out-muscling the KSU defensive back, broke away for a 67-yard touchdown to give TCU a 14-7 lead.
"[Collins] told me before we took the field that we were going to go deep to me and for me to just make a play," said Reagor.
Reagor caught three passes Saturday for 92 yards, all for either first downs or touchdowns. Thirty-four of his team-best 49 receptions this year have been for a first down or touchdown.
His performance against Kansas State gives the sophomore at least one catch in his last 14 games for the longest current streak by a Horned Frog. He has a reception in 22 of his last 23 contests.
Collins finished his afternoon with 218 yards passing and the lone touchdown to Reagor on 17 of 33 passing.
"He didn't do as well as we would've liked offensively," Patterson said. "I thought he tried to hurry things."
Two drives later, Delton rammed the football into the end zone on fourth-down and goal from the one-yard line, but the Wildcats hooked the extra point wide left.
Kansas State's last-gasp comeback appeared to have life following a 31-yard completion from Delton to wide receiver Zach Reuter. However, an intentional grounding penalty following pressure from TCU defensive end LJ Collier pushed Kansas State back ten yards, and they couldn't recover as Delton threw an incomplete pass on fourth-and-21 from his own 43 with 1:25 left to play.
Up Next
TCU improves their record to 4-5 overall and 2-4 in the Big 12, needing two victories in their last three games at West Virginia, at Baylor and against Oklahoma State at home to become bowl-eligible.
Kickoff against West Virginia next Saturday is to be determined.