Bold predictions for 2023 NFC, AFC championship games: Eagles torch 49ers; Burrow, Chase can't be stopped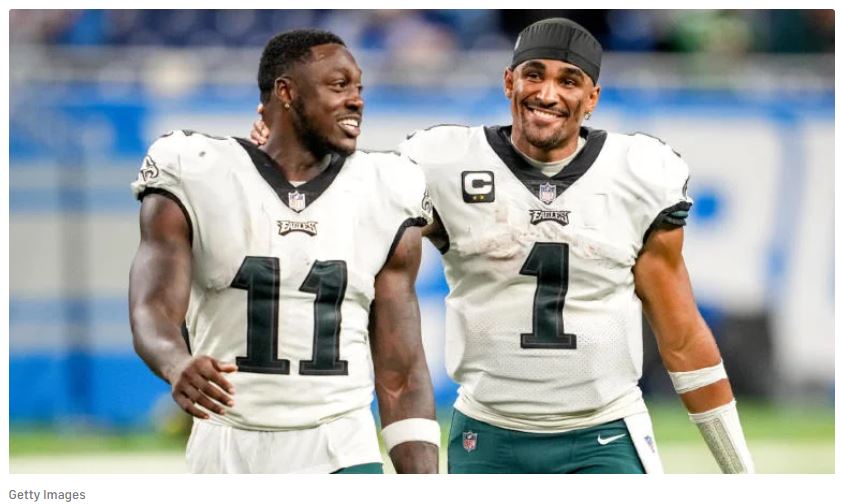 We're now into the NFL final four, and by the end of today we'll know what the Super Bowl LVII matchup in Arizona will be.
As usual, we expect some crazy stuff to happen when these conference championship games kick off. So, here we are once again with our bold predictions: three for both the NFC and AFC title games.
NFC Championship Game: 49ers at Eagles
Brock Purdy struggles mightily, throws two interceptions
Brock Purdy has done the miraculous: gone from the last pick of the 2022 and a third-string quarterback to 7-0 as the San Francisco 49ers starting quarterback with a 116.0 passer rating in that span since Week 14, the highest in the NFL and the best passer rating by a 49ers player in a seven-game span since Hall of Famer Steve Young in 1996-97. It's remarkable. One of his most impressive traits is his ball security with 14 touchdown passes and only two interceptions, none in the playoffs.
However, Purdy's perfect run will come crashing to a halt with him going down in flames on Sunday in Philadelphia against the Eagles, the team that has the most sacks in football this season, 75, including the playoffs (the third-most in a single season in NFL history including the postseason) and the second-highest pressure rate in the NFL (39%). The rookie had performed well under pressure in his first six starts, registering a 121.2 passer rating when under pressure.
However, when facing Defensive Player of the Year finalist Micah Parsons and the Dallas Cowboys front, Purdy wilted as he completed only three of his 11 passes when under pressure for a 39.6 passer rating. The Eagles pass rush should be even more a struggle for the 49ers offensive line to contain since it's not centered around predominantly one player. Philadelphia has four players with double-digit sacks this season -- linebacker Haason Reddick (16.0), defensive tackle Javon Hargrave (11.0), defensive end Josh Sweat (11.0), and defensive end Brandon Graham (11.0) -- the most in NFL history.

When Purdy does make his eighth career start on Sunday, he will become the he fifth rookie quarterback to start a conference championship game joining Shaun King on the 1999 Buccaneers, Ben Roethlisberger on the 2004 Steelers, Joe Flacco on the 2008 Ravens, and Mark Sanchez on the 2009 Jets. Those quarterbacks went a combined 0-4 while throwing four passing touchdowns and interceptions. Purdy will run that record to 0-5 and add a couple more interceptions to that cumulative box score.
Jalen Hurts has 4 total TDs, over 350 total yards
The 49ers defense is the NFL's best in terms of scoring -- 16.3 points per game allowed -- and total yards -- 300.6 total yards per game allowed -- but a lot of what they do depends on the NFL's sacks leader, defensive end Nick Bosa (18.5), creating pressures and racking up sacks. That defense will be in for a bit of whiplash after going up against a Dallas Cowboys team a week ago that played predominantly without their best running back (Tony Pollard) and a quarterback in Dak Prescott who only had eyes for one wide receiver, CeeDee Lamb.
Their challenge this week for Philadelphia Eagles quarterback Jalen Hurts, one of three quarterbacks in NFL history to total over 3,500 passing yards and over 750 rushing yards in a single season, presents an entirely different host of problems for San Francisco's vaunted defense as a true dual-threat. Plus, the Eagles can mitigate the 49ers prolific pass rush with the best offensive line in football.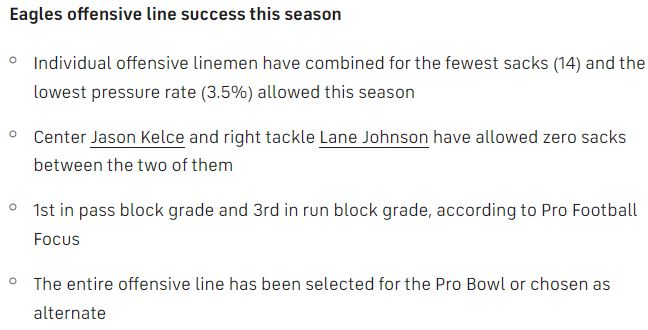 Hurts and the Eagles are one of the NFL's most multi-faceted offenses: they have either had over 300 passing yards or over 200 rushing yards in five of Jalen Hurts' last six starts. In short, they've pretty much been alternating beating team's through the air vs. on the ground. This week, it would appear that the air would be the move.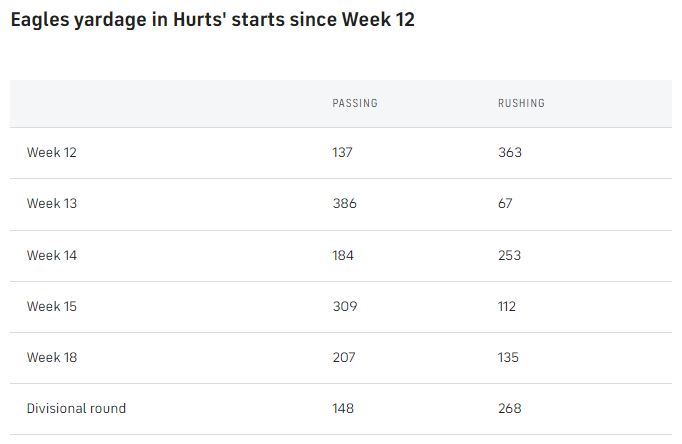 Another reason Hurts could accumulate yards quickly on Sunday is because he led the NFL in completion percentage (50%), passing touchdowns and passer rating on throws of 25 or more yards downfield this season. On the flip side, the 49ers have been one of the league's worst deep passing defenses ranking 25th or worse in all of the aforementioned categories.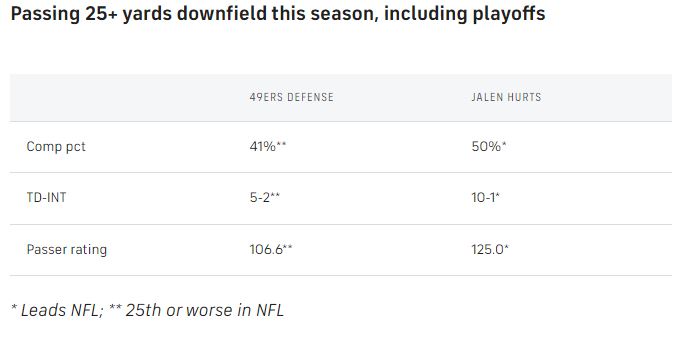 Between great protection upfront and a susceptible 49ers secondary, Jalen Hurts is going roll against the 49ers for four total touchdowns and over 350 total yards.
A.J. Brown has nothing to complain about, gets 150+ yards, TD
A.J. Brown appeared to be visibly upset on the Eagles sidelines in the midst of Philadelphia blowing out the New York Giants in the divisional round, 38-7. He only had three catches for 22 receiving yards in run-heavy approach that night. However, it will be all smiles for Brown, whose 1,496 receiving yards this season set the Eagles' single-season record, as he goes up against the susceptible 49ers secondary mentioned above
He had seven receiving touchdown of 25 or more air yards this season, tied for the second-most by any player in a season since air yards were first tracked in 2006. He's going to add to that total in a big way.
In addition to being a subpar deep passing defense this season, the 49ers have struggled to keep up with opposing wideouts all season along as they ranks 25th or worse in numerous categories while Jalen Hurts is a top 10 passer when throwing to receivers, including Brown and DeVonta Smith, the first Eagles receiver duo each over 1,000 receiving yards in the same season in team history.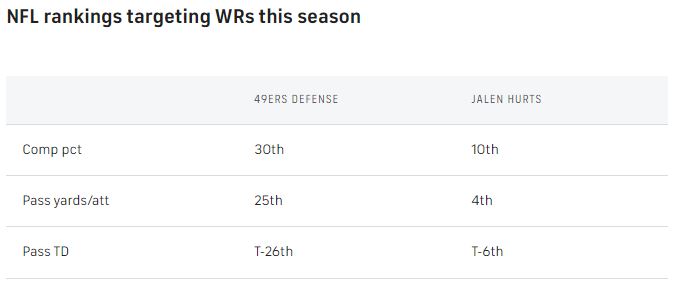 Despite being the league's top scoring and total yardage defense, the 49ers have allowed their opponents' top wide receiver to go over 100 yards in three of their last four games. Brown will do so easily and grab a touchdown or two.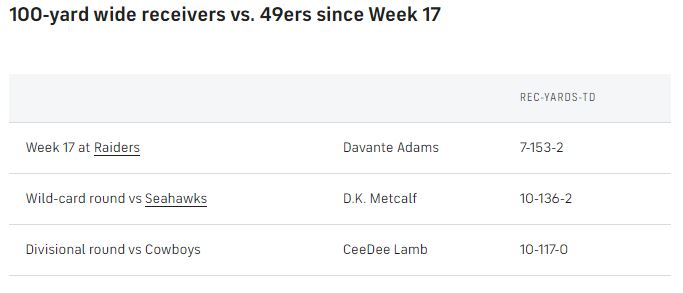 AFC Championship Game: Bengals at Chiefs
Travis Kelce sets postseason single-game receptions record
Everyone on Earth knows that when there is a Kansas City Chiefs football game, 2022 first-team All-Pro tight end Travis Kelce is going to catch a lot of passes. He led all tight ends in catches (110), receiving yards (1,338) and receiving touchdowns (12) this season, and he's en route to becoming one of the most prolific postseason pass-catchers in NFL history.
His 120 playoff receptions are the second-most all-time behind only the receiving GOAT Jerry Rice (120); his 1,389 playoff receiving yards are tied for the third-most all-time with Rob Gronkowski; and his 14 receiving touchdowns are the third-most all-time, but he'll leap into second behind only Rice in that category with just two more scores.
Kelce caught 14 passes, tied for the third-most in a playoff game all-time and one short of tying the single-game record, for 98 yards and two touchdowns a week ago in Kansas City's divisional round win against the Jacksonville Jaguars. With Mahomes less than 100%, he'll need to rely even more on his security blanket since he won't be able to use his scrambling magic to create as many passing lanes. Kelce ends up threatening the NFL's all-time single-game catches record with 20 receptions, one short of former Denver Broncos receiver Brandon Marshall's 21 that he had against the Colts in Week 14 of the 2009 season.
Ja'Marr Chase torches K.C. again (10 catches, 200 yards, 2 TDs)
Only one wide receiver has dominated the Chiefs like Ja'Marr Chase: Hall of Famer Lance Alworth. The Bengal connection of Joe Burrow to Chase has been one that Kansas City has yet to slow in the teams' last three meetings, all Cincinnati wins. Burrow has completed over 80% percent of his passes to his former college teammate for over 400 yards and four touchdowns in the Bengals' three-game winning streak of Patrick Mahomes and the Chiefs.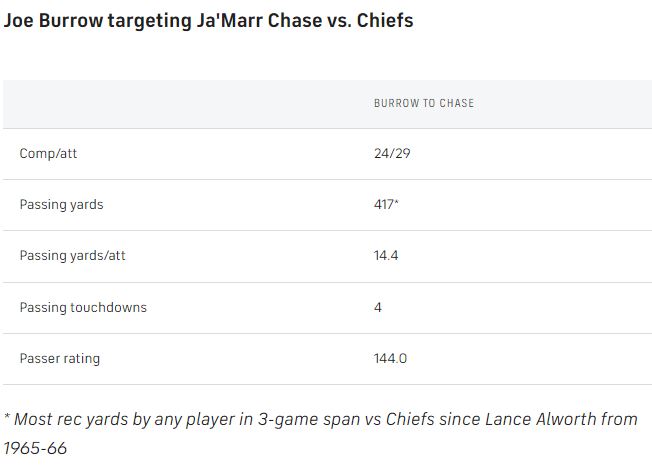 Chase's three-game domination of the Chiefs secondary has been more prolific than what Hall of Famer John Stallworth could do in his best three-game stretch against Kansas City as well as Hall of Famer John Elway's top wideout, Rod Smith, in his best three-game span against their AFC West rival.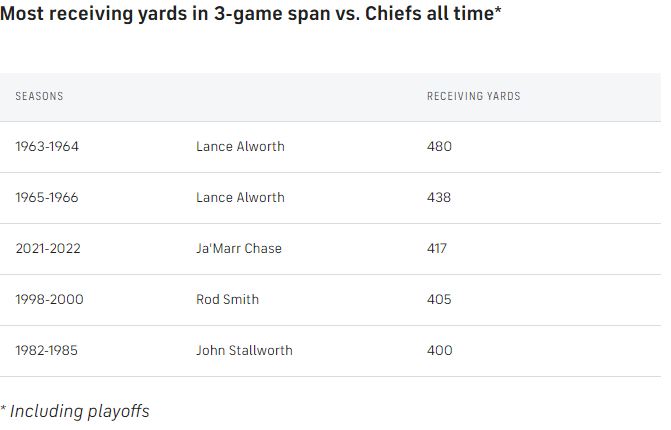 The Chiefs secondary allowed the most passing touchdowns (33) in the league this regular season and the second-highest red-zone touchdown rate (67.3%), ahead of only the Indianapolis Colts (67.9%). Facing one of the NFL's most suspect secondaries, the Burrow-to-Chase connection will hit in a big way over and over and over again on Sunday.
Burrow throws winning TD with under 13 seconds left, doesn't give Mahomes enough time
Last postseason, Patrick Mahomes did what seemed impossible, marching Kansas City down the field to tie the AFC divisional round matchup against the Buffalo Bills after a Josh Allen touchdown pass gave the Bills a 36-33 lead with 13 seconds to go. Lightning usually doesn't strike twice, and it won't do so this postseason. The game will be tied late in the fourth quarter, just as it has been in each of the last three Bengals-Chiefs games, and Joe Burrow will throw a touchdown pass with 11 seconds left in the game to break the tie, giving the Bengals a seven-point edge. Mahomes was able to get Kansas City into field goal range in 13 seconds against Buffalo, but he won't be able to go the entire length of the field in nearly that same amount of time. Thanks to Joe Cool, the Bengals will be hoisting the Lamar Hunt Trophy in Arrowhead Stadium for the second straight season. Read More