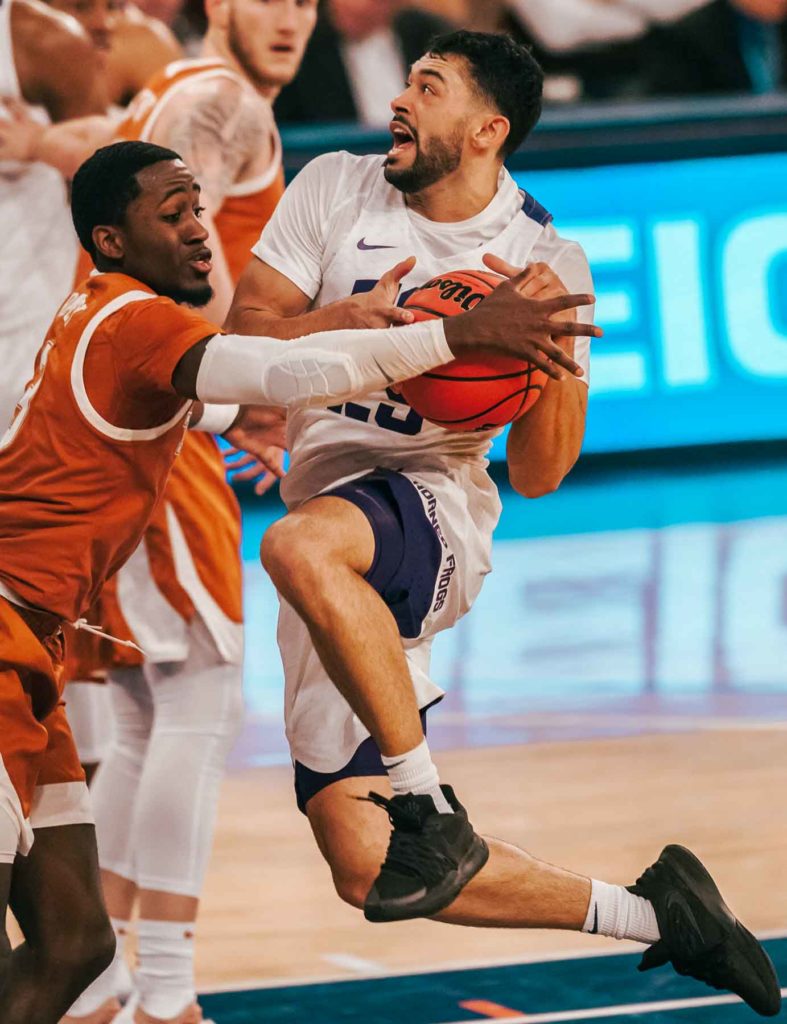 TCU men's basketball's 2018-2019 season went out in crushing defeat as they lost to the Texas Longhorns Tuesday night in the NIT semifinals at Madison Square Garden, 58-44.
"As I told our guys tonight, I wanted them to focus on our 23 wins this year and how they battled through a lot of adversity, playing through most of the conference with seven guys, sometimes six guys, and coming up with 23 wins," TCU head coach Jamie Dixon said. "So I want them to remember that."
The Horned Frogs' 44 points were their fewest this season, eight lower than the 52 points they scored on March 4 in a home loss against Kansas State. Twenty-eight percent shooting from the field and 19% from beyond the arc doomed them, as they lost to the Longhorns despite out-rebounding Texas by six.
"This obviously was not our best performance, and I'm disappointed in how we played," Dixon said. "We really wanted to make it the focus about one game, this game, not about the last two, but I don't know if that was the right approach. Offensively, I did not see this coming, I just don't know why we just looked so out of rhythm."
The Horned Frogs did not remotely resemble the squad that swept the regular season series with the Longhorns.
Texas throttled TCU in the first half, limiting the Horned Frogs to 17 points, their lowest point total of any half under Dixon.
"At times we overpassed and then at times we didn't pass, and it just was a bad combination," Dixon said. "If you pass up open shots, that's bad offense, too, and that's where I thought we found ourselves a lot of times. They were rotating very well, so they had something to do with it but we just didn't have the ability to knock down the shots in rhythm or make the right pass in rhythm that we had been doing and been doing a pretty good job of it."
n the first half, the Horned Frogs were 0-6 from the three-point line, shot 28% as a team and turned the ball over six times while dishing out only one assist.
"Give Texas credit: they were more physical than they were and more active, and they did a really good a good job guarding our penetration to keep us out of the paint," Dixon said.
TCU emerged with an early three-point edge, 8-5, but a 7-0 run from Longhorn point guard Kerwin Roach ripped the game away from the Horned Frogs and they would never get it back.
TCU guard Desmond Bane, who had given the Longhorns trouble all season, appeared to be poised to heat up as he had in the two regular-season match-ups after hitting back-to-back jumpers that trimmed the Longhorn lead to two, 16-14.
Bane scored a game-high 17 points in the win over Texas in Fort Worth Jan. 23, and he totaled a career-high 34 points in the March 9 match-up in Austin. Tuesday he scored just 11 points on 5-14 shooting.
However, Texas counterpunched. The Longhorns finished the half on a 15-2 run as freshman point guard Kendric Davis runner in traffic with 5:13 to go was the last shot TCU made from the floor during that stretch.
Roach led all players with 14 points in the first 20 minutes on 6-8 shooting. He didn't play in the second contest between the two rivals on March 9 as he was serving a suspension for a violation of team rules. Roach finished the semifinal match with a game-high 22 points.
"They were a different team and as far as watching them play, they had been shooting the ball better and more threes, and you know, one of their guys was out in an earlier match-up," Dixon said. "Roach didn't play in the the second game against us. Obviously had 22, so that's a big dip."
The second half didn't start much better for TCU as they trailed by 13, 36-23, five minutes in. However, Bane scored the next five points, including the Horned Frogs' first made three-pointer.
An RJ Nembhard three-pointer after a Longhorn lay-up cut the Texas lead to seven, 38-31, with 11:41 to go. The Horned Frogs' defensive improvement fueled the push as TCU forced four Texas turnovers in a three-minute span. This entire stretch that allowed TCU to get back in the game came with Davis running the show instead of the starting point guard Alex Robinson.
After a put-back from forward Kouat Noi had the Horned Frogs down just five, a couple missed shots and a turnover led to three lay-ups from Roach and Longhorn center Dylan Osetkowski, leaving the Horned Frogs down double-digits once again, 44-33.
After Robinson knocked down TCU's third three-pointer in 17 tries to get back within eight, 44-36, Texas went on a 6-0 run capped by guard Matt Coleman's three-pointer to give themselves a 50-36 lead with 4:30 to go, putting the final nail in TCU's season.
"Yeah, the loss — it really hurt, obviously, but I'm just proud of our guys," Robinson said. "We fought hard all season. I thought we fought hard this game."