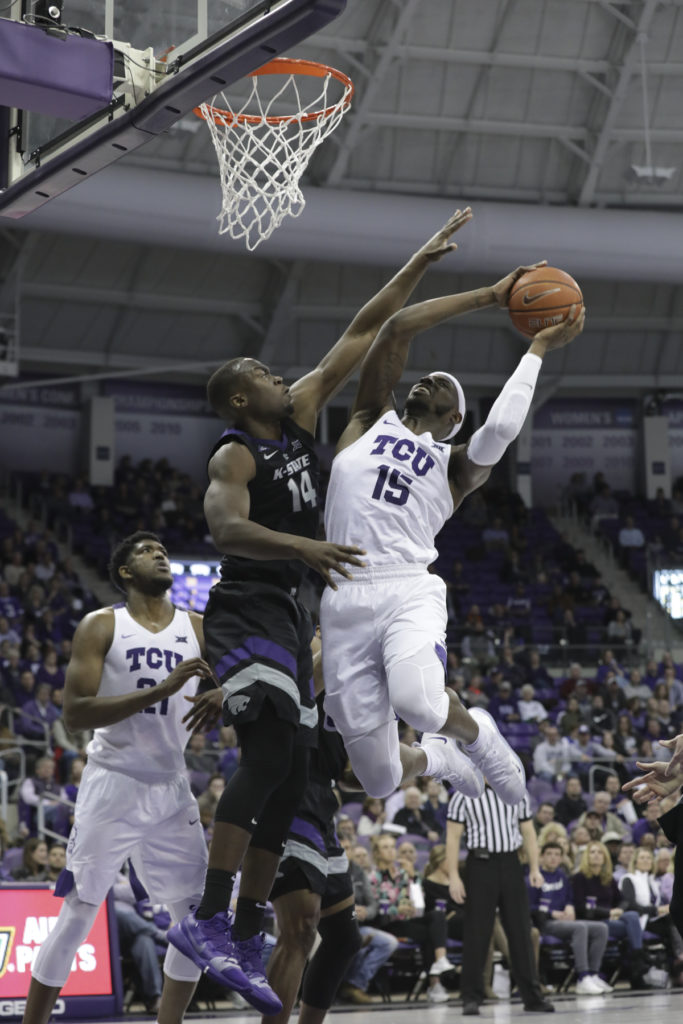 TCU's inability to win the rebounding battle, capitalize off turnovers and generate consistent offense doomed them to their third consecutive defeat against No. 18 Kansas State, 64-52. It's the Horned Frogs sixth loss in their last seven games.
The 52 points was a season-low for the Horned Frogs, whose 14 turnovers turned into 21 Kansas State points.
The loss turns the team's Saturday morning contest in Austin against the Longhorns into a true must-win for their NCAA Tournament as their record dropped to 18-12 overall and 6-11 in conference. The loss also adds pressure onto their performance in the Big 12 tournament next week in Kansas City.
The loss dropped TCU to eighth in the conference standings, but Kansas State head coach Bruce Weber said the league is good enough for eight teams to qualify for March Madness. TCU head coach Jamie Dixon echoed his sentiment.
"The conference is definitely that strong, we can get eight games, so the only problem we'll fight is our league record," Dixon said. "If your teams are beating everyone in non-conference, we have six losses to Kansas, Texas Tech, and Kansas State. Not many teams in the tournament are going to beat them."
TCU's offense was hampered by Kouat Noi's first zero-point game of the season, along with just two points from JD Miller on his final regular season game in Schollmaier Arena.
"It's a big deal obviously since Kouat is one of our leading scorers, but he did help on the defensive end today," guard RJ Nembhard said.
The Wildcats' defensive game plan was simple, don't give Noi any air-space.
"He's a great shooter, so we just tried to stay with him to force tough and contested shots because he can get it going quickly," Kansas State guard Kamau Stokes said.
Noi picking up two fouls in the first few minutes of the game didn't help matters either for the Horned Frogs.
To win, TCU would have needed to match its largest halftime comeback since the season-opener when they rallied from a nine-point deficit in the season opener against CSU-Bakersfield.
A positive from the game was TCU freshman center Kevin Samuel posting a game-high 17 points.
"I just played my hardest to try and get our team to win and leave everything out on the floor," Samuel said.
The Horned Frogs began to claw back at the midpoint of the second half, going on a 10-0 run that trimmed K-State's edge to 11 with 12:46 to go, 51-40. Nembhard scored eight points during the run and finished with 12 for the game.
"There's no quit in us with these seniors," he said. "They have been through a lot. Alex and JD, a lot of ups and downs with this program. We've had a lot of ups-and-downs with this team. They've done a good job of keeping us together through the toughest times."
A Kendric Davis jumper as the shot clock expired with eight minutes to go had TCU back within single-digits, 55-46, for the first time since halftime. Davis finished with seven points and two assists. Robinson followed with a lay-up to get the Horned Frogs within seven, 55-48. He also had seven points and two assists.
Trailing by seven, 57-50, KSU guard Kamau Stokes coaxed a foul out of Nembhard from behind the arc with three seconds on the shot clock, which allowed the Wildcats to regain a double-digit advantage via the free-throw line, 60-50.
They wouldn't relinquish the lead for the rest of the game, spoiling senior night for the Horned Frogs.
TCU's regular-season finale will tip-off at 11 a.m. Saturday in Austin against the Texas Longhorns, a team they defeated 65-61 on Jan. 23.
"We are going to play our best game Saturday, that's what I told our guys, and I told them we are going to find a way to play our best defense, our best game, and get a win," Dixon said. "Every bubble team seems to lose, so let's find out what happens if we go win Saturday. I told them during the game that I believe we can get better and have our best scoring output and defensive effort." Read More