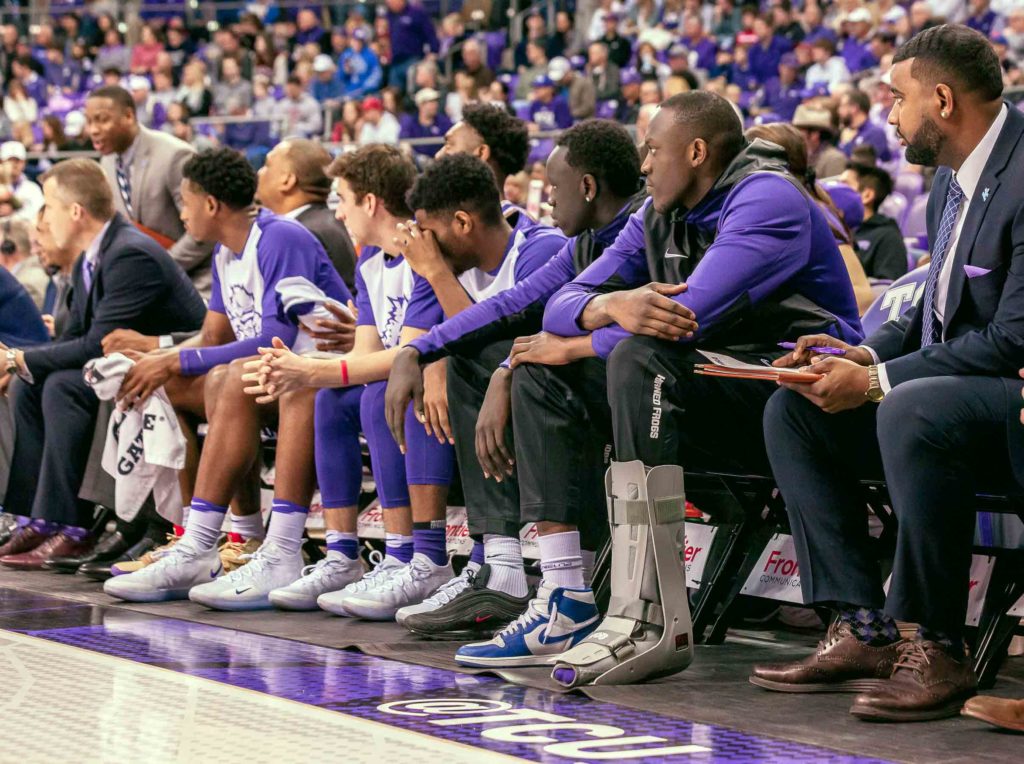 The Horned Frogs' Saturday morning didn't get off to a great start when forward Kouat Noi, TCU's second-leading scorer and three-point shooter, walked out during warmups with a boot on his left leg. The redshirt sophomore rolled his ankle in practice Friday, according to a team source, which held him out of the Horned Frogs' match-up with Oklahoma.
The TCU offense significantly felt his absence as they shot 35 percent from the field, the second lowest of the season, and 28 percent from behind the three-point line in a nine-point defeat, 71-62. The Sooners (16-10, 4-9) shot 50 percent from the floor.
Forward JD Miller, who scored a team-high 14 points, and guard RJ Nembhard, who put up 12 points, combined to shoot 5-19 in Noi's absence. Miller said that's how their offense is designed regardless of whether or not they're going in, but head coach Jamie Dixon had another perspective on three-pointers accounting for 49 percent of their field goal attempts.
"I don't think we got good enough looks, we took too many three's, and you don't want over 40 percent of your shots to be three's, so we took too many," Dixon said. "We didn't get enough penetration or interior touches, that's why their 3-2 zone was so successful because we didn't play inside-out like we would usually against the zone."
Freshman guard Kendric Davis received his first career start in place of Noi and also scored a team-high 14 points, but he said the Australian's absence had a dramatic effect on TCU's offensive attack.
"It's very tough since his presence itself is a big us because everyone knows he can shoot the ball, which is like 15 points off the board, but defensively he gives another dimension," Davis said. "Today, the ball was thrown down low because we were playing so small, and the shots we were missing were affected by the fact that we were all playing a lot of minutes with six or seven people. Missing him is a big part of what we do."
Six of TCU's eight players to see the court Saturday played at least 26 minutes, while four played at least 30 minutes. Miller and point guard Alex Robinson each played 38 of a possible 40 minutes.
"We're down to six or seven in the rotation, and it's hard on our bodies," Miller said. "We're playing a lot of minutes. We have to keep fighting."
In his 16 years as a head coach, Dixon said the Horned Frogs' injury issues are unfathomable.
"We have had four guys have season-ending injuries, that's unheard of, but it is what it is," he said. "We can sit here and call it an excuse but it's not. We've got to figure it out. No one is going to feel sorry for you — you have to find a way."
Lat Mayen, Yuat Alok, Angus McWilliam and Jaylen Fisher have all suffered season-ending injuries this season, while Kaden Archie dealt with a few smaller injuries before transferring to UT-El Paso.
Dixon added that he's unsure how long Noi will be out, but he expects that "it won't be long" until the redshirt sophomore returns.
TCU led Oklahoma for the game's first 14 minutes, but the Sooners made a push behind forward Kristian Doolittle. He scored six straight points in the first half's final three minutes, as Oklahoma took a two-point edge into the locker room, 32-30. Doolittle finished with a game-high 21 points in addition to 10 rebounds and five assists. His Jan. 12 performance against TCU up in Norman was eerily similar, as Doolittle put up 24 points and 10 rebounds in the Sooners' 76-74 victory over the Horned Frogs.
The second half didn't start off well for the Horned Frogs, as the Sooners' first three baskets were three-pointers, which allowed them to get out to a double-digit lead, 47-37, with 13:34 left to play.
Still trailing by ten with 5:16 to play, 59-49, Nembhard began to bring the Horned Frogs back. The redshirt freshman drained a three-pointer and then converted a three-point play by finishing a lay-up through contact, which left TCU down four, 59-55, with 4:39 to play. Sooner guard Miles Reynolds countered with lay-in that left the Horned Frogs down six, 61-55, with 3:33 to play. The Horned Frogs then turned the ball over, which led to a wide-open Brady Manek dunk. Miller followed with a lay-up, but Doolittle countered with a floater of his own, which left TCU staring down an eight-point hole with 1:34 to play.
Nembhard drilled a three-pointer from the right corner, providing a sliver of hope for TCU, as they trailed by five, 65-60, with 1:22 to play.
Sooner guard Christian James countered with a lay-up, and the Horned Frogs took too much time on their next possession.
"We got careless with the ball late, when we were getting stops," Davis said. "We threw it away, turned it over and took bad shots, which is like a turnover. We have to execute better."
Dating back to March 9, 2017, TCU has defeated every Big 12 opponent at least once except for Oklahoma. However, Dixon said he didn't see a recurring theme because of the injury woes his team faced today.
"I wouldn't say there is any similarity, we put out a new product today that wasn't successful, so I don't know what that has to do with last year," Dixon said.
The Horned Frogs (17-8) have six games left in the regular season, three at home and three on the road. The loss drops them to 5-7 in Big 12 action.
"You can't lose home games, all home losses are problematic, so we are going to have to go find a win somewhere else, maybe somewhere people didn't expect," Dixon said. "That's what we did at Iowa State… we have to focus on Monday and play better Monday."
TCU hits the road to face Oklahoma State at 8 p.m. Monday in Stillwater. Read More