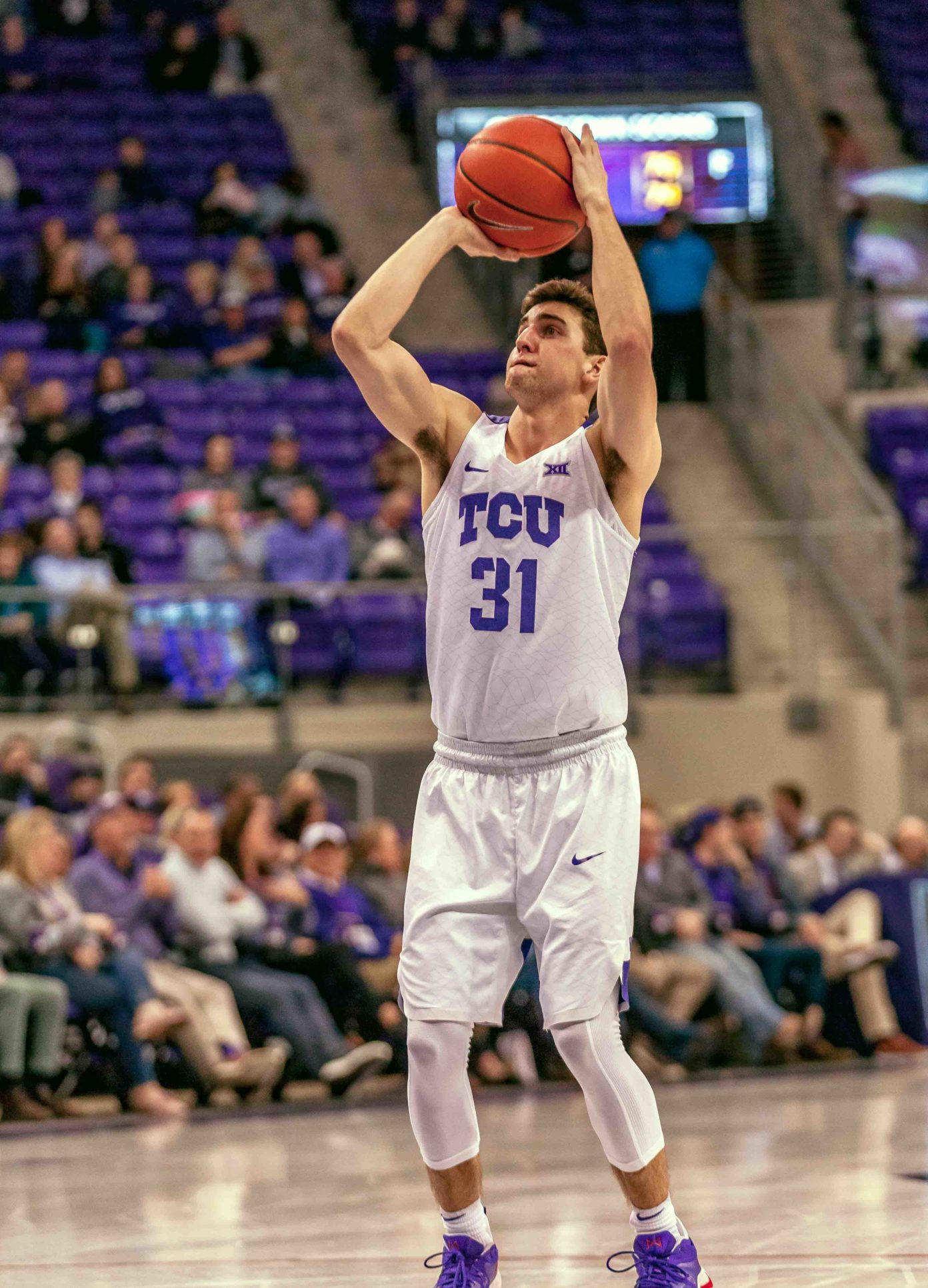 There's no place like home for the Horned Frogs as they secured a 31-point victory, 98-67, over West Virginia Tuesday. The win improves their record to 13-3 overall and 2-2 in the Big 12.
Six of the eight Horned Frogs to see the floor Tuesday night scored in double figures with guard Desmond Bane leading all players with 26 points, a season-high, and guard Alex Robinson notching a double-double with 14 points and 10 assists.
"You want to take care of the ball versus their over-plays and denials, and I thought we did a good job of that, we made our threes," TCU head coach Jamie Dixon said. "I would've liked to have finished a little bit more at the rim, but obviously 12-of-28 from three and 20 assists to go with turnover numbers that you would like against this team."
After trailing 5-2 to begin the night, TCU ripped off a 19-2 run to take a 14-point lead, 21-7, and never looked back.
The Horned Frogs would take a 20-point lead into the break, 48-28. Efficient three-point shooting factored into TCU's success in the first half as they shot 56 percent, 5-of-9, from behind the arc. Noi, Miller, Robinson, Kendric Davis and Lat Mayen all connected from distance in the first 20 minutes.
Mayen, a redshirt freshman from Australia, has dealt with multiple injuries during his time at TCU, including a torn meniscus in his right knee in December of 2017 and a bone bruise in his right leg that he suffered this summer. Against West Virginia, he totaled a career-high 12 points and six rebounds.
"He was huge for us, and we knew he was always going to have an impact on the game, it was just a matter of getting him healthy," Robinson said. "We got to experience it for a full year now."
The second half picked up right where the first left off. The Horned Frogs went on an 18-8 run to begin the second half with 12 of those points coming from Noi and Bane.
Another player who had a career-night to cap off a career week was sophomore guard Owen Aschieris.
He was surprised by a campus police officer during a team film session that he would be put on scholarship for the spring semester Monday.
"It's really hard to describe because so much work went into this, and it's been a crazy journey going from high school and not being recruited to the women's' scout team, and then walking on," Aschieris said. "So many people behind me and to get this scholarship and talking [to the media] right now, I'm going to need a few days to let my mind chill."
His teammates were overjoyed to see his hard work rewarded.
"He deserves it, over the summer, I thought I worked pretty hard," Bane said. "The moment he got on the team, he was pushing me to get in the gym, trying to get up a 1,000 shots a day this summer, I thought that this dude is crazy. I was trying to shoot with him, but my shoulder was getting stiff and locking up on me."
Aschieris and the Horned Frogs will look for their first Big 12 road win this season at 3 p.m. on Saturday in Manhattan, Kan. against the Kansas State Wildcats.
"It's going to be tough at Kansas State, they have an extremely great student section there and atmosphere, and it's an interesting set-up, all the fans come down," Robinson said. "If we prepare the way we did today and hold them to under 40 percent shooting, we should be fine." Read More