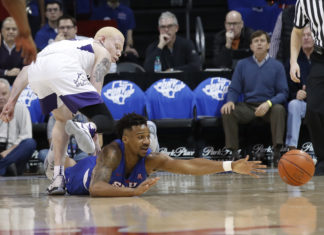 TCU Men's Basketball earned bragging rights for the next year over their cross-town rivals, the SMU Mustangs, after a hard-fought, 67-59, victory.
Entering Wednesday's Metroplex showdown between TCU and SMU, the conversation was centered around the nation's assist leader, TCU point guard Alex Robinson, and his teams' NCAA-best 22.5 assists per game.
However, it was the Horned Frogs' defense that got the job done in Dallas, as the Mustangs shot 36 percent from the field, 24 percent in the second half and 16 percent from the three-point line.
"I liked how we did it, gutted and grinded it out," TCU head coach Jamie Dixon said. "We didn't make shots early, but we relied on our defense."
The first half was a roller coaster for TCU, who lead 11-9 with 12:28 to play in the half, fueled by strong defense and good ball movement.
SMU then sprinted ahead, utilizing a 19-7 run to push their lead to double-digits, 28-18. Behind a lineup of Robinson, Kendric Davis, Desmond Bane, Kouat Noi, and JD Miller, the Horned Frogs clawed back, eventually trimming the deficit to six at the half, 35-29.
Mustangs center Isiaha Mike and Jahmal McMurray teamed up for 20 of SMU's first 35 points. McMurray finished with a game-high 19 points and Mike added 14 points.
The second half would belong to point guard Jaylen Fisher as the junior hit four of his five three-pointers to give TCU a 49-47 edge, one they wouldn't relinquish.
Those three-point buckets were part of a stretch in which TCU hit on nine of 11 attempts to take a five-point lead, 60-55, with 5:41 to go.
"Once you make your shots you feel like you have a purpose for being out there by bringing something to the team," Fisher said. "I feel like I brought energy that pushed us over the hump."
Needing a critical bucket, Fisher answered the call, draining his fifth three-pointer of the game to give TCU an eight-point cushion, 63-55, with 4:20 to play. He finished with 15 points, two rebounds and an assist. His five three-pointers marked a career-high.
Defensively, the Horned Frogs matched Dixon's expectations, trimming the Mustangs' 50 percent field goal clip down to 36 as the final buzzer sounded. SMU shot a meager 24 percent in the second half and 16 percent overall from the three-point line, four-of-25.
"It's been a big emphasis for us, it was something we got better at the end of last year finally and it's carried over to this year," Dixon said. "… All of our guys are better defenders this year and it's showing."
The frontcourt of Noi and Miller combined for 27 points with 12 of Miller's 15 coming in the second half.
"Just the early rolls that I had, the guards looking for me, and just making the easy plays and not making it too hard on myself," Miller said. "It's coming together slowly. We have to keep fighting and we'll be alright."
Noi has hit at least one three-pointer in 21 of his last 22 games and finished with 12 points, his third-straight game scoring in double figures.
Up Next
The Horned Frogs continue their road trip, traveling across the country to face USC at 8:30 p.m. Friday night at the Staples Center in Los Angeles.
"For me, it's just being on the Lakers court — that's amazing to me," Robinson said earlier this week. "Looking up there in the rafters, it's an amazing experience to see all the greats that have played there."