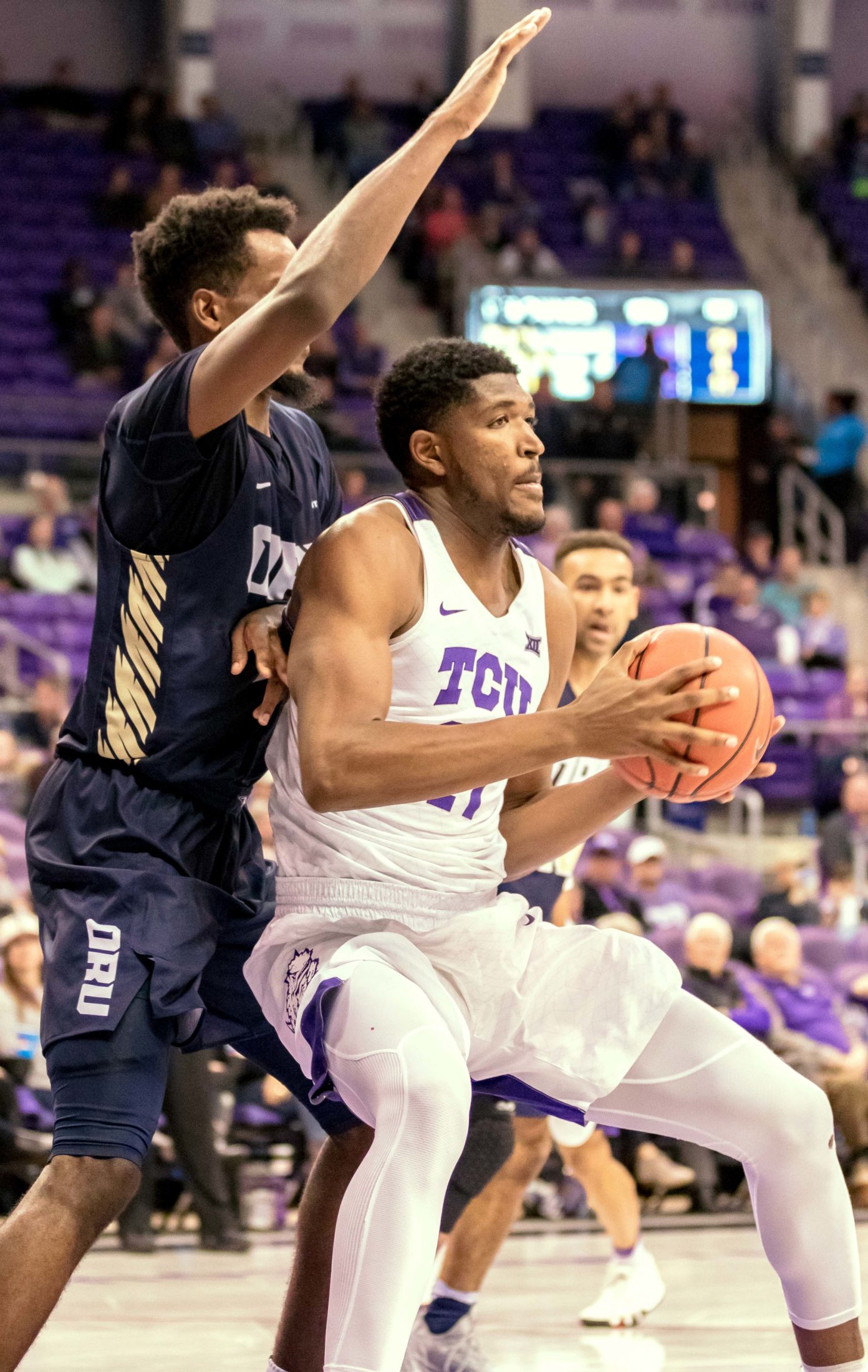 TCU Men's Basketball buried Oral Roberts early and did not look back, winning by 17, 79-62.
"A little better, that's what we want to do, improve each time out, and that's what we're going to do," said TCU head coach Jamie Dixon comparing Sunday's game to Wednesday's nail-biting five-point win. "We made some shots today, I thought we were really good early, and then it just got away."
Dixon's squad raced out to an eight-point edge early with an unselfish approach: all five of TCU's first buckets came off of assists.
"We really had good spacing today," said TCU forward JD Miller. "Coach really emphasized that we have to have good spacing and pass the ball, that's what we did."
Miller finished with 13 points and four rebounds to go along with his team-high seven assists.
The stretch was an early part of an 11-0 run by TCU and ballooned their lead to 17, 23-6. Point guard Alex Robinson created seven of those points.
Kevin Samuel, who opened the game with a dunk following a feed from Robinson, finished with a double-double (11 points and 11 rebounds) in his second career game.
"Kevin is huge for us: he's an amazing presence in the paint, a shot-blocker," said Robinson. "Also, he's tremendous on ball screens and rolls. He's really good in the post as well, so he can hurt teams in the post in multiple ways."
Samuel attributed his growth to learning from last season's all-conference big man, Vladimir Brodziansky.
"It was a great learning experience having Vlad there to work with, asking him questions on and off the court," said Samuel. "It was great to sit on the bench and see how they play and how Alex likes the ball screens."
Oral Roberts and their full-court defense fought back, trimming the Horned Frog advantage to as low as eight with five minutes left to play in the opening half.
Both teams traded baskets to open the second half, but an alley-oop slam from Golden Eagle forward Kerwin Smith cut TCU's lead to seven, 43-36, forcing Dixon to call a timeout.
The Horned Frogs would score the next seven points to increase their lead to 14, with five of those points coming from junior guard Desmond Bane. Robinson scored the other two points on a mid-range jumper.
Robinson led the team with 23 points and Bane finished with 22.
"Those are guys we're really comfortable with, they're really comfortable with us and each other," Dixon said. "Guys just have to play together. That's what those guys bring and a better understanding of what it takes."
"We lacked intensity during the stretch, and we just had to fix that," said Robinson. "After that timeout Coach called, we huddled up and got our situation back in order, picking up the intensity on offense and defense, which we really needed."
The lead eventually rose up to 20, 63-43, with 8:34 left in the game following a hook-shot from first-year point guard Kendric Davis. TCU would maintain their near-20-point edge with strong defense, limiting the Golden Eagles to 34 percent shooting in the second half.
Up Next
The Horned Frogs next game is against Fresno State at 8 p.m. on Thursday, Nov. 15 at the Schollmaier Arena.
The Horned Frogs are awaiting the returns of junior point guard Jaylen Fisher, redshirt sophomore Kouat Noi, and redshirt freshman Lat Mayen from knee injuries. Dixon expects all three will return to the court in the near future.
Dixon said Fisher practiced recently and the team is being cautious with his return. Dixon anticipates Fisher will return to the hardwood shortly.