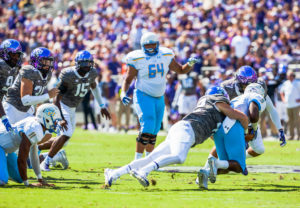 Ty Summers went through the college football recruiting process as a quarterback, but when Head Football Coach Gary Patterson looked at him, he saw one of his next defensive centerpieces.
"We needed a linebacker and Ty was intelligent and can communicate," Patterson said. "Usually if you get anybody with a football sense, they have intelligence and they know to work hard. That person has the framework to be big and the chance to be a good player."
Summers was a quarterback committed to Rice University when he was going through the college football recruiting process his senior year of high school out of San Antonio Reagan High School.
After finding the opportunity to play for a school in one of the Power Five conferences, Summers embraced the kind of malleable, utensil-like outlook coaches would like to see out of an entire roster, adding 25 pounds to his 6-foot-2 frame since high school.
"I've said I'll play nose guard if I can play for a Big 12 team, so the fact that I've been able to play linebacker, which is something I saw myself potentially playing at the college level, has been a blessing," Summers said. "I settled with the idea that I would go out there and have fun cracking some heads and tackling people.
The senior has taken the opportunity and ran with it, currently standing at No. 4 on the Horned Frogs' all-time tackles list with 276. One of Summers' biggest tackles came in his first season when he stuffed Baylor running back Devin Chafin on fourth down to seal a double-overtime, rain-soaked victory over TCU's hated rival.
"It's exciting to think I was able to have a game like that," Summers said. "It gave me the confidence to know that I do this and be good at it going forward."
During his final collegiate season, Summers has needed to rebuild his confidence with Patterson changing his position again by moving him up the defensive line to fill the Mat Boesen-sized hole on the right side opposite Big 12 Preseason Defensive Player of the Year Ben Banogu.
"I did not see myself being a defensive end," Summers said. "I played a little defensive end when I was about 10 years old, but I didn't see myself playing that in college."
However, the vote of confidence from Patterson that he had the capability to succeed at defensive end was all he needed to hear.
"He's told me multiple times on how he sees me being successful at the position and to have a coach like him…with the success he's had moving players around and the faith that I could be successful at that position, that means a lot," Summers said.
His confidence only grew following his second start at the position Saturday against Southern University when he recorded his first sack as a defensive lineman.
"It felt good because I felt that, okay maybe I can really do this," Summers said. "It was a confidence booster to an extent, but there's still a lot to work on and improve in pass-rushing with my pad level and using my hands."
Learning from a duo like Patterson and Banogu, a defensive end who's been labeled a first-round NFL talent, has accelerated that improvement.
"I've gotten together with Ben a few times to work on hands and footwork because he's obviously found success at this position and I'm trying to pick his brain a little bit to see what I can do to be successful in the short time I have being a defensive end," Summers said. "It's great to have a guy on the other side of the line who takes that pressure off me. I'm hoping to take some pressure off him sooner rather than later."
Southern University's Head Coach Dawson Odums said Saturday that Summers is one of the best.
"I think No. 42, I don't know his name, is one of the better players in the country, and we're not talking about this ballgame," Odums said "I am talking about in the country, NFL, college, high school, he is one of the best."
Patterson sees him at linebacker at the next level, but the crash course at defensive end has highlighted some of Summers' best attributes.
"I think he's more of a true prototype outside backer, but he has the speed and the size to come off the edge and he can do things," Patterson said. He is a smart player and without him we would have been in trouble without him last week."
To continue his football career into the NFL, Summers will have to be a Swiss-Army knife, capable of filling a number of roles. He can look no further than former Horned Frog safety Colin Jones as a template for this kind of lasting professional career. Jones became the special teams captain for the Carolina Panthers Thursday entering his eighth year in Charlotte. Summers has already begun his preparation to follow in Jones' footsteps.
"Having that pass-rush skill will only help me with blitzing as well, so being able to show versatility is how guys stay on teams, not because they play one position but because they are able to do two or three different things on special teams," Summers said. "A lot of guys can play linebacker and play it well, but if you can play linebacker, defensive end, and play special teams then that's how you make yourself useful and stay on a team. Coach P is really helping me out with that by putting me in that position to show that I could possibly play this, but I have to go make the most of it with my one last year."