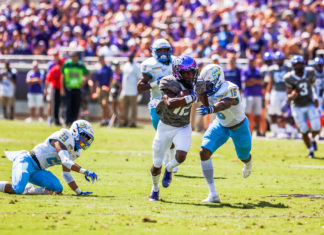 Another home opener at Amon G. Carter Stadium for the Horned Frogs, another win for the Horned Frogs. TCU put away an over-matched Southern Jaguars team and rolled to their 17th consecutive home-opening win, 55-7.
"We had some guys down, did what we needed to do, but it wasn't perfect," TCU Head Coach Gary Patterson said.
The Horned Frog offensive attack experienced some early hiccups as a couple of incompletions near the end zone on the game's opening possession led to a Cole Bunce 26-yard field goal.
"It took me until about midway through the first quarter to feel comfortable," TCU quarterback Shawn Robinson said.
After the early rust was shaken off, Robinson kicked the offense into gear as the Horned Frogs scored touchdowns on the next four possessions to jump ahead of the Jaguars by 31.
"We play very fast," TCU wide receiver Jalen Reagor said. "We like to have speed on the field, and we can run."
The first score came with just under nine minutes in the first quarter when Robinson took a simple quarterback draw for a 36-yard sprint into the end zone. The rushing touchdown was the first of his career.
"That was exhilarating since the line blocked it perfectly, and I had no choice but to score," Robinson said.
The next two came through the air on wide receiver screens to two true freshmen: Derius Davis for a 12-yard scoring strike and Taye Barber for a six-yard touchdown. Robinson added his second rushing touchdown on a read-option keeper from nine yards out, which put TCU up 31-0.
Reagor compared Davis' speed to that of teammate KaVontae Turpin, an electrifying player with the ability to change the course of the game in one play.
"He's one of those guys, we need them to step up and play at a higher level and they will," Patterson said. "There's nothing better in learning than winning."
The Jaguars experienced some technical difficulties through the first one-and-a-half quarters, snapping the ball high twice, with each drive resulting in a punt and an interception on fourth down courtesy of Horned Frog safety Innis Gaines.
However, Southern caught Patterson's defense napping with 6:34 left in the first half. Jaguar quarterback John Lampley's play-fake on a play-action pass fooled the Horned Frog secondary as Southern wide receiver Cameron Mackey was able to break free for a 55-yard touchdown reception.
"It's hard to say what you're going to do in a game until the game gets here, and you finally get your feet wet and feel the pace of it," TCU safety Niko Small said. "It was just a coverage bust, that was about it."
Robinson ensured the Southern momentum would come to halt as he once again marched the Horned Frogs in for another a touchdown with a 12-yard wide receiver screen pass to Reagor, which put TCU up 31, 38-7.
"I feel like I have a lot of room for improvement, and I feel like Shawn and me could've connected on a few more balls than we did, but it's repetition and I'll be alright," Reagor said.
he sophomore from Waxahachie tied KaVonate Turpin for the team lead in catches with four as he finished with 45 yards receiving along with his touchdown.
Southern attempted to counter, but TCU safety Ridwan Issahaku undercut Lampley's heave to the end zone to record the Horned Frogs' second takeaway.
Robinson's day concluded at the end of the first half, but he still submitted a near-perfect performance, totaling 227 yards with 182 coming through the air and 45 on the ground. The sophomore threw for three touchdowns and ran for two more while completing 17 of his 24 pass attempts.
"I've made some strides at getting better on the short throws, but I have to get a lot better at it in all parts of my game," Robinson said. "It'll be exciting to get better."
After the halftime break, it was Michael Collins' turn to run the offense.
The beginning of his afternoon mirrored Robinson's as the Horned Frogs settled for a 30-yard Bunce field goal before finding the end zone on the next possession with a 57-yard bomb to wide receiver TreVontae Hights, which pushed the TCU lead to 41, 48-7.
The pass was the Penn transfer's first touchdown at TCU, and the reception was Hights' second consecutive touchdown catch in a season opener as he caught a 56-yard strike from Robinson in the second half of a 63-0 victory over Jackson State.
Just about two minutes later, it was the TCU special teams that continued the rout. Davis, taking over punt return duties in the second half for KaVontae Turpin, fielded a looping punt and after a couple missed tackles, sprinted in for 73-yard return touchdown, which extended the Horned Frog lead to 48, 55-7, halfway through the third quarter.
The Saint Francisville, Louisiana native is the first TCU true freshman in his collegiate debut to return a punt for a TD since Deanté Gray performed the feat during the 2012 season opener against Grambling State. Davis finished his afternoon with 49 yards, three catches and a touchdown to go along with his punt return.
"He did his job, and he got two touchdowns," Reagor said of the true freshman. "We have speed all around the field."
Once the clock struck 12 minutes in the fourth quarter, Collins gave way to fifth-year senior quarterback Grayson Muehlstein. The sophomore transfer threw for 71 yards on three of five passing with the one touchdown to Davis. Muehlstein's day lasted one possession, as he completed one of his three passes for 11 yards.
Up Next
It didn't take long after the clock hit zero on Southern for Patterson to turn his attention toward next week's opponent, the SMU Mustangs.
"You've got an SMU team that's going to be better," Patterson said. "They know a lot about us, so we have to get ready to play."
SMU head coach Sonny Dykes served on TCU's coaching staff last season as an offensive analyst, so the Horned Frogs will have to get creative as they head to Dallas to play the Mustangs under the Friday night lights.
The Battle for the Iron Skillet kicks off at 7 p.m.Read More