2016 SEC FOOTBALL PREVIEW: GEORGIA WILL RUN THE SHOW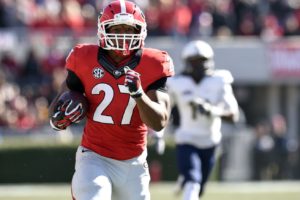 It's that time of year again: College football is back! With the return of college football comes the return of everyone's favorite conference, the Southeastern Conference or SEC.
While Alabama may be the defending champ, there'll be a new king of college football's most successful conference come December.
Divisional breakdown:
SEC West
1. Ole Miss
The Rebels return the best quarterback in the conference in Chad Kelly, and he can do it all. He threw for over 4,000 yards, 4042 to be exact, and threw 31 touchdown passes to go along with 500 yards rushing and 10 touchdowns on the ground. He'll be expected to carry this Ole Miss team, and he'll be up to the task. Kelly is one of two quarterbacks in college to have defeated Alabama, and the Rebels get Nick Saban and Co. at home this year. Not only will Ole Miss beat Alabama for the third year in a row, but they'll win the SEC West as well.
2. Alabama
A touch of destiny in the form of an Arkansas fourth-down conversion against Ole Miss in overtime helped Alabama catapult over Ole Miss in the SEC West standings last year, but the Crimson Tide will be out of luck this season. Alabama will be breaking in a new quarterback, new running back, four new offensive linemen, two new defensive linemen, three new linebackers, and two new defensive backs. That's just too much inexperience to overcome. This team will still beat LSU because the Tigers never seem to have the ability to throw the football, but 2016 just won't be their year.
3. LSU